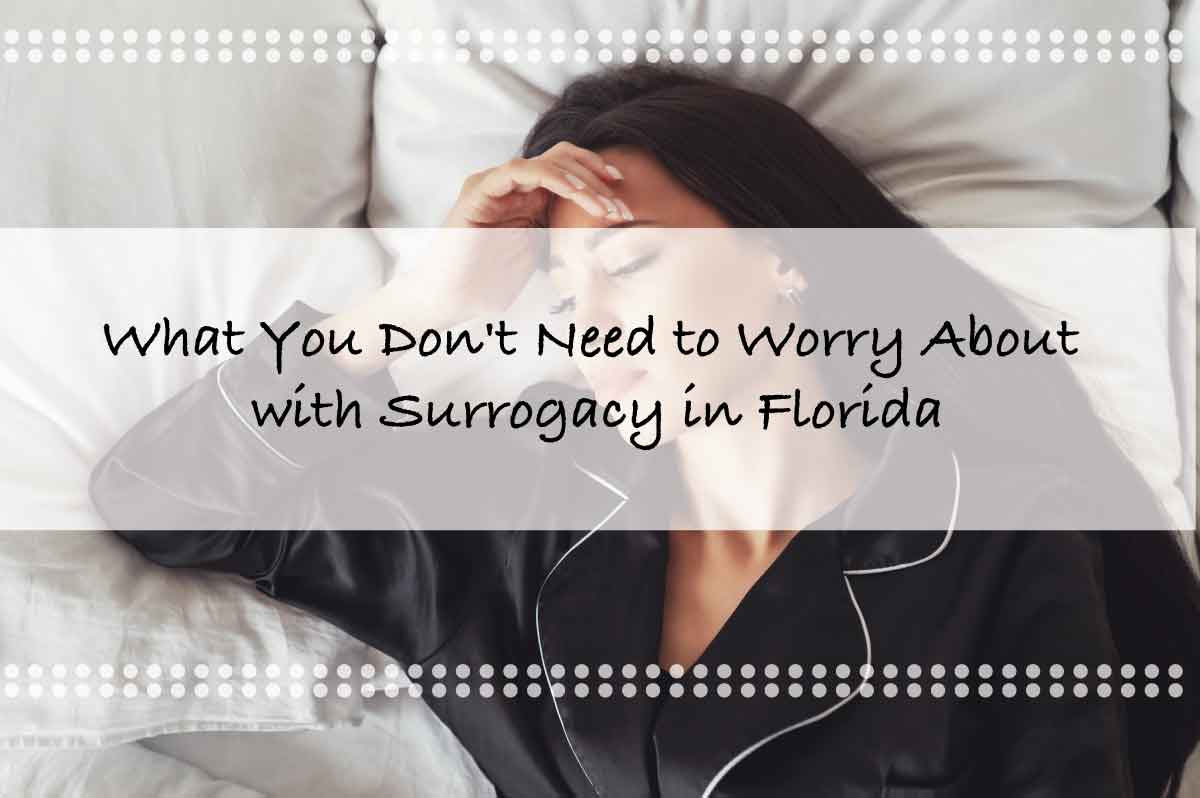 Becoming a surrogate- things not to worry about
As a prospective surrogate mother, you likely have a few worries on your mind. After all, this is a whole new world. Pregnancy, itself, can be daunting, too, even for those who have already been through it before. At Made in the USA Surrogacy, we strive to make Florida surrogacy as simple as possible. That also means alleviating any fears our surrogate mothers may have.
You can join our family by applying here. You can also find out more about the steps to joining our surrogate agency in Florida by reading this blog post. Otherwise, here a few concerns that you don't have to worry about when you choose to become a surrogate in Florida.
Concerns Over Surrogate Compensation
Many new surrogates are often worried about how much they'll be paid and when they'll start receiving their payments. Some may even worry that they won't get paid at all. These fears likely arise from searching "surrogacy near me" and reading about horror stories that independent surrogates experienced with intended parents.
Because you're working for our surrogacy agency in Florida, you don't have to worry about that. We protect your rights to be compensated. You can find out more about how much you can earn and our benefits package by visiting our compensation page.
Otherwise, you can let your concerns rest in knowing that you will be paid $40,000 as a base compensation rate. The add-ons you get paid will be discussed with the intended parents. You don't have to discuss them with them, however. In fact, we prefer that you make us aware of the add-ons you'd like to be included in your compensation.
Then we'll speak to the intended parents struggling with infertility on your behalf. We know that it can be awkward talking about money. We don't want to sour your relationship with your intended parents because of this conversation. Simply let us know any concerns you have about the compensation with the intended parents, and we'll ask them for you.
In regards to when you can expect to be paid, we always pay our surrogates through monthly installments starting after a pregnancy has been confirmed. This takes place after IVF and an egg donor has been chosen and donated their eggs. The moment that a doctor confirms that there's a fetal heartbeat, you'll be able to start receiving your compensation.
Concerns Over Traveling
One part of surrogacy in Florida is traveling. Whether it's traveling to and from a doctor, a fertility clinic, or the hospital to give birth, you likely have concerns about traveling. Or if you are a surrogate mother who is out-of-state but have Florida Intended Parents or International Intended Parents. One of the most prominent concerns is the expenses. Whether you need to travel by car, bus, or plane, you don't have to worry about spending money.
The money is reimbursed from an escrow account that the intended parents make the moment that they're part of our surrogate agency in Florida. Those funds are made available to you when you need to travel somewhere.
Another concern that surrogates often have is finding accommodations. You may wonder if you have to find a hotel or if that step is taken care of for you. When you work with our surrogacy agency in Florida, we handle all of your traveling arrangements.
We'll help you figure out where you need to go, how you'll get there, and where you'll be staying if you need to stay overnight. It's our job to make surrogacy in Florida just that much easier. While we help intended parents find a surrogate in Florida that fits them the best, we also help our surrogates understand where they need to be, when, and how they can get there.
You may also be concerned about not living in the same state or country as the intended parents. You may believe when searching "surrogacy near me" that your intended parents are going to be close to you. This isn't the case. Intended parents struggling with infertility live everywhere. They need your help.
As long as you live in a surrogate-friendly state, you don't have to worry about where your intended parents are located. Their egg donor can ship their eggs to a fertility clinic near you. Once the embryo is ready, you're able to go in and undergo the embryo transfer. Your fertility clinic may just be down the street!
Concerns Over Surrogate Agency's Responsibilities
When you become a surrogate in Florida, you'll be working with our agency exclusively. Yet you may not be sure exactly what our agency does for you. Our agency performs several services including helping the intended parents find a surrogate. We have a large database of intended parents and surrogates like you that we then match to intended parents based on their beliefs, values, and the specific requirements they have for their surrogates.
Yet we also do so much more. We handle everything from billing to helping the intended parents set up their escrow accounts, as well as help surrogate mothers navigate all appointments and issues that may arise. We keep track of your appointments and ensure that you are completely covered during the process.
If you're worried about any of the complex parts of surrogacy, then you're always encouraged to speak to your agency coordinator. They're there to help you and make your job just that much easier.
Concerns About the Documentation After the Birth
With surrogacy, there is often a lot of legal paperwork behind the scenes. You may be concerned that you have to then do a bunch of documentation to disclaim the baby as your own. This isn't the case. The only thing you have to worry about after giving birth is recovering.
Our agency handles all of the documentation needed to ensure the intended parents receive full custody of the baby. While we help intended parents find a surrogate in Florida, we also help surrogates find a surrogate attorney to represent their interests during the journey.
If you do have any legal questions regarding documentation following the birth, then you can always ask your surrogate attorney or surrogacy coordinator. Otherwise, you can relax and recover from the birth and focus on your own family.
Concerns Over Communication Problems with the Agency
Some surrogates may have been with an agency in the past that was difficult to reach. This isn't the case at our agency. If you don't receive a response from your agency coordinator within a reasonable amount of time, this isn't normal. We always strive to return calls, emails, and other forms of contact within a timely manner (24 hours at most!). We know how important it is to make our surrogates feel supported.
For many new surrogates, it's understandable that you have questions and may feel silly asking them. Yet your agency coordinator is available to do just that. They work around the clock to answer your questions, give you the updates you need, and make your surrogate experience as smooth and easy as possible.
Join Our Agency Today
Whether you're a new surrogate or you've worked with an agency in the past, you're more than welcome to join our agency. We know that you have questions and concerns and we'll work hard to answer them and alleviate your fears. Being a surrogate is a great way to help intended parents achieve dreams of parenthood that are otherwise denied them.
Whilst helping those parents achieve their dreams, you can also earn money that can you set aside for your own children or use for other means. It's a great second job that doesn't require you to give up your first job. To start your application process, you should fill out this form today.