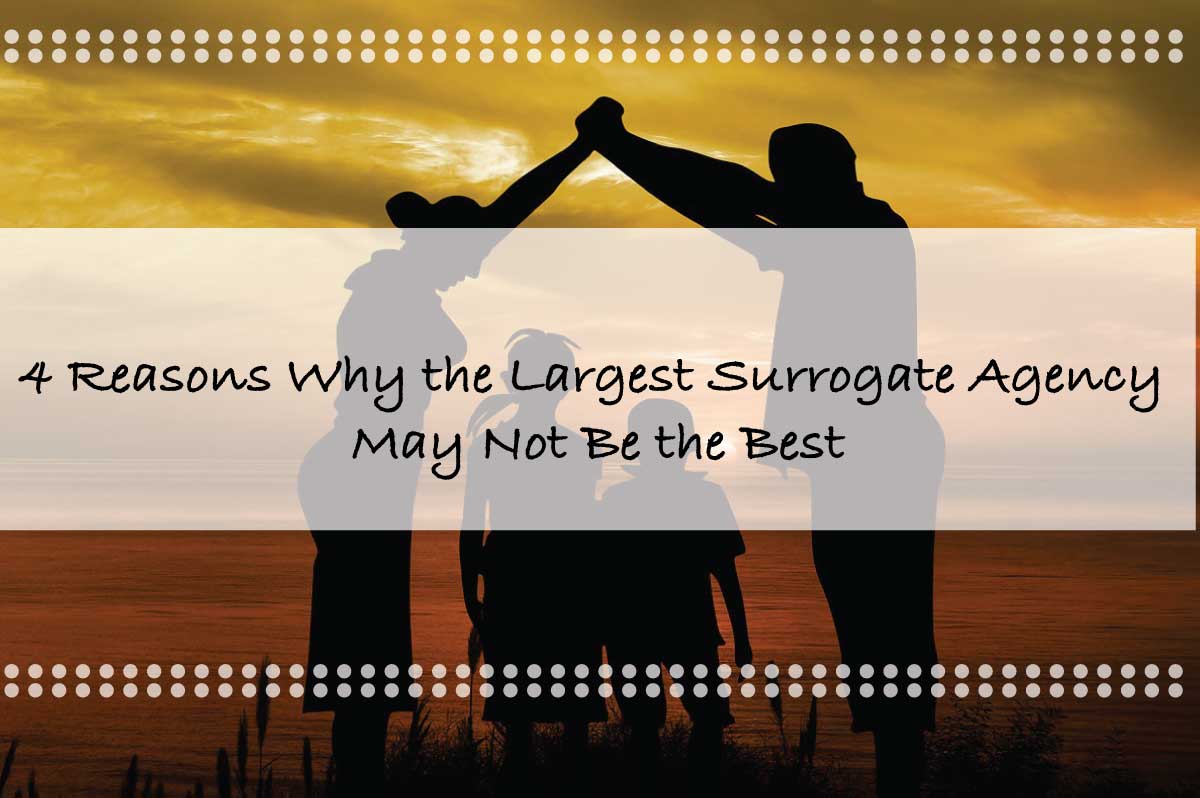 We all like the idea of going with the biggest, since the idea is that the biggest is also the "best." But is that true when it comes to surrogate agencies? We'll dive deep into the idea that bigger is better, and what ideas you may need to think about when considering the surrogacy agency you will work with.
Why does bigger sound better?
For many families looking to find a surrogate whether finding a surrogate in California, or finding a surrogate in Florida – they want to find a surrogate quickly. From our experience, many families who need a surrogate have not been able to have a child for many years, and have been struggling to have one on their own. These struggles to have children can result in years of pain, loss, and frustration. The idea that if you want to find a surrogate quickly- you must go with the largest surrogate agency in California. But is that really the truth? Are "large" agencies the quickest way to find a surrogate? It's probably one of the biggest myths that large agencies- "the bigger the better" will get you a surrogate quicker.
Surrogate Candidates Do Not Grow on Trees
Unfortunately, most Intended Parents may have experienced failure in their own fertility couples, and hope that turning to surrogacy will be a quick solution. Unfortunately, 1 out of 6 couples experience some form of infertility and it's easy to think that if you find the largest agency, they will have the biggest pool of surrogates available. However, that's not necessarily the truth.
The reason for this lies in the fact that simply, surrogate mothers do not grow on trees. There are several qualifications that surrogates must have to be a good surrogate:
They must have been a mother previously
Their pregnancies must not have been complicated
They must be between the ages of 21-40
They must be drug free
They must have a great support system
They must be financially independent
And the list goes on. What these many qualifications add up to, is the fact that not every person that applies to become a surrogate will become a surrogate mother. Many surrogate applications are denied, many surrogate candidates do not follow through, and the truth is that 1 out of 20 or 1 out of 50 at times is approved.
So, does being a large agency mean that you have more candidates? Not necessarily, since the qualifications must still be met for your IVF clinic to approve the candidate. Knowing this, the agency size does not matter. It doesn't matter how much staff they have. It doesn't matter how cool their website is. It doesn't matter how many mentions they have on social media. What matters is whether the surrogate agency you choose to work with is using marketing that will net them the most number of qualified candidates. Qualified candidates is what matters- not quantity of candidates. In the end, would it really matter if the large agencies are in contact with 1,000 surrogate prospects- if they are not qualified candidates, and everyone else thinks the same thing (bigger is better)? You may be left with a rude awakening- a long wait, unqualified candidates or multiple tries to get the qualified candidate you need. Choose carefully the surrogacy agency you want to go with based on more than just whether or not they are "larger" than other agencies or have more staff- there are more considerations you must make.
Larger Agencies Have Longer Wait Times
We understand why it may be easier to trust larger agencies who seem to be trustworthy and or more capable of delivering a surrogate. However, many Intended Parents should be cautious that the larger surrogacy agencies are larger for a reason- more Intended Parents believe they will receive more from that agency than others- hence, creating a larger pool of intended parents looking for a surrogate.
The issue here, is that many do not understand that surrogate prospects are very few and far between. Though there are many that apply to become a surrogate, not everyone is approved to become a surrogate and therefore, there are less surrogate moms for everyone who is looking. The result is a bit of a bottleneck. These agencies may have 3-5 women come available for surrogates at any one time, but they will be matched within a day and the remaining 20 parents waiting will continue to wait- and so on.
Keep in mind that larger agencies may have more resources, but they also attract more Intended Parents, and there is a limited number of surrogates. This means that inevitably, you may join their agency, but you may inevitably wait. Our sources and experience with Intended Parents who look for a surrogate near them tell us these agencies are reporting 12-18month waits for surrogate candidates. These are concerning times to wait- since there's no guarantee the surrogate mother you match with will be approved by your IVF clinic, and she may not pass medical screen or be successful when after transferring. Just those stages alone account for many months, getting to the stage of the first IVF transfer. If you wait this long to be matched, you will be waiting even longer to have your baby.
Bigger Surrogate Agencies Cost More
The other consideration you need to make about "bigger is better" is that larger surrogate agencies cost more money to operate. We have had many Intended Parents ask us whether or not we have a large number of staff to help them. But they may not have thought of the fact that a large staff costs more money for the surrogacy agency to operate, and in turn, will cost more money than other agencies who are not staffed with multiple people. Their marketing costs more money as well, they are invested in multiple places spending $thousands per month to market for a surrogate. Multiple platforms cost multiple thousands of dollars. They may have more types of professionals on staff, such as legal personnel, psychological personnel, which will add up in the upfront costs that you will bear even before your surrogate mother goes to transfer.
Also, consider that the agency fee differs greatly with every agency regardless of the services they provide. This fee will cover the management services and the marketing costs that it takes to procure a surrogate for your viewing and matching needs. If you choose a larger agency, not only will you pay a larger agency fee than many other "smaller" agencies, but you still may experience the IVF costs of multiple tries with your surrogate, increased fees for those tries, along with medication costs, legal costs etc. Consider that your costs will most likely expand from the numbers you are given at the outset- just to account for the inevitable delays and unforeseen costs that may arise.
Bigger Surrogate Agencies Could Have a Large Turn Over
The other issue we have heard, is that turn over in larger agencies could be a problem. They may have a large staff, but you may not be speaking to the same coordinator in two years (the average amount of time it takes to complete a surrogacy journey).
We all know how easy it is to think that the agency with the most staff might be the most helpful, but in the end, dealing with a smaller amount of people can be beneficial. Unfortunately, with so many staff and high turn-over rates, there could be lesser ability for these agencies to deliver sound advice and expertise. With high turnover comes the need to train new staff, and hence the dreaded "learning curve."
At Made in the USA Surrogacy, we encourage all Intended Parents to choose the right fit for them in the surrogacy agency that makes them feel the most comfortable. Rather than choosing on your perception or the claims of an agency on their "size" or "time in the business", make your judgement based on the expertise of the person who speaks with you on your consultation- whether or not you will continue with that person throughout your surrogacy, and whether the agency has the ability to deliver the candidate you desire in an affordable and timely manner. Get in touch with us today to find your surrogate!