Benefits of working with a boutique surrogate agency in California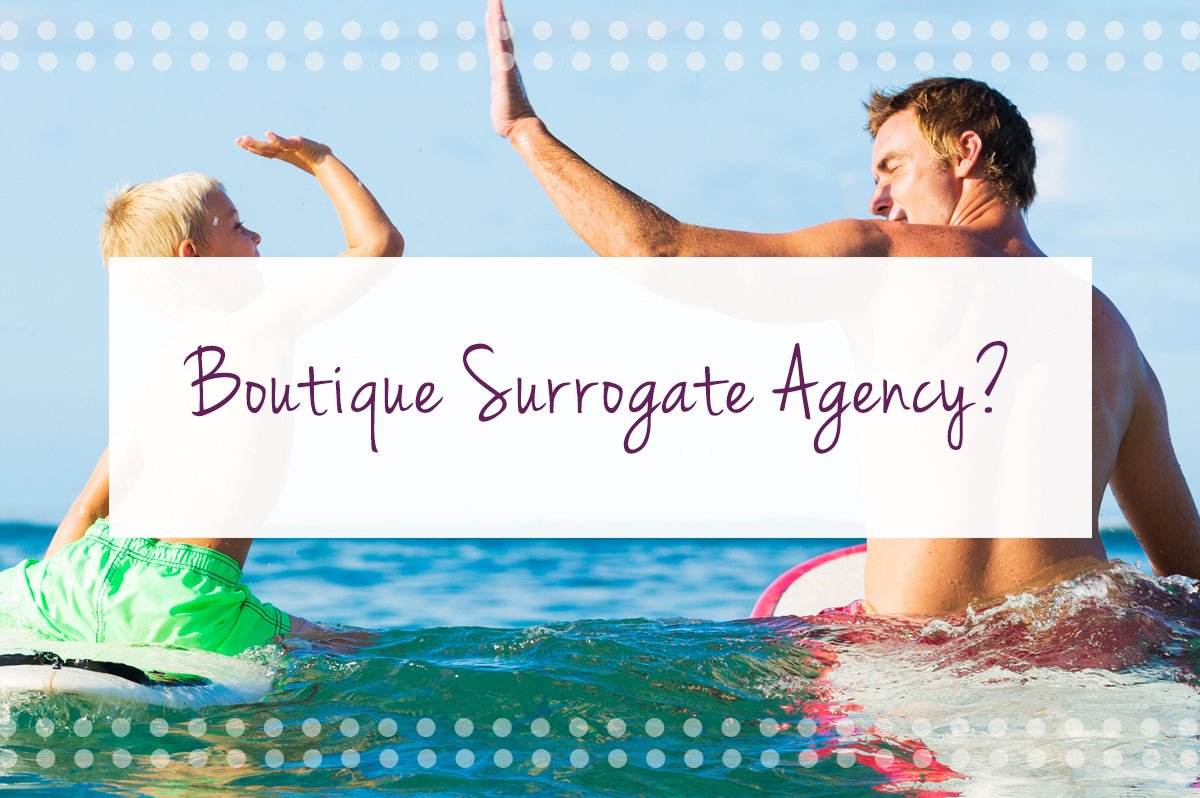 Boutique surrogate agency benefits – Why work with a Boutique Agency vs. a Firm
Hello Hopeful parents!
Today we are going to discuss the benefits of working with a boutique surrogate agency in California. Chances are by the time you are reading this article, you have been heavily researching how to find a surrogate, whether you need a surrogate, and how best to complete your family.
Perhaps you've been researching what IVF clinic in California, or which IVF clinic near you would best be able to start your family. Perhaps you have been thinking about finding a surrogate agency near you, or finding a surrogate agency that knows where you live or the people best suited to help you on your family journey.
All of these are reasons that brought you to Made in the USA Surrogacy. We are a boutique surrogate agency located in northern California, but serving all of California surrogates and intended parents from San Francisco, the Bay Area, San Diego, Los Angeles, central California, and northern California. We are located in Roseville, California, a small but quaint city dedicated to working-class people and serving areas of Sacramento and parents from all of these areas.
Local Knowledge of the Surrogacy Industry
The benefits of working with a boutique agency such as ours, is purely local knowledge. We have connections with many of the fertility clinics in California that are on the forefront of IVF science and research. Many of the IVF clinics in California that we work with, partner with us to bring them surrogates from California and areas surrounding because we know the area, the laws pertaining to surrogates, and we have local connections.
Knowledge of the Surrogate Process
Throughout the process of hiring a surrogate, you're going to want a surrogate agency that knows the process of hiring a surrogate. Does this agency background check their surrogates?
Or do they merely get their surrogates from online FB ads from women who say they want to become a surrogate? Please read our blog post on the dangers of this method. Since we have been in business, we have been committed to finding a surrogate for each family based on their wants and needs of completing their family.
You want a local surrogate agency in California that knows how to find a surrogate that is a current mother, a healthy and active person, and from the community that will understand your needs.
As a boutique surrogate agency in California, we are familiar with the laws surrounding surrogates that are located in our state as well as other surrogate friendly states, and we have formed many connections in this industry that have blossomed into healthy long-term relationships.
A personal touch through the entire process
Hiring a surrogate will take knowledge of the entire process of becoming a surrogate and also becoming a parent through these means. There are many steps to this process that only someone who has undergone this process before will know- that's why you hire a boutique surrogate agency in California like Made in the USA Surrogacy to help you complete your family.
We know the timing that it takes to find a surrogate, fully screen her and medically clear her, to the time that she will be transferring the embryo. Not only do we know the qualifications of what makes a great surrogate, but we are committed to helping our surrogates understand the process and how it will affect them emotionally and physically.
We fully screen our surrogate mothers with background checks, family checks, home visits, multiple interviews, budget checks (to make sure your surrogacy budget is in line with a particular surrogate that is a possible match), and psychological screenings to make sure they are fully fit to do the job.
We are Surrogate Parents
Because we are surrogate parents ourselves, we are well versed in the process that it takes from becoming a surrogate, to matching you with your surrogate, to forming a legal contract to placing her with her correct medical facility to carry out her pregnancy monitoring, and the entire process of legal paperwork that will inevitably follow to help the parents establish parentage.
We do not provide the legal framework, but being a local surrogate agency helps you as a hopeful parent to know that we are well connected with legal partners that will lead you through this process to become parents through surrogacy.
Local knowledge of California IVF clinics
Because we are a boutique surrogate agency, we have local knowledge of California IVF clinics and have relationships with IVF doctors and coordinators.
Many of the IVF clinics that you will be working with, we have met personally and deal with on a regular basis. Being a boutique surrogacy agency in California helps us with being well known in the community, and should give you a sense that you as a parent are supporting local businesses!
We find great satisfaction at Made in the USA Surrogacy in being a local partner with all of the major IVF clinics in the greater LA area, San Diego area, Bay Area and Northern California area.
Not all California Agencies are "California Based"
We know many other surrogate agencies whose headquarters are not located in California. We know many surrogate agencies that operate outside of California, and they are not blessed with the local knowledge that comes with being a resident of northern California and knowing the best places to place you as a parent with an IVF clinic, or what hotel rates may be for the surrogates who visit here and are going to receive treatment here.
Because we are a boutique Roseville California based surrogate agency, we do not have issues with any of the areas that parents may be visiting from out of town to receive their IVF treatment.
Surrogate agencies located out of California will not be as effective as us when coordinating surrogates from other areas who receive IVF treatment from a California based IVF clinic.
We pride ourselves on serving people from Southern California, Los Angeles, the Bay Area, San Francisco, the central valley, and Northern California.
Because we know California inside and out, we have gone to schools in southern California, we have family in Los Angeles, friends in San Diego, IVF clinics who are partners in Pasadena California- we know the area much better than any agencies that do not work out of this area.
We are one-on-one with our clients
Being a boutique surrogacy agency also allows us to be one-on-one with our clients. Most of the time you will speak with an owner of the company that has first-hand knowledge of the subject of surrogacy, the process of surrogacy, the cost of surrogacy, the risks associated with surrogacy, and many other subjects that experts in the field of surrogacy need to be effective.
We take great pride in accommodating early or late appointments over the phone, Skype, in person, and being available at multiple times throughout the day to accommodate your busy schedule as a parent.
We know the process of finding a surrogate or the process of finding an IVF clinic can be stressful.
That's why we pride ourselves on great service, local knowledge, and first-hand abilities to find professionals that will help you wherever in California you are, or wherever you are abroad (international).
Boutique surrogacy agencies are more affordable
Being a boutique surrogacy agency helps us keep our costs down, so that you as a parent are not spending an arm and a leg to find a surrogate. We know the costs are high, even just to establish your embryos or egg donation plan can cost you a fortune! That's why Made in the USA Surrogacy has established our surrogate costs, costs to work with a surrogate agency- extremely cost effective for you.
In some cases we are $20,000+ less expensive than other surrogate agencies given our boutique surrogate agency approach. Because we are a smaller company, we have big hearts, we deal with local IVF clinics in California, our costs are cheaper, and we have extreme attention to detail- we are the perfect match for you as a parent to work with to find a surrogate! Call us today to start looking for your surrogate: 916-226-4342!