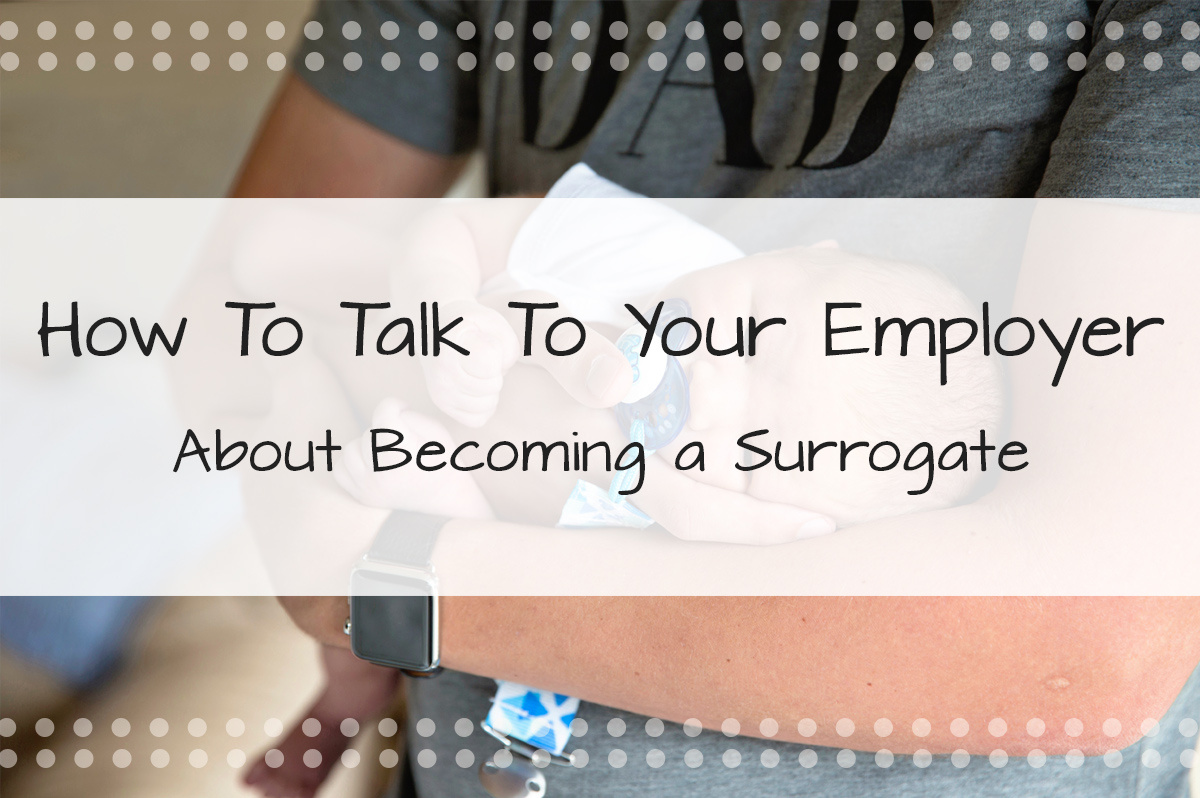 How To Talk To Your Employer About Becoming a Surrogate
Deciding to become a surrogate is one of the most selfless decisions that you can make.
As a parent yourself, you understand the joy of having a child in your life. This likely spurred your decision to help other parents who cannot experience that joy without surrogacy. Perhaps you've already taken the step to talk about becoming a surrogate with your spouse and family. The next step is to talk to your employer.
Not all employers have maternity leave for surrogates. Some simply may not have policies for it. Others may not recognize it. If you're the first woman to attempt surrogacy in your workforce, then you could potentially lay precedent for other women who want to become a surrogate in the future.
Speaking your employer about surrogacy can be intimidating.
Here are a few tips on how to broach that subject and help you receive the best possible outcome.
#1 – Understanding Your Rights
Surrogacy in California is a lot easier than in other states. California is a surrogate-friendly state. That means it has some policies and regulations already made, or in the process of being made, to protect surrogates. Before you have a conversation with your employer, it's a good idea to understand what your rights are.
Speaking with a surrogate attorney can help you with this.
When you join a surrogate agency, one of the perks that they should offer is to link you with a surrogate attorney. When searching for "surrogacy near me" make sure that the agency you choose performs that service. Our California surrogate agency, Mad in the USA Surrogacy helps you find a competent surrogacy lawyer as part of the benefits of joining our surrogate agency. Your protection is vital to the process of surrogacy.
While the surrogate attorney may only be there initially to help you discuss the surrogate agreement and birth plan with your intended parents, you can be sure they can answer any other legal questions that you have about becoming a surrogate. Some of those questions should pertain to your employment. Ask them if California recognizes maternity leave across the board–including surrogates–or not.
If there is no statewide decision on maternity leave, then it's going to be up to your employer specifically. Some accept maternity leave and some don't. Some don't regardless of the pregnancy being natural or through a surrogate.
Regardless, it's still important to understand what your rights are as a surrogate. For some surrogates in California, they are able to claim FMLA. You will need to speak with your HR department prior to having the baby to see whether this is available to you, or simply contact your surrogacy coordinator at Made in the USA Surrogacy.
#2 – Schedule a Meeting
The next step is to schedule a meeting with your employer.
You don't want to just drop by when you or they have a free moment. The conversation is going to be an in-depth one. You also want to make sure that they're focused on you and not on other tasks that they need to complete.
The meeting should be at a time of day when they're not as busy and have a chance to relax. This might be just before lunch or after lunch. You shouldn't schedule it right before the end of their shift or after the shift. They'll likely be too eager to get home. They may also not listen as well because they'll want to tackle it the next day rather than stay later than they need to in order to look into surrogacy in California.
You should also expect the meeting to be quite long. Your employer may have to shift through numerous documents to uncover the regulations the business has over maternity and becoming a surrogate. You should schedule a meeting for at least a half-hour.
#3 – Educate
When you sit down with your employer, you'll first need to educate them about surrogacy in California. They'll be looking at the process of surrogacy in terms of money and time. One of the biggest questions that they'll have is how much time you're going to need to be away from your work or whether it will affect your job activities at all.
After all, they're going to make less money without you there performing your job.
You can begin by informing them about the fertility treatments that you'll be taking. While these appointments can sometimes be quite short, you may have to have them several times. You can always attempt to schedule them in on the weekend, but there may be a few times when they have to be on a weekday.
You can work with your employer about your hours in this regard. Perhaps you work a little earlier or later in order to make up the time that you missed. Perhaps you can squeeze the appointment into your lunch hour. Maybe you need to dig into your paid vacation time and use the hours from that for the appointments.
There are a few options that you can discuss with them.
You can also explain to them how pregnancy works as a surrogate. While you will be carrying the baby for nine months, you won't need extended maternity leave that is traditional for mothers. More than anything, you'll need some time to recover. If you intend to breastfeed the surrogate baby, then you can always pump out bottles for them before and after work.
If they have any other questions, you can always refer them to the surrogate agency that you're part of. We can try and help your employer understand how it might impact their business–if it impacts it at all.
#4 – Explain Passion
Once they understand the details of it, you can then go on to explain how much being a surrogate means to you. Walk them through the process, so they understand the journey you've taken so far. You can begin by explaining how you searched for "surrogacy near me" and found a great surrogacy agency in California.
Perhaps you've already met with your intended parents.
You can tell them about those intended parents and how eager they are to have a child of their own. You can tell them about the surrogacy qualifications that you needed to pass in order to join the surrogacy agency in California. Like most agencies, the qualifications also involve acquiring your medical records. Those records detail the past pregnancy that you had to show that you can carry a healthy pregnancy. You can tell them about sending out for your medical records and the possible long wait you had for them to be delivered to the agency.
Besides surrogacy qualifications, you can discuss how wanting to be a surrogate has also made you focus on bettering yourself. To make sure that you can offer the intended parents a healthy pregnancy, perhaps you've become more fit or started eating healthier.
Essentially, by walking them the process and the steps that you've taken thus far, it shows them how genuine and serious you are about being a surrogate.
#5 – Empathize
To make sure your employer sides with you, one step that you need to take is to try and get them to empathize with you. If they have children of their own, then you can try to put them in the shoes of the intended parents. You can talk about what might have happened if they hadn't had a healthy pregnancy. If their only option was to try a surrogate, then how would that feel?
If you can get them to empathize with the intended parents, then they'll be more likely to side with you. If there aren't any regulations surrounding surrogates, then they might be the ones to start penning them.
#6 – Make Goals Clear
One last tip for talking about your employer about being a surrogate is to make your goals clear. What is it that you want your employer to do? If you require some form of maternity leave, then your goal would be to get them to recognize and authorize it.
If your goal is to take time off without sacrificing your pay, then make that known.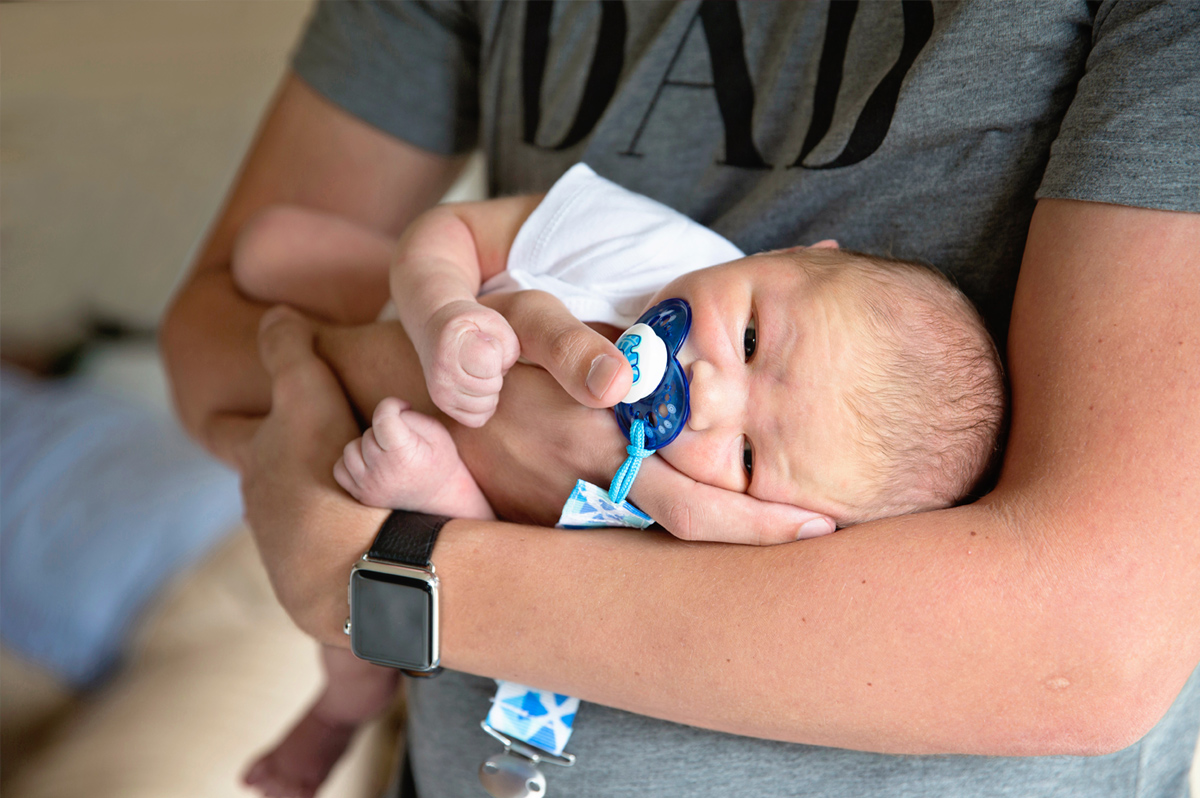 The process of surrogacy is a long one that impacts a lot of people. Get started by filling out our inquiry form today!