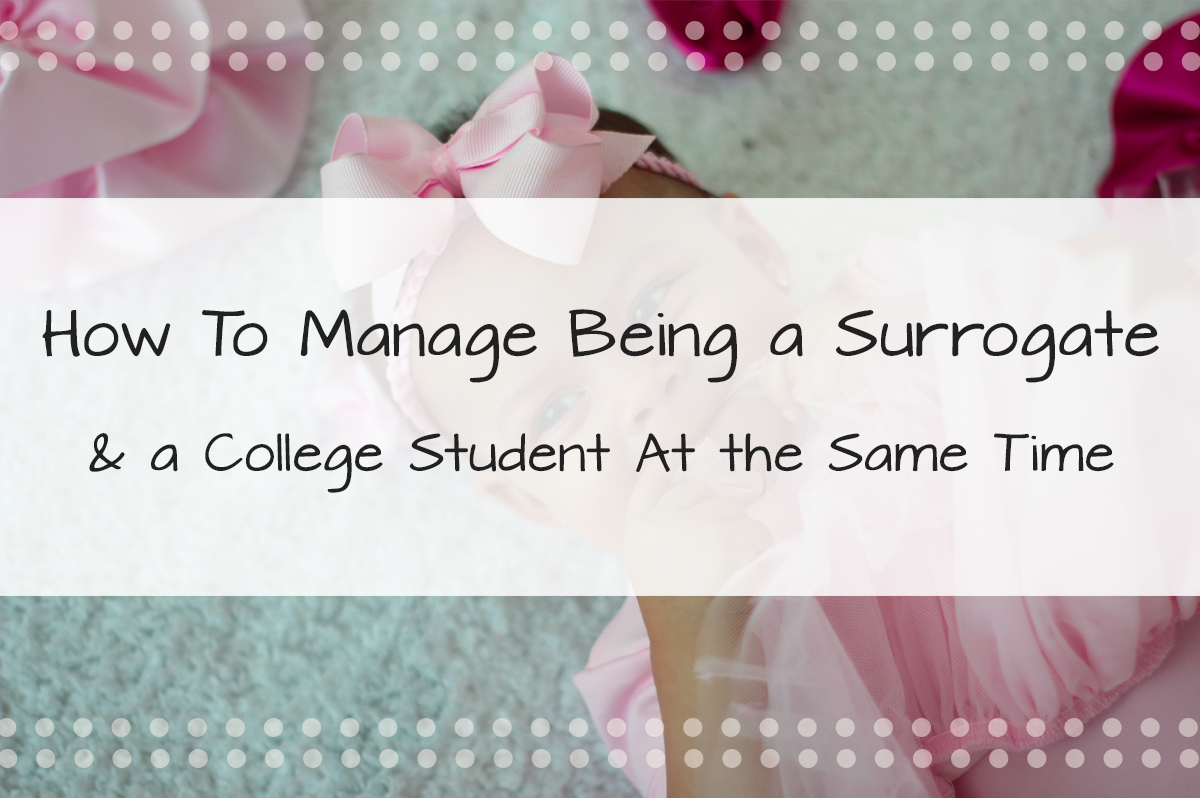 How to Manage Being a Surrogate and A College Student at The Same Time
One great way to pay for a college education is to become a surrogate.
If you've already had a previous pregnancy that was successful, then you already pass one of the few surrogacy qualifications that agencies ask for. Other surrogacy qualifications typically include remaining drug-free, being a nonsmoker, and being financially stable. You also fit into their age category for being between the ages of 23 and 38.
Yet balancing being a surrogate and a college student isn't always easy. You have fertility treatments to attend, then a pregnancy to look after, and finally the birth. That's just the process of surrogacy. As a college student, you also have tests, projects, and other commitments to satisfy.
To help ensure you succeed as both a college student and as a surrogate, here are a few tips to keep in mind.
#1 – Join the Right Scene
One of the first steps that you should take when you become a surrogate is to make sure you're hanging around the right people.
In order to have a healthy pregnancy, you need to stay away from smoking, drugs, alcohol, and other activities that can harm the baby. Unfortunately, a lot of the party scene on college campuses include those activities.
However, it doesn't mean that you need to partake in them. While you can still go to parties, you can simply choose not to drink or do anything else that might negatively impact the baby. You can also choose to hang out with those who prefer to do other things than just party.
Surround yourself with other mothers. There are plenty of college women who have already a child or two of their own. You can stick together and support one another. Or you might be pulled towards those who place their academics first. You can join their study groups and have a bit more wholesome fun with them.
Choosing the right people to hang out with can help boost both your grades and ensure that you're providing a healthy pregnancy for the intended parents.
#2 – Planners
You're going to have a lot of appointments and commitments when you become a surrogate.
Surrogacy in California includes fertility treatments. The process to make the embryo is called IVF. The intended parents will donate samples of their egg and sperm cells to their fertility doctor or fertility specialists.
Once the embryo is formed, it will be placed inside your body. The fertility treatments that you receive are to help your body recognize it as your own. Otherwise, it might attack the embryo. The amount of treatments that you receive varies. Your body may quickly adapt to the treatments or they may not.
To keep track of your appointments and the various exams and other tasks that you need to complete, you should procure a planner. This planner can easily be used to record your appointments as well as the other commitments that you have.
For example, if you're still just trying to join a surrogate agency, then you'll need to have your medical records delivered to them. You can make a note in your planner to call your hospital and have those medical records put together and sent over to the surrogacy agency in California.
By keeping your planner close, you'll be able to know exactly what you need to do and when. Of course, if toting a planner around isn't your style, you can also find numerous planner-like apps on your phone. They work in just the same way. Many of them can also send you a notification. That allows you to know exactly when and what you need to do next.
#3 – Talk with Your Professors
Another step to take when becoming a surrogate as a college student is to speak with your professors.
You likely aren't the first pregnant college student that they've had. They'll understand that you may need to miss a class now and then.
The important aspect here is that you actually speak with them and inform them about your decision to help with surrogacy. They might just admire your decision. By informing them, they can help put together any missing work that you might have.
You can also prepare for missed classes by doing the reading beforehand or the homework beforehand. You can ask the professor to record that specific lesson, so you can listen to it later.
Surrogacy is complicated enough. You can make your workload a lot easier by simply speaking with your professors.
#4 – Utilize Class Friends
In addition to speaking with your professors, you'll also want to discuss surrogacy in California with your class friends.
You can talk about your decision about becoming a surrogate and what it means to you. Because they might not understand what surrogacy is all about, you can tell them about the process of surrogacy and how you searched "surrogacy near me" to find a surrogate agency- Made in the USA Surrogacy.
Once they understand why you'll be away from class now and then, they may be more open to helping you stay up to date in class. One of the best ways that they can help you is to record class sessions that you miss. Sometimes professors automatically record their sessions or put their slideshows on the class website. Sometimes they don't. Even if you ask them, they may still forget.
By asking your class friends to record instead, you stand a better chance of being able to access the missed class session. This can make pregnancy and college classes a whole lot easier. The next time you have some free time, you can simply go through the missed class session, take your notes, and be back on schedule with the class.
Your class friends can also remind you about homework and exams.
#5 – Speak to Other Surrogates
One of the best aspects of joining an agency is that you're not the only surrogate with that agency.
If you're struggling as a surrogate, then you can always rely on them to give you advice. They've been through it all before and know tips for maintaining a healthy pregnancy.
Becoming a surrogate doesn't mean you have to do it alone. There are plenty of other surrogates who are in the process with you. It's possible that you might even find a few surrogates who are college students, themselves. At Made in the USA Surrogacy, we work hard to connect our surrogates with others who are going through the process so you can have friends and become connected through the journey.
#6 – Check College Resources
Another great option is to check to see what kind of resources your college has.
They likely have programs and help for college students who are mothers. You may even be able to receive grants or other financial assistance because you're pregnant.
You can likely benefit from the resources that they have for pregnant college students.
If you're interested in becoming a surrogate, then you will want to join our agency today.
We can also offer you numerous resources, support, and solutions for possible problems that you may have. Being a surrogate while in college can be a great opportunity. Fill out our inquiry form to get started.