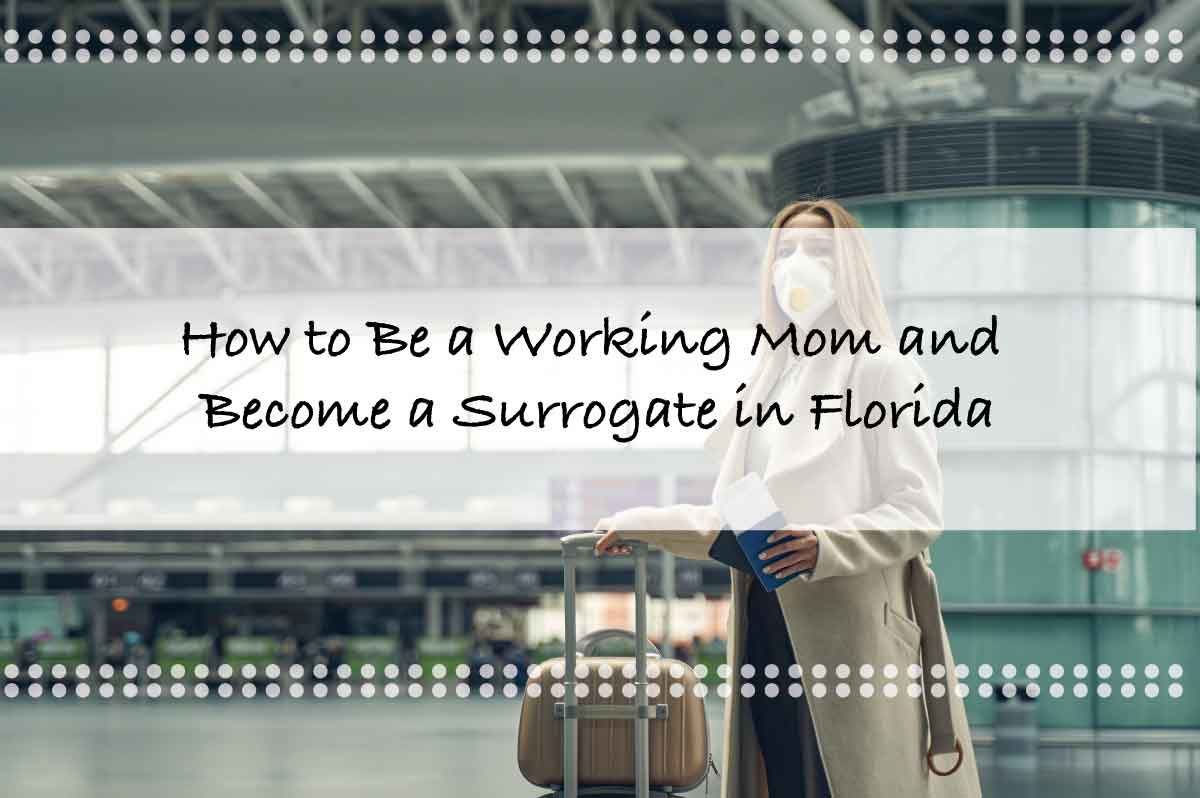 How to become surrogate in Florida if you are a working Mom?
One of the requirements our surrogacy agency in Florida has for our prospective surrogates is that they are financially stable. This means that they don't require cash assistance. For many households, this means that the mothers must also work. Yet working moms may wonder if they're not able to work as a surrogate because they're working.
This isn't the case.
Several of our surrogates are also working moms. Here's what you need to know about joining our surrogacy agency in Florida while being a working mom.
Should You Inform Your HR That You're a Surrogate?
A concern that some working moms might have is if they need to disclose that the pregnancy they have is a surrogacy. This primarily depends on your state. However, most states do not require that you inform HR about the nature of your pregnancy.
We believe that if feel that your business or work situation is more like a family, then you may feel comfortable in telling them. They could become a great support system for you. However, if you're unsure of your place in the company, then it's better not to disclose the nature of your pregnancy.
We encourage women to treat their surrogate pregnancy as if it was their own in work situations. This may prove a more comfortable working environment for them since they won't run into certain coworkers who may have particular feelings towards surrogacy in Florida.
Does the Federal Medical Leave Act Apply to Florida Surrogacy?
One search you may do while searching for "surrogacy near me" is if FMLA applies to your situation. As a parent yourself, you likely enjoyed taking a few months from work to bond with your child. However, the situation isn't the same.
FMLA doesn't recognize surrogacy as falling under their definition or parameters for the act. This is because you won't be taking the baby home with you. Instead, the intended parents struggling with infertility will take the baby home. The baby is also not genetically yours.
This is because our surrogate agency in Florida only utilizes gestational surrogacy. This is a kind of surrogacy where an egg donor or a sperm donor is used in a fertility clinic to form an embryo. The surrogate is not the egg donor. Because of this, the baby isn't related to the surrogate at all.
After you give birth to the baby, you may be allowed some time off work to recuperate, but you can't expect to be protected under the FMLA act, although, many surrogate are covered under the act due to the time off due to a pregnancy. Be sure to check with your HR department.
Can You Expect Paid Time Off?
Perhaps when you were pregnant before, you were given paid time off to go to the hospital for doctor visits or for other reasons. You may expect the same kind of treatment with a surrogate pregnancy. This isn't always the case.
Certain employers may have feelings about Florida surrogacy. They may not recognize it, themselves, as needing paid time off. Understanding if you're able to receive paid time off should involve a quick discussion with your employer or visiting HR.
This is one of the reasons why it might not be worth it to tell them that you're carrying a surrogate baby. They may be less inclined to award you paid time off for your medical visits.
Methods for Payment While Being Off Work
After you join our surrogate agency in Florida and we help the intended parents find a surrogate through you, you'll get started with IVF. The intended parents need to find an egg donor or a sperm donor if their own bodies aren't healthy enough for IVF. Then you'll undergo an embryo transfer.
Once your pregnancy is confirmed after an embryo transfer, you'll be able to start receiving compensation for any time away from work that you take for medical visits. There are three ways in which you get paid.
The first is that every surrogate receives $250 every month for up to 10 months. This is to be used for gas and other travel expenses.
The second is receiving equivalent pay for surrogate mother's work pay. We'll require two months' worth of payment verification to ensure we're sending you the correct amount. The amount given depends on how long you had to take time off for the IVF treatments and embryo transfer. That typically ranges from four days to a full week. This will only be paid during times you take off of work in direct reference to your embryo transfer or for appointments you absolutely needed to take off work to make the appointment.
The third is being paid for a 6-week recovery period following birth, minus any other amount paid by the state you live in.
You can also expect to earn compensation through other means. To understand how our agency's compensation works, you should look through our compensation page.
Can You Receive Paid Family Leave Disability Payments?
Another question you may have after searching "surrogacy near me" is if you qualify for Paid Family Leave disability payments. This is typically given to all pregnant women who require time off after birth in order to recover from the event.
This entirely depends on the state that you live in. You're encouraged to look at your state's laws towards surrogacy and determine what the law dictates towards surrogate mothers.
Luckily, you will not need to disclose any of the compensation that you receive as a surrogate to your employer. Frankly, it isn't their business.
When Can You Return to Work?
The process of surrogacy is long. It takes a long time for intended parents to find a surrogate in Florida that best matches their needs. IVF can also take a long time. Then there are nine months of pregnancy. Because of this long marathon, you may be anxious to return to work without worrying about the pressure of being a surrogate.
The length of time it takes for you to return to work depends on your employer and the kind of birth you performed. A vaginal birth requires most mothers to stay at home for six weeks.
If you have a C-Section, then you may need to wait even longer.
However, we have had cases before where surrogates were able to return to work early after speaking with their employer.
Can You Really Work Full-Time While Being a Surrogate?
One aspect that keeps many women from choosing to become a surrogate in Florida is that they believe they can't work as a full-time mother and be a surrogate at the same time. This just isn't the case. It's completely possible to work full-time and help intended parents struggling with infertility.
Part of the reason is just because of the length of the surrogacy in Florida. It takes a long time for intended parents to find a surrogate. You may be working several months before you are finally matched with intended parents.
The only part that is a little difficult is IVF and embryo transfer. This is the part that will keep you out of the office the most aside from the actual birth. Once you make it through that, however, you're able to work while you're pregnant just as you likely did before with your own child.
Perhaps one of the coolest things about being a surrogate is that you can earn some serious money while working your normal job. It's a huge bonus and you get to serve a great cause by helping intended parents who wouldn't be able to have a baby of their own without you.
Join Our Agency Today
In order to let our agency find a surrogate in Florida just like you, you should contact us today to get started. If you have all the information that you need, then apply with us and join our family.