How much time will it take you to find a surrogate?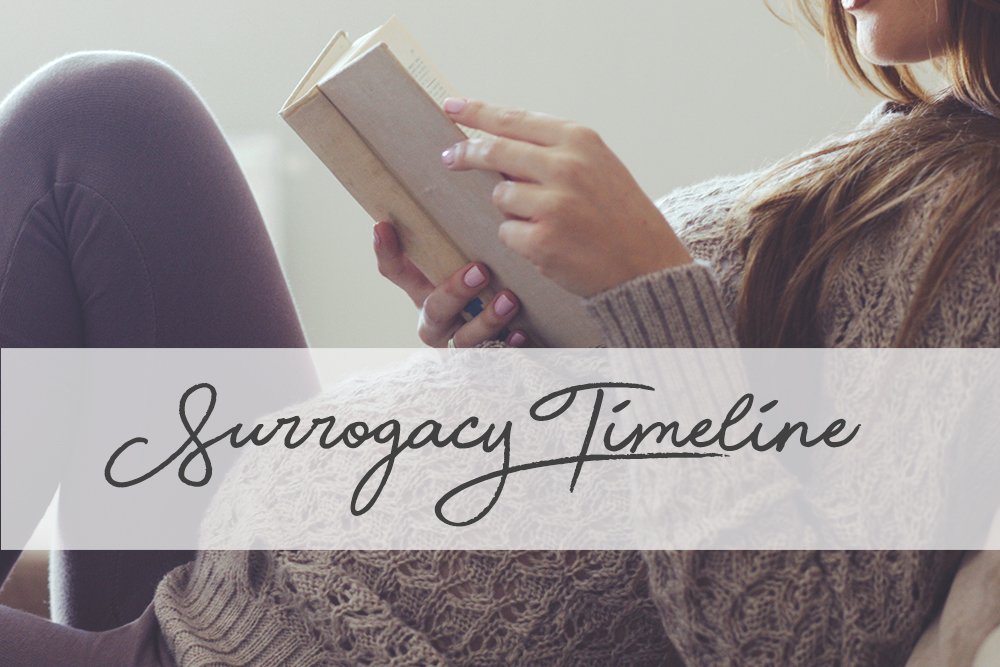 How long does it usually take intended parents to find a surrogate in California and throughout the USA?
Hello intended parents and hopeful parents wishing to start your journey of surrogacy.
Perhaps you found this blog because you are searching for a surrogate mother in California, or you are researching different topics related to Surrogacy – and the intricacies associated with the process of surrogacy.
Today we are going to explore the topic of how much time it will take to find a surrogate. You have probably been looking around for a surrogate agency in California, or at least thinking about your options on how you will find a surrogate mother. We know that by the time you reach this blog, you have probably been researching this for a while.
You probably know there are a number of different surrogacy agencies, or surrogate agencies in California. And as a parent you want to know the single greatest difference between all of them- how fast they will find you a surrogate, or if they have surrogate mothers available for you to look at before you hire the surrogate agency. We want you to know the process of hiring a surrogate, and how answering a few questions of what you want as a parent will help narrow down or double the time that you will be looking for a surrogate.
At Made in the USA Surrogacy, we have designed a process for intended parents and how they will find their surrogate mothers. We will be blogging further about the process of hiring Made in the USA Surrogacy, what that involves and how it is done, but for this article, we will explain how much time it will take for you to find a surrogate- after you hire Made in the USA Surrogacy.
The answer to this question lies in a few different questions for the parents:
Do you know what you want out of a surrogate? What type of person etc.?
Do you as a parent know how much contact you'd like to have with your surrogate?
Do you have certain wants of ethnicity or location for your surrogate?
Do you have a budget in mind that you would like to spend?
Do you have an unrealistic timeline currently?
What is your stance on Abortion/reduction?
Let's examine the answers to these questions one by one.
Do you know what you want out of a surrogate mother? What type of person etc?
The key to the process of finding a surrogate mother in California or other surrogacy friendly states is that the surrogate agency has ONE goal in mind: Matching. It's our job to "match" parents with a suitable surrogate mother. In order for us to find a suitable surrogate mother, we have to make sure that we ask the right questions of the intended parents.
The parents need to make sure they know what they want in a surrogate. This can be answered by asking themselves certain questions to further narrow down their wants/needs for this person.
Questions such as:
Do you care what age your surrogate is?
Do you care if your surrogate is a religious person?
Do they have to share the same value system as you?
Do you have certain dietary restrictions you have thought about asking the surrogate to consider?
Do you have certain medical history wants for your surrogate that you are not able accept (such as, what if the surrogate has undergone a prior C-section?)
Questions like these should help spur you on as a parent to think about your wants and needs for the type of surrogate mother you want. Just make sure not to be too "picky", as many wants could force your waiting period for finding a surrogate way past what you originally wanted.
It's important to remember- the more "wants" you have for your surrogate mother, the smaller the list gets for potential surrogate mothers, and hence- the greater the time you'll probably have to wait as a parent for a surrogate.
Do you as an intended parent know how much contact you'd like with your surrogate mother?
This is an interesting question to ask parents. Maybe you haven't thought of how unique the relationship will be for your surrogate to have this baby. Perhaps all along you have thought about how wonderful it would be to have this new child in your life- but you haven't thought of how the surrogate will feel now that she has shared with you in this process.
Different people have different needs and different value systems. Some parents may only want the occasional touch of communication, others may want more consistent communication with their surrogate mother.
The important thing to remember is that the surrogacy journey is a journey that is shared by both the surrogate mother and the intended parents. It may create a unique bond between individuals and family, and we encourage you to think about how much contact or what type of relationship or bond that you would want with your surrogate mother.
Many of our surrogate mothers are more than willing to conform to whatever communication needs or wants the parents have- but most would like at least a picture or two to see the growth of the baby!
Do you have certain ethnicity wants or location wants for your surrogate mother?
Do you as a parent prefer that your surrogate is white/Caucasian? Do you care if your agency suggests a surrogate of a different ethnicity? Do you only care that your surrogate come from the state of California?
All of these questions will have a drastic impact on whether you will find your surrogate mother fast, or whether you will be forced like many others to wait in the back of a long line. We have found at Made in the USA Surrogacy, that many hopeful parents are aware that California surrogacy laws are very good for the process of surrogacy. As a result, almost every intended parent that we speak to originally have stated that they need a California surrogate mother.
Be prepared to wait
The problem with this assumption or "want" as a parent – is that if every other couple or single person is waiting for a surrogate mother in California – the wait will be very long! And this is not far from the truth.
No matter what parent you are, local to the California state, or whether you are an international couple, waiting for a California surrogate will most likely be a long wait, no matter the agency you hire.
We have heard of waiting periods as great as 6-18 months to find a surrogate in California! This is true because the demand for a California surrogate is much greater than the availability of women who reside in California who want or are in the process of becoming a surrogate.
The location of the surrogate 
With this in mind, perhaps you as a parent want a surrogate from a state such as California or you want a surrogate that is near you in a different state so that you can travel to the birth or you are able to have a better relationship with the surrogate mother. This thought process as well can get intended parents into trouble on the timeline of trying to find a surrogate mother.
We all know that you would like to find a surrogate mother near you and you want the best circumstances possible for finding this person- however, as your agency, we want to encourage you to look at what really matters in this matching process: Getting your baby as fast as possible so you can start your family!
Where the surrogate mother resides is completely irrelevant in most cases because there are many states that are now surrogate friendly, and many attorneys that are paving the way across America that make this practice possible for establishing parental rights. Don't let the location of your surrogate mother get in the way of you starting your family! Trust Made in the USA Surrogacy to find you a surrogate mother that is within your budget and meets other, more important wants.
If you also want your surrogate mother to be of a certain ethnicity- we urge you to think of it this way- your surrogate mother will not be sharing in the genetic make-up of your child. Genetically, the surrogate mother will have no ties to your child. This is through the process of gestational surrogacy- which we discuss further in this article. We know you may have wants for the ethnicity of your surrogate, but we want to encourage you to look deeper into the reasons why we think this surrogate is a good match for you- reasons including budget and mainly a healthy pregnancy history. These are the things that matter in this process.
Do you have a budget in mind for what you can spend for the process of surrogacy?
Why would this question be asked in relation to the question of how much time it will take to find the right surrogate? The reason we ask this question is because it is really a make or break for parents on what surrogate may be right for them. We don't want to get into too many specifics on this topic, because we will further discuss what the process of surrogacy can end up costing a couple in a later post. But think about how much you have to spend for this surrogacy journey.
We tell all parents to be prepared to spend at least $100K on their surrogacy journey, and to prepare for even more if there is need. If you have this amount or close to it, there is a good chance that your surrogacy journey will be successful. But if you aren't sure of your budget, or what factors may affect your budget, this can affect who you are matched with. For example, the large majority of surrogate agencies in California pay surrogate mothers much more for residing in California. If you are not prepared to pay higher amounts for a surrogate mother, we suggest 1) You hire our agency because our base compensation rate is extremely competitive and, in most cases, lower than the competition 2) consider a surrogate who may be out of state- the travel costs may not be as much as paying for a California surrogate- and most likely the wait won't be as long to find one (being that most intended parent couples are under the impression they must have a surrogate who resides in California).
At Made in the USA Surrogacy, our surrogate compensation is set at a base compensation of $40,000. Unlike most of our competition which is $50,000 or higher for California surrogate mothers. We pay the same rate for California surrogates as well as out of state, and because we are a boutique surrogacy agency, our agency fee as well as surrogate costs are much lower than our competition.
The bottom line is, if you have a certain budget in mind or have a certain amount of fund, it's one of our main goals as an agency to help match the many items that are sure to be paid out and some of those items that may be paid out (ie- in event the surrogate mother needs surgery). We make sure to fit all of these considerations into your budget and the specific woman that may help you achieve this number.
Do you have an unrealistic timeline currently?
Do you want to have your surrogacy process over in less than a year? Do you hope to find your surrogate mother in less than a month? Chances are all parents want the baby and to be on the way to completing their family much sooner than this process will allow. It's not uncommon to wait months for finding the right surrogate mother for you, and in some cases couples can wait up to a year or more (as we have described in the case of waiting for a California surrogate).
However, this is not the case with finding a surrogate mother every time and truthfully many intended parents will need to be "OK" with the fact that finding the right surrogate mother could take some time.
At Made in the USA Surrogacy, we want to encourage all parents that we take a look at many items, the parent timeline of embryo creation, how long they have been waiting, what surrogate mothers we currently have, and many other factors that affect whether they will have a good match with a particular surrogate mother or not. We want all intended parents to know that a realistic timeline for finding a surrogate is ONLY TO BE PATIENT – because we do not control the influx or the outgo of surrogate mothers that come to our agency and whether they will particularly be a good match for a given candidate or not.
What parents can control in the timing process- is when they start looking for a surrogate with our agency- starting sooner rather than later will ensure that no good prospect will go by without them knowing or having the chance to match with them.
What is your stance on abortion/reduction?
On this subject, we defer parents to think about the surrogate and what she may want or how she may feel as the person who is birthing this child. We know that these subjects can be challenging and tough to think about, but we want to encourage all potential intended parents to know that we will find them the surrogate mother that is right for them on many subjects.
When it comes to abortion/reduction, many surrogate mothers that we have come across do not wish to abort the pregnancy unless there is a specific medical reason. Most surrogate mothers are reasonable in their wants to protect the child for the benefit of the parents and their own personal health but are willing to do what the parents wish. We urge all parents to be open in their ideas on this subject and consider how it will impact the person who will be carrying.
Made in the USA Surrogacy's most important list
Our most important questions in our examinations for the parents to think about during the process of finding a surrogate and their timeline are these factors:
The pregnancy history of the surrogate
We take great care to know that each surrogate candidate has a wonderful pregnancy history with ZERO complications
The budget of the parents
Being on budget can be a difficult task for many people. It's our job at Made in the USA Surrogacy to carefully consider each surrogate and the costs associated with their surrogate pregnancy in relation to how much it will cost the parents. Different surrogate mothers may have different costs when we consider their medical plan, their location, and other factors. We take a very careful look at how each surrogate mother will match up in the eyes of the budget.
Willingness and motivation of the surrogate mother
It's really important as an agency to get to know our surrogate mothers. We want to know first and foremost that the motivations for becoming a surrogate mother really match up to what is most important in this process- having a baby to help a new family become realized. If motivations and willingness to go the distance are faltering or not in the right place- we know about it as an agency and carefully consider each surrogate mother candidate to make sure they are equipped to go the distance.
Conclusion
In conclusion, there are many factors that affect the timeline of parents finding a surrogate mother; this can be location, wants/needs for their surrogate, budget, contact wants etc.
We want all parents to be encouraged that Made in the USA Surrogacy will do everything in our power to make the process of finding a surrogate mother a smooth and fast process. We know you have been waiting to complete your family for a long time, but we encourage you to take this one step at a time as you trust our agency to lead you through the steps.
We want you to know that each surrogate mother that we suggest to parents as a match has been carefully considered in all areas of importance to the intended parents for their wants and goals for the pregnancy.
During your process of finding a surrogate, we want you to be aware of what we think are the most important factors to getting you matched as quickly as possible. Please take a look again at the 3 factors we mentioned above and consider them first as important in your process for finding a surrogate.
Notice that when we cut down the list to a few important areas, your options for finding a surrogate may rise significantly and in turn your waiting for a surrogate mother will inevitably go down because your options are open, you have kept an open mind, and you are focused on what is most important- that this surrogate pregnancy produces the most healthy children possible!!!