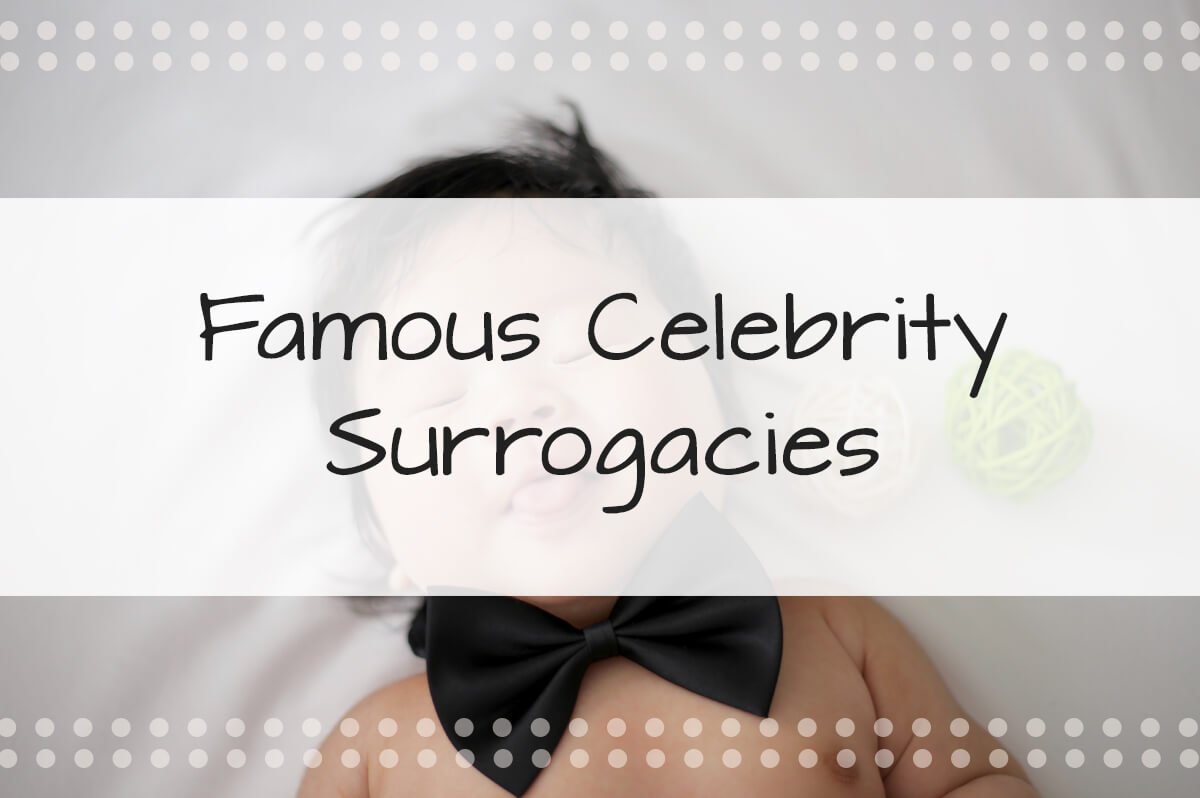 Famous Celebrity Surrogacies: Here are 12 Celebrities Who Recently Used a Surrogate
Surrogacy is just as common in Hollywood as it is in other parts of the world.
There have been countless celebrity surrogacies that were made possible through another person.
Each of these celebrities has turned to use surrogacy as a means to have a child for different reasons. Some women are unable to conceive due to age or health problems.
There are also same-sex couples who also have hopes and dreams of raising a family one day.
Each one has discovered that their dreams of having a family are made possible through a surrogate.
For many celebrities, using a surrogate mother is the best choice for welcoming a baby into the world and expanding their family.
Many A-listers have been open and honest about their experiences with celebrity surrogacy, making it less taboo.
This guide may even inspire you to embark on your own journey and find a surrogacy near me.
#1 – Kim Kardashian
Kim Kardashian is probably the most recognized celebrity to use surrogacy for many of her children's births. The reality star just welcomed her fourth child via surrogate on Thursday, May 9th, 2019.
Kim remarked in a tweet about her baby's 6-pound, 9-ounces arrival- how surprisingly calm he's been.
The baby's name wasn't revealed at the time of the announcement. Back in January, Kardashian said she was searching Armenian boys' names but hasn't considered any.
Kim and her husband Kanye West previously used a surrogate to carry their third child, Chicago West.
Back in January 2018, Kardashian wrote on her eponymous website that she was satisfied with this decision.
She's eternally grateful to her surrogate mothers for making her dreams of expanding her family a reality.
She also thanked her doctors and nurses for taking special care of their surrogate.
Vaginal birth is not an option for Kardashian since she suffered from Placenta Accreta during her previous pregnancies with daughter North and, son, Saint.
#2 – Tyra Banks
Tyra Banks surprised fans in January 2016 when she welcomed her son, York Banks Asla into the world. Banks remarked that her son still very much looks like her and her husband Erik Asla.
The couple prayed for a surrogate who could bring them a beautiful, healthy baby into the world. Since Banks struggled with carrying a child at her age, celebrity surrogacy was the best decision she made.
While she's grateful for her surrogate, she admits the journey wasn't always easy.
#3 – Sarah Jessica Parker
The Sex and the City Star had her first child with husband Matthew Broderick in 2002. But the couple struggled to expand their family.
Seven years later, they conceived twins into the world through a surrogate.
Sarah Jessica Parker claimed that this decision was completely unplanned, as they didn't expect to have two little miracles.
Marion Loretta Elwell and Tabitha Hodge were born in June 2009. After a certain amount of time, they tried not to get their hopes up so they wouldn't be disappointed.
Parker told Vogue magazine that experiencing motherhood later in life has allowed her to focus on other things, such as sleep!
#4 – Nicole Kidman
Nicole Kidman and her husband Keith Urban decided to have their daughters, Sunday Rose, and Faith Margaret, through a surrogate.
It was in December 2010 that the couple surprised fans by announcing the birth of their first daughter together.
Kidman admitted that she wanted two or three more children. That's when they ended up with Faith Margaret shortly thereafter.
Kidman loves the idea of raising a big family, which is why she made the decision to use a surrogate.
#5 – Elizabeth Banks
Perhaps one of our favorite on this list, due to her amazing portrayal during the Hunger Games movies- Elizabeth Banks and her husband Max Handelman claimed they took a "big leap" of faith when they decided to have children via a surrogate.
Their children, Felix, and Magnus Mitchell were born shortly after they made this heart-wrenching decision.
Choosing a surrogate has exceeded the couple's expectations, and has taught them the importance of patience and gratitude. They have formed an intimate relationship with their surrogate that will last a long time.
#6 – Giuliana Rancic
Bill and Giuliana Rancic were plagued with several health issues, including breast cancer, infertility issues, and miscarriages.
This is when the couple decided to make the decision to have their son Edward Duke via surrogate in August 2012.
Giuliana loved how "honest" her surrogate was. From the moment they met, Giuliana knew she was the one- this happens a lot for our intended parents- and you may experience the same feeling when using Made in the USA Surrogacy!
Going through this journey made the E! News host realize that she should focus on the important matters in his life.
#7 – Katey Segal
Katey Segal was best known for her role as Peg Bundy on the hit television show "Married… with Children" in the early 90s.
She also lived up to that name by dedicating a nursery in her dressing room to her two children with ex-husband Jack White.
After the couple split in 2000, Sagal married Sons of Anarchy creator Kurt Sutter. Since he never raised biological children of his own, Segal and her husband considered using a surrogate.
Her age prevented her from carrying a child at that point, and in vitro fertilization wasn't an option.
The couple decided to try this journey and realized it was one of the best decisions ever.
The couple welcomed their daughter Esme in 2007, with the help of a surrogate. They fondly refer to their child as their "little miracle."
#8 – Neil Patrick Harris
Neil Patrick Harris and his husband David Burtka wanted to raise their own family.
Now they have twin boys, Gideon Scott, and Harper Grace, with the help of an egg donor and surrogate. In addition, they found the perfect surrogate that gave the gift of life to same-sex couples in the past. That's when they knew they wanted to use her as well.
They used two eggs – one with Neil's sperm and the other with David's sperm. Surprisingly, both eggs took well to the process.
The journey went so well that the couple joked they can't tell which twin belongs to each father.
#9 – Elton John
Elton John already knew he wanted to go the surrogate route when he married his husband David Furnish.
The couple originally tried to adopt, but the process wasn't what they anticipated. So, they used a surrogate as a way to raise children of their own.
Everything quickly fell into place. The couple was able to become the proud fathers of their sons, Elijah Joseph Daniel and Zachary Jackson Levon. Both of their sons were born to the same surrogate.
#10 – Ricky Martin
Ricky Martin is a proud father of twin boys, Matteo and Valentino. His sons were born from a surrogate mother in August 2008.
Martin originally considered the idea of adoption but realized that it was a long and difficult process. Celebrity surrogacy was an easier and quicker option.
He jumped into his relationship with his surrogate mother with both feet. He had no idea he was going to be blessed with two sons.
#11 – Fredrik Eklund
Reality TV star Fredrik Eklund of the hit show "Million Dollar Listing NY" has finally had a family of twins with his husband Derek Kaplan.
It's known that they had multiple miscarriages and trials in their surrogacy journey, including issues with finding an egg donor.
They have not chosen to reveal the identity of the surrogate or who donated their eggs, but they ultimately ended up with twins (a boy and a girl) successfully!
#12 – Andy Cohen
Andy Cohen shocked fans and Real Housewives stars when he announced on a Dec. 20 episode of Watch What Happens Live that he was expecting his first child via surrogate.
While Cohen remains single, he said that raising a family of his own one day was something that meant the world to him.
He was finally able to start his family through a selfless surrogate.
On Feb. 4, Cohen took to Instagram to share the news of his son Benjamin Allen's arrival.
In a tender Instagram shot, he revealed that he "fell in love" the first moment he laid eyes upon his son.
Each of these celebrity surrogacies was made possible thanks to these brave and compassionate surrogates. They're so grateful to their surrogates that they have been able to open up about their experience.
There are so many people who want to raise a family but can't talk about it or who are just now finding that surrogacy is their solution. It's important for people to have celebrity role models, especially when considering a life-changing decision such as surrogacy.
If you are a celebrity or well-known individual searching for surrogacy as your form of having children, then Made in the USA Surrogacy wants to be your answer to finding a surrogate.
We have procedures in place to maintain your privacy and will help you get to the end of this extremely long and emotional journey.
Our surrogacy costs are among the lowest in California- and with your busy schedule- you may need to hire the best surrogacy agency in California to help you. Please fill out this form or call our office today at 916-226-4342.