Don't let these reasons stop you from having a baby – let us help you find a surrogate!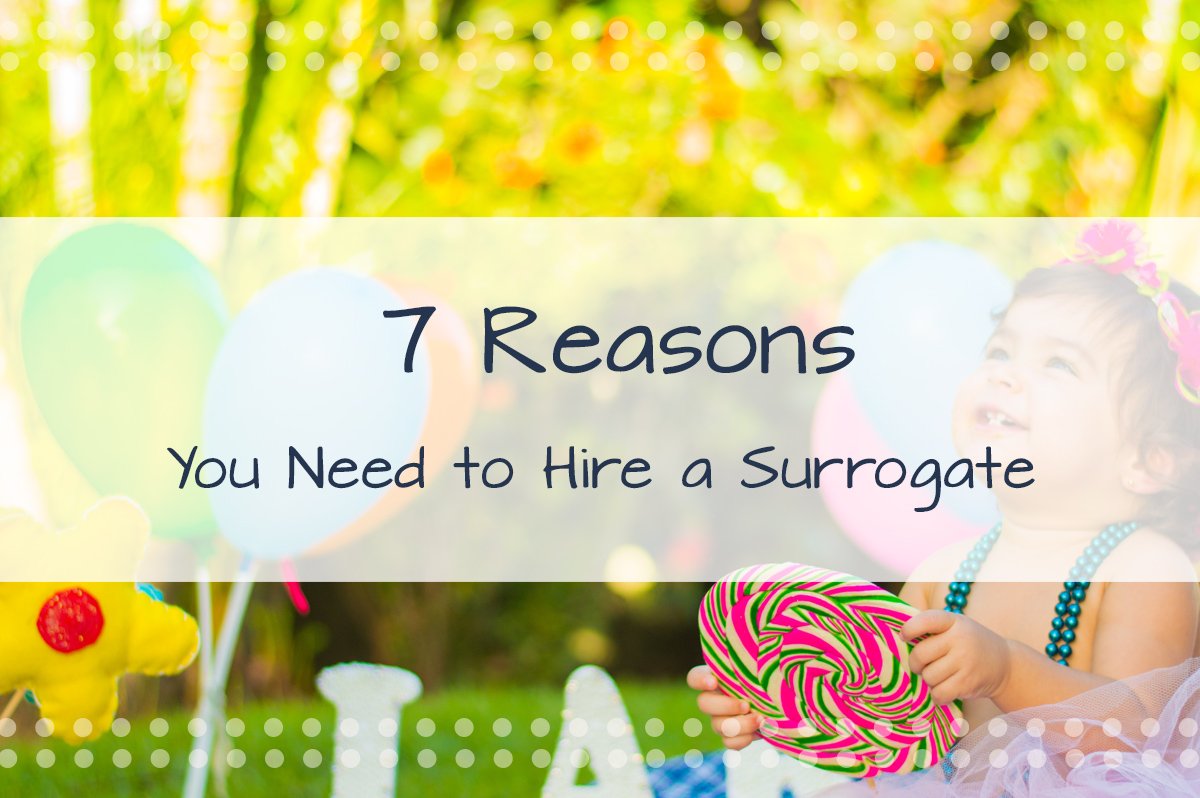 Hello, Intended parents looking to have a child through surrogacy.
If you have reached our blog- you are most likely researching hiring a surrogate. Maybe you have explored independent surrogacy, or perhaps you are just gathering information.
Wherever you are in the process of surrogacy or your process of looking for a surrogate, Made in the USA Surrogacy want to be your resource for all things surrogacy.
Today we want to discuss 7 reasons you need to hire a surrogate:
#1 – You've been diagnosed with "unexplained infertility"
Unfortunately, 1 out of 6 couples struggles with infertility for many reasons. One of these reasons for infertility is "unexplained". Seeing how that is an extremely ambiguous reason for infertility- what can be the reasons that your fertility is unexplained?
If you are experiencing the following – yet you still for some reason are unable to bear children:
You ovulate on a regular basis
Your spouse's or male partner has no issues with his semen.
There is no issue with your uterus
Your fallopian tubes are open and in good shape
Your ovarian "reserves" are good
You don't have any other ovarian cancer or endometriosis diagnosis
All of these issues would be checked with your local fertility clinic or the fertility clinic where you are having your embryos made.
In the event that you are diagnosed with unexplained infertility, you should consider the use of a surrogate mother.
Though your fertility doctor or other medical professional may want you to undergo fertility treatments to see if you are eligible to carry or see if a baby will result from these treatments – you may want to consider using a surrogate candidate that is fully screened and able to have children to carry your embryo(s) for you.
#2 – You have undergone a hysterectomy
This may seem self-explanatory, but things may have changed for you.
We know that people have changing motivations and reasons for wanting to have children. For some, this means that they decided they didn't want a child early on in their 20s or 30s, or they were forced to have a hysterectomy because of a medical reason.
Whatever the reason for having a hysterectomy- you are still able to have a child through surrogacy.
Keep in mind if you do not have your ovaries and did not preserve your eggs, you will be forced to have an egg donor provide eggs for this purpose- but if you only had a partial hysterectomy and your fertility clinic is able to retrieve your eggs, you will be able to complete an embryo and hire a surrogate.
#3 – You have had a terrible accident that affects your fertility
Just recently, we have had a few inquiries from parents who want to start a family or who wanted to add to their family, but a recent car accident has affected their fertility and their ability to have children.
Made in the USA Surrogacy would like nothing else but to help these parents have the children of their dreams through surrogacy.
If for some reason you have had a terrible accident that has affected your fertility- please don't hesitate to fill out our inquiry form and we will help you find an excellent surrogate!
#4 – You are passed a safe child-bearing age
Whether you are a woman with a youthful spirit or not – the truth about fertility is that it is directly impacted by your age.
According to Yourfertility.org – "a woman's age is the most important factor affecting her fertility and her chance of having a baby."
Made in the USA Surrogacy is aware of this fact for parents who wish to have a child, and we sympathize with parents who have past the prime of their childbearing years.
We specifically screen our surrogate mother candidates to make sure they are within the ages of 23-38 and have had successful pregnancies.
#5 – You have recurrent pregnancy loss or miscarriages
According to this article, recurrent pregnancy loss affects approximately 1-2% of women.
Though there are other definitions of this condition, the basic condition is the loss of 3 consecutive pregnancies prior to 20 weeks. Though pregnancy loss and miscarriage is common among childbearing women- the idea of trying again for many women could be devastating and unbearable.
We encourage all parents who are diagnosed with recurrent pregnancy loss to immediately consider surrogacy as their way to start a family.
We have surrogate mothers waiting to help complete your family, and who are very sympathetic to this issue among women.
#6 – You are afraid to become pregnant or it terrifies you
If you are a surrogate mother prospect who is reading this blog, chances are you may not understand the fear of having a pregnancy among women who have not yet had a child.
Fear of childbearing is a real issue among women who have not experienced it, and or among women who have had a traumatic experience tied to a loved one who gave birth.
We at Made in the USA Surrogacy have heard many stories from parents wanting to have a baby through surrogacy that they are afraid of childbirth. We have had women tell us that because of the childhood experiences they are afraid to try it.
We have even had intended parents who have told us that a childbirth experience from a friend or loved one has terrified them of the process of having a baby. For this reason, we encourage you to hire a surrogate through our surrogacy agency.
#7 – You are only getting older- the time is now!
For most intended parents who have made it this far- researching their surrogacy options – the journey of infertility has been many years.
They come to our surrogate agency after 4-8 years of trying to have a baby through many of their own means, through the process of IVF and many cycles of that, or by hoping and wishing that the problem will go away.
Fortunately for these parents, Made in the USA Surrogacy exists to find you a willing surrogate mother that will have your children for you! Don't let these above reasons stop you from having the family that you've always desired.
Contact us today to talk about your surrogacy options. The chances are- your surrogate mother is just a phone call away.
We want all intended parents to know that the process of surrogacy is just as satisfying as having a child on your own. We have gestational surrogates ready to start a surrogacy journey for you.
These women have come to us looking to become a surrogate and most of them tell us that pregnancy was easy and carefree for them. Don't let it discourage you that your own pregnancies have not been this way- fill out our form today and we will discuss getting your surrogacy journey started!