Become a Surrogate in Davis
Boutique Surrogacy Agency Based in Northern California
We connect surrogates with intended parents in Roseville, Sacramento, the San Francisco Bay Area, Los Angeles area and beyond
Become a Surrogate in Davis, California
City of Davis, CA
Most people know Davis, California, as the site where the University of California, Davis, was placed. It's the seat where most students learn about farming, animal husbandry, animal science, and other agricultural-related degrees. Before it was chosen as the site for a university, however, it was a simple farming area with a post office.
It eventually became involved in policies on agriculture and veterinary medicine. The area is also quite flat. Because of this, many bicyclists love to train on the area to improve their stamina and endurance before tackling the rougher terrain.
Davis has also been at the forefront of preserving energy and reducing climate change. It was among the first to have the roofs of all of their buildings use a material that is lighter in color. In this way, they wanted to deflect the sun's hot rays and keep it from being absorbed into the building below the roof.
Davis has an estimated population of 69,289 people. This is without the inclusion of the nearby University students and their families.
Another interesting note that Davis is well-known for is its bicyclists. The city tends to lean towards using bicycles to get around rather than using buses or cars. This is in an effort to both promote health.
They also have quite a few festivals throughout the year. There's the Whole Earth Festival, where the focus is on preserving the environment and fighting climate change. Celebrate Davis is another popular festival that is held to promote local businesses and artists. There are also numerous museums, food truck festivals, and art festivals held throughout the year.
If you're a student or just a woman looking to make extra money without altering their lifestyle too much, you might want to consider becoming a surrogate. There are couples both in the Davis area, across California, and across the country, who are struggling with fertility and conceiving a child. Some may have given up hope of having a baby of their own.
Becoming a surrogate for them can help them realize those dreams. It also can reward you with a generous compensation amount. How can you become a surrogate in Davis, California? What does it entail? How can a surrogacy agency in California help you? Read on to find out more about how to become a surrogate.
What an Agency Provides
One of the first things that you should think about when considering surrogacy, is whether or not you want to go through a surrogate agency. There are many benefits to having a surrogate agency help you. For one, it can match you with intended parents on a broader scale. Looking for intended parents on your own can not only take a long time, but it can also sometimes be dangerous. We offer a legitimate way for surrogates to find their intended parents.
On your own, you may not realize all of the laws that surrogacy in California possesses. While California is a surrogate-friendly state, it still has a legislature that must be adhered to. Unless you happen to know a surrogate attorney, wading through that legal paperwork can be difficult. A surrogacy agency in California not only can help you find a surrogate attorney, but it also makes the overall process easier and simpler.
One final way that an agency can help you become a surrogate is by introducing you to health insurance policies that cover surrogacy. Too often, women believe that their current health insurance will cover being a surrogate. That isn't always the case. Most traditional insurance companies haven't quite figured out how to cover surrogates and all of the surrogate-related costs.
Without health insurance, you can face some severe charges. An agency like ours, Made in the USA Surrogacy, can help you find a policy that will cover the expenses of being a surrogate.
How to Become a Surrogate in Davis
After deciding to utilize our services as your agency, you may wonder how you can become a surrogate from there. First, we need you to be sure that becoming a surrogate is something that you want. It can take some time out of your life. For example, most women typically devote a year to two years per surrogate experience. This is simply because the process of surrogacy can be a lengthy one.
You already have nine months of pregnancy to look forward to. On top of that, you also have fertility treatments that can sometimes span a few months. There's also the period of time in which you're waiting to be matched with intended parents. You should, at the very least, expect to spend a year or two per surrogacy.
If you're prepared for that kind of time commitment, then you're ready to take the next steps. You'll need to pass some surrogacy qualifications, then perform a few steps to officially join our agency, and then the physical process of surrogacy can begin.
Surrogacy Qualifications
Surrogacy in California always aims to have their surrogate mothers and surrogate babies be healthy. Because of that, certain criteria need to be met in order for a woman to be accepted as a surrogate mother. Here are some of the qualifications that we require before you can join our agency.
The first is that you must be a legal resident of the United States. It's also acceptable if you're a legal immigrant.
To promote that healthy pregnancy, we need our mothers to be between the ages of 23 and 38. So, if you're a college graduate or a student attending graduate school, you could be the perfect candidate for our agency. We also require our surrogates to have a BMI between 19 and 30. Prospective surrogate mothers should be nonsmokers, possess no substance abuse addictions, and no alcohol abuse problems.
We also require that you have had at least one successful birth prior to joining. This is to show that you can carry a healthy pregnancy and deliver it successfully.
You must be financially secure.
Finally, we ask all of our prospective surrogate mothers to have a physical and mental evaluation.
Compensation
If you live in Davis, then you might wonder what being a surrogate can give you. A healthy pregnancy and delivery can offer you around $50,000. It's also possible to make more than that amount. You can expect compensation for the following categories, plus extra that is not shown here. For the full list, you can visit our website.
Base compensation: $40,000
Twins/multiples: $5,000
Monthly allowance: $250
Experienced Surrogate bonus: $5,000
Maternity Clothes: $1,000
Housekeeping: $2,000
Steps with Us
In order to become a surrogate with us, you need to complete the following steps.
* Fill out Online Intake Form
* Fill out Official Surrogate Application Form
* Send Medical Documentation of Past Pregnancy and Hospital Visits
* Send Photos of Your Family
* Have Clearance Letter from Your OBGYN Delivered to Us
* Have a PAP Smear Performed Within a Year of Applying
Once those steps are completed, we'll accept you into our fold as a surrogate mother. The process of matching you with intended parents begins from there. You'll also be assisted with finding a surrogate attorney and surrogate health insurance. The attorney will help you and the intended parents come up with a birth plan and other elements of the entire process.
Physical Process
Once the agreement has been made between yourself and the intended parents, you begin fertility treatments. You'll be receiving fertility treatments for an embryo transfer. This is a process in which your estrogen levels are lowered to help trick your body into thinking it's pregnant. The intended parents will also be receiving fertility treatments for IVF. Both IVF and an embryo transfer are staples of the surrogate process.
It's a relatively easy procedure. The embryo is simply placed either within your fallopian tube or your uterus by the fertility specialist. Once it has been accepted by your body, the embryo will start to grow and develop. You're officially pregnant.
Over the next nine months, you can continue to work your normal job, attend classes, go out with friends, and essentially live a normal life. You'll just also need to visit the doctor more often and visit the intended parents, so they can be part of the pregnancy experience, too.
For those who live in Davis, California, becoming a surrogate can completely change your life.
CONTACT US
If you have any questions, please give us a call anytime. Phone: (916) 226-4342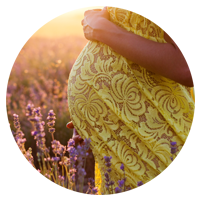 California Surrogacy