Intended Parents: How much does it cost to hire a surrogate?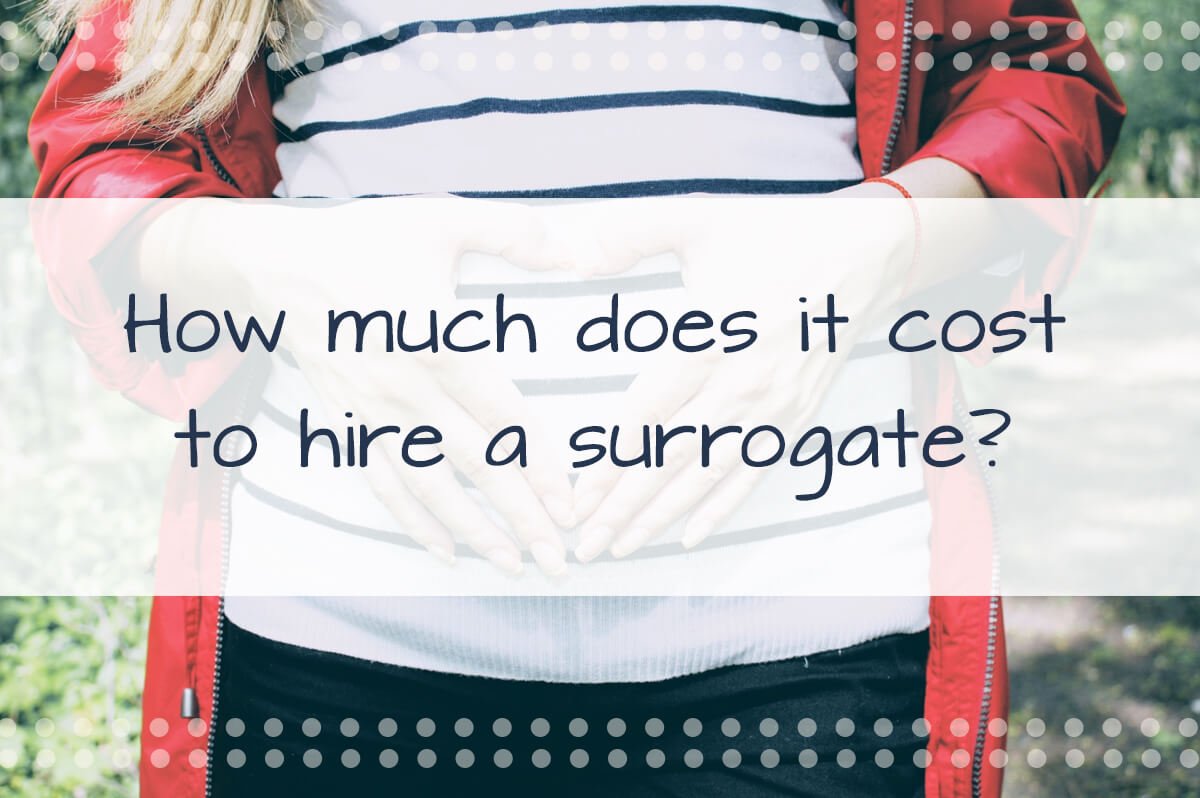 An in-depth look at how much it costs to hire a surrogate and all related surrogacy fees.
Hello intended parents!
We are so glad you have reached our blog while searching for information about your surrogacy process. Whether you are located in Northern California, Southern California, or you are an intended parent from a different state- we are committed to providing you with surrogates from California and other surrogate friendly states in the US.
Made in the USA Surrogacy is a boutique surrogate agency located in the Sacramento area, but we service intended parents from all parts of the state of California who are struggling with infertility and need a surrogate.
If you are looking for a surrogate in California, chances are you have been researching the process of surrogacy for you and one of your major questions is: How much does it cost to hire a surrogate?
Today we will answer that question in detail for every parent looking to understand how much it will cost to hire a surrogate. We will provide a detailed analysis of surrogate cost and what you can expect for the surrogacy journey. It is probably one of the most frequently asked questions- and there are many parts to the answer to how much a surrogate will cost. Let's look at a few details.
Surrogate compensation is broken down into 2 sections: Base compensation, and the surrogate benefit package
Surrogate base compensation: How much surrogates get paid is based solely on their individual surrogacy agency.
Each surrogate agency is different in the base rates they have set up for compensation to their surrogates, and they decide the rate of compensation based on many factors- such as where the surrogate mother lives, what other surrogate agencies are paying surrogates for the same factors, will she be carrying a single baby or twins, whether the surrogate will have "surrogate friendly insurance", whether the surrogate is employed or not, or if they are "experienced".
Many surrogate agencies pay different surrogate base compensation based on these factors.
Using this method, agencies will charge a different base rate for each surrogate, and the metrics can be confusing. Typically, depending on the surrogate agency you go with- the base surrogate compensation you will pay for a surrogate mother will range from $40,000-60,000.
There are some surrogate agencies that will include compensation to the surrogate for things such as work pay and insurance payments as a part of their base compensation. This also makes things more complicated in trying to reach the answer to your question- how much does a surrogate cost?
At Made in the USA Surrogacy, we have set ONE surrogate base compensation for all surrogates- regardless of where they live, what they do for work or other factors. We do this to make things easy on the parents who hire a surrogate, and the surrogates who come to our agency- so everyone knows what to expect.
The Base Compensation for surrogate mother prospects at Made in the USA Surrogacy is $40,000. If the surrogate mother is experienced and has done a surrogacy journey in the past- the compensation will rise by $5,000. This compensation will be paid in 10 monthly installments along with any other payments from the surrogate benefit package- after there is a confirmed heartbeat.
Surrogate benefit package: This "package" is detailed by each surrogate agency you come across in what is called a surrogate cost sheet. Check out Made in the USA Surrogacy's cost sheet for reference. These costs are pre-determined by your surrogate agency, and will typically not be negotiable because they have already been discussed with your potential surrogate mother and agreed upon by her that she is willing to go through surrogacy for this specific package.
Think of this as your surrogate being offered a job with a set compensation.
We offer them this opportunity to become a surrogate for specific benefits and compensation and therefore do not change the compensation figures for any reason. This creates a predictable model that each surrogate mother can count on when they are presented with a possible parent match.
The benefits package is compensation for your surrogate that is in addition to the surrogate base compensation. The numbers listed are for Made in the USA Surrogacy's surrogate benefit package and are detailed as follows:
Lost wages compensation (determined by your individual surrogate- typically $2-$4,000)
Spousal lost wages (same as above)
Maternity clothes allowance ($1,000)
Monthly allowance of $250 (for 10 months- total $2,500)
Experienced surrogate ($5,000)
Multiple confirmed pregnancies, twins/etc ($5,000)
Embryo Transfer fee ($1,000)
Invasive procedures ($1,500)
Miscarriage ($500)
Travel expenses (depending on where embryo transfer and surrogate are located)
Housekeeping ($2,000)
C-section ($1,500)
The above costs will add another potential $11,000-$25,000 on top of your surrogate mother's base compensation- described above as $40,000 for Made in the USA Surrogacy. Here, you can see the large difference in the pay to your surrogate mother will be whether they are employed, whether and where their spouse is employed (if they are married), and whether they attempt multiple transfers or undergo invasive procedures.
Made in the USA Surrogacy, our costs for many of these benefits is among the lowest for surrogate mothers. Many surrogacy agencies will offer surrogate mothers' compensation in large numbers for the above benefits- such as $2,500 (or $3,000) for C-section vs. Made in the USA Surrogacy- $1,500. All of these little costs add up big to your bottom line!
We believe surrogate compensation should reflect that of a decent average regular paying job for surrogate mothers- but also be manageable for intended parents.
Many surrogate agencies are competing to provide the "highest surrogate pay"- but this is at the expense of intended parents. Surrogate mothers should not be encouraged to "shop" for the highest rate of pay. Instead, we believe surrogate prospects should first be motivated by the goodness and generosity in their hearts- compensation should be a secondary priority.
Other factors that affect surrogate costs:
In addition to your surrogate benefit package and base compensation, your surrogacy journey will also be affected by 3 more major factors:
#1 – Who you choose as a surrogate attorney?
This is the main part of the process of surrogacy, and cannot be skipped or skimped on.
As a parent on a budget for your surrogacy, you will have many options for surrogacy attorneys that will be in your budget. But some intended parents ask us whether they can save on this cost due to having a "friend that's an attorney" or maybe they practice law as well. We want all parents to know that hiring the right and correct attorney for the field of practice that they need is paramount to this process.
Having an attorney that specializes in surrogacy is extremely important and cannot be understated. Our surrogacy attorneys specialize in international surrogacy, domestic surrogacy, specific surrogacy agreements, parental agreements, adoptions from surrogacy and many other issues.
#2 – What type of health insurance your surrogate will have?
We try really hard at Made in the USA Surrogacy to help parents understand they do not need to worry about their surrogate mother's health insurance. As your trusted surrogate agency, we make sure that your surrogate is well covered on her health insurance.
However, the costs can be drastically different for a surrogate mother who has a health insurance policy that will cover her costs related to the surrogacy and a surrogate mother whose policy will not cover these costs.
Typically, between a policy that will cover surrogacy related costs (but still has co-pays and premiums) and a health policy that is specific to a surrogacy journey- you will pay a difference of about $20,000-$25,000. Or, vice versa, you could potentially save $20,000-$25,000 if you have a surrogate mother with a surrogate friendly policy.
Please note: The likelihood of finding a surrogate with "surrogate friendly insurance" is low and not worth the wait. We want to encourage all intended parents to consider the cost that will come with this, the budget for it, and understand that it is an essential aspect of the surrogacy journey to pay for your surrogate mother's health insurance costs and any related costs associated with the journey. Many parents call our office telling us that they are "waiting" for a surrogate with surrogate friendly insurance. The issue with this is that there are not many surrogates who have a surrogate friendly policy and it is rare.
Also please note: The likelihood of there being complications with a surrogate friendly health insurance policy is very high. Because surrogacy is a known third-party-process, it is sometimes frowned upon by the insurance company for being used with surrogacy. Language related to surrogacy in a health insurance policy can be intentionally vague, or even non-existent- leaving room for error with interpretations on whether surrogacy will be covered. There are many instances where insurance companies have become aware that the pregnancy costs are associated with a surrogacy- and therefore charge or take from the compensation of the surrogate- or deny the coverage completely (sometimes retroactively!).
For this reason – we encourage all parents to not buy into the myth that a surrogate with a pre-existing surrogate friendly policy is a must-have for their journey. If you prepare properly for the potential cost increase of a surrogate health insurance policy on your surrogacy budget- you will not be caught by the shock that her insurance policy may not actually cover surrogacy very well at all or as good as we all had anticipated.
Disclaimer: Made in the USA Surrogacy has every potential surrogate's current insurance policy reviewed by insurance professionals for use with a surrogate pregnancy. They do not guarantee their coverage findings and neither does Made in the USA Surrogacy. If a surrogate is found to have surrogate friendly insurance prior to the birth- but complications arise with coverage- all intended parents are required to cover the medical costs associated with their surrogate mother regardless of prior findings. To help reduce the risk of misinterpreting a potential surrogate's insurance policy- we ask parents to employ the use of a surrogate contingent health policy.
Typically, health insurance costs will not exceed $30,000 for your surrogate mother. Please contact us directly for questions related to your potential surrogate's costs and health insurance.
#3 – What is your Surrogate Agency's fee?
Between the recruiting of surrogate candidates, managing their surrogacy journey, constant marketing for surrogate mothers, marketing activities of multiple kinds, getting the word out about the surrogate mother opportunity, meeting with fertility clinics and setting up our network- the cost of running a surrogate agency is high.
Marketing for a surrogate mother reaches well into the $thousands of dollars per month, and surrogacy agencies in California are also competing for a lot of the same surrogate mother candidates.
What does this mean for you as a parent? Every parent will be required to pay an agency fee for the services provided by their surrogacy agency and to start with a surrogate prospect to potentially match. Agency fees range anywhere from $25,000-$40,000 (this is in addition to your surrogate mother's compensation and benefits discussed above). This can depend on the services provided by each individual surrogacy agency- and they do vary greatly.
Overall, make sure that your surrogacy agency fee is a part of your surrogacy agency budget and do your research to compare the costs of differing agencies.
At Made in the USA Surrogacy, again, we have set our agency fee to be both fairs for the costs of business, but also manageable for intended parents. We have found our surrogate agency fee is among the lowest for agencies doing business in California and coupled with our lower surrogate compensation packages, your cost to hire a surrogate will be manageable and feasible.
As a recap- taking in all of the information provided above- typically the cost to hire a surrogate who is working, that will need insurance, and most other costs kept to a manageable level will cost intended parents anywhere from $100,000-$140,000.
We tell parents to estimate on the high side- so as to be prepared for any un-known costs or fees associated with their surrogacy journey, and not be caught off guard by the high costs of surrogacy.
As of February 2019- Made in the USA Surrogacy has beat estimates for many surrogacy journeys, and has come under budget- under $100,000 for the last 3 surrogacies in January 2019.
This is not typical or common but mentioned because there can be instances where your surrogacy journey with Made in the USA Surrogacy will definitely be the most affordable surrogacy journey you will come across for a surrogate in California, and a surrogate agency located in Northern CA.
Keep in mind estimates with any other agencies in California with higher surrogate compensation, higher surrogate agency fees, and higher surrogate benefit package payouts will typically run intended parents well over the $150,000 mark- closer to $180,000.
If you are an intended parent and you have embryos ready in Southern California, Northern California, Berkeley, San Francisco, Sacramento, Rocklin, Roseville, or any other part of California- we are ready to help you save money on your surrogacy journey, and find you an amazing surrogate.
Please contact our surrogate agency today for a closer look at what surrogate mothers we may have that fit your budget, how we can help you get started looking for a surrogate, and answer any surrogacy related questions you may have!
If you are a surrogate mother prospect, are full of compassion for other people, and becoming a surrogate sounds like a motivating and wonderful opportunity for you- do not hesitate to contact our agency to see if you qualify!