Surrogacy Agency Napa Valley
Boutique Surrogacy Agency Based in Northern California
We connect surrogates with intended parents in Roseville, Sacramento, the San Francisco Bay Area, Los Angeles area and beyond
Surrogacy Agency Serving the Napa Valley Area
For couples and individuals who are facing fertility challenges, it can be very frustrating to reach multiple dead ends after trying to realize your dreams of building a family. The good news is that thanks to the growing popularity of surrogacy in the United States, more and more people are actualizing their dreams of becoming parents. The surrogacy journey is truly a life-changing and profoundly rewarding experience for both intended parents and surrogates.
If you are a person or couple living in Napa Valley and its surrounding areas, wondering where to start on your surrogacy journey, look no further than Made in the USA Surrogacy. We are located very close to Napa Valley in the Sacramento, Northern CA area and will most likely have the surrogate candidates that you desire. We are committed to ensuring that the surrogacy process is as smooth and worry-free as possible for our clients residing in areas such as Napa Valley, Sonoma, Petaluma and more.
There are many aspects to surrogacy that can make the process quite complex. To give you a better idea of what you can expect throughout the surrogacy process, below, we provide a guide to help you successfully navigate the surrogacy journey.
Surrogacy Guide For Intended Parents
Why Our Agency?
Made in the USA Surrogacy is made up of dedicated professionals who are passionate about helping individuals and couples struggling with fertility become parents. We offer a range of services that simplify the entire process from beginning to end. Our services include:
Extensive Pre-Screening of Surrogate Candidates
Women who apply to become surrogate mothers with Made in the USA Surrogacy undergo a strict vetting process that involves a thorough review of their medical records as well as criminal background checks. They must present a clearance letter from an OB/GYN stating that they are physically healthy to become a surrogate.
Case Management of the Entire Surrogacy Process
Every intended parent is assigned a case manager/coordinator who will work closely with you throughout your surrogacy. The coordinator will provide relevant information, guide you and address any questions or concerns you may have.
Referrals to Fertility Clinics and Legal Representation
If you are not currently working with a fertility clinic, we will refer you to fertility clinics in Napa Valley that meets your needs. We will also provide you with trusted surrogacy attorneys that will help us guide you through the journey.
Surrogacy-Friendly Laws
Surrogacy is a common fertility practice in California, especially when compared to other states. This is because California's laws favor surrogacy. In fact, California is referred to as a surrogacy-friendly state. Both traditional and gestational surrogacy is legal in California. As an intended parent, you should have an idea of the laws in place regarding surrogacy. Some common laws are:
California requires that a surrogate and intended parents each have separate attorneys.
Before any medical procedures can occur, a signed surrogacy agreement must be in place. The agreement addresses surrogate compensation, surrogacy, and birth plans as well as the rights and obligations of both parties.
In California, commercial surrogacy – in which the surrogate is compensated for her time and effort, beyond medical and other surrogacy related compensation – is legal.
In California, pre-birth parentage orders are permitted, allowing intended parents to establish parentage prior to the birth of the baby. This avoids the need to undergo adoption proceedings. The process of filing a pre-birth parentage order is straightforward and no hearing is required.
Finding a Surrogate
The process of finding the right surrogate can be overwhelming. At Made in the USA Surrogacy, we make the process easier for you. We thoroughly pre-screen every surrogate candidate to make sure that they are physically and mentally healthy to undergo the surrogacy process. Before we accept any surrogate candidate, we review the medical history of each candidate to confirm that she has successfully completed a pregnancy to full term and without complications. Drug testing for illicit drug use is performed as well. We also conduct criminal background checks on surrogates and any adults living in their household over the age of 18. Additionally, we perform a home visit and inspection to ensure that all of our surrogates live in a safe and healthy environment conducive to a successful pregnancy.
Once you, the intended parent, have signed an agency retainer agreement with us, we help match you with the best surrogate to fit your surrogacy plan, based on the information you provide us. You will be able to review our pre-screened surrogate candidates and a Made in the USA Surrogacy coordinator will guide you in selecting the most compatible surrogate.
Surrogacy Guide for Surrogates
What To Expect as a Surrogate
If you are looking to become a surrogate for the first time, it is natural to want to know what you can expect before embarking on your surrogacy journey. We strongly urge you to do your research before beginning surrogacy. For the requirements, you must meet before you become a surrogate with Made in the USA Surrogacy, take a look at our surrogate requirements.
To make it easier for you, we are providing an overview of the surrogacy process for surrogates so that you are adequately prepared before you begin the surrogacy process.
Legal Surrogacy Agreement
According to California law, a surrogacy agreement between the surrogate and intended parents must be in place prior to any medical procedures. As a surrogate, you must have an attorney representing you that is separate from the attorney of the intended parents. The surrogacy agreement covers each party's rights and obligations; surrogate compensation; how to handle what-if scenarios that may arise during the course of the pregnancy and a range of other issues.
After reviewing our surrogate requirements and confirming that you meet all requirements, the next step in the process is to fill out a surrogate application form. After submitting this contact form, our agency coordinator will call you to complete a further application in which we ask you to provide information that includes your birth history; lifestyle and living situation; health history; as well as your reasons for wanting to become a surrogate. Once we review your information and accept your application, we will contact you to request relevant documents such as medical records of previous pregnancies and hospital birth records.
Matching with Compatible Intended Parents
At Made in the USA Surrogacy, we are committed to matching surrogates with the most compatible intended parents. It is important that both parties' values are aligned and that both parties meet physical and psychological requirements for a successful surrogacy. We take into consideration each surrogate's preferences (for example, the extent of communication a surrogate wishes to have with the intended parents) to ensure that we match you with intended parents who are the best fit.
Medical and Psychological Screenings
Once you are matched with intended parents, you will undergo extensive medical and psychological screenings to ensure that you are capable of successfully carrying a surrogacy pregnancy. You will meet with a licensed mental health professional who will conduct a thorough interview with you to determine whether or not they are mentally and emotionally prepared to undergo the surrogacy process.
In terms of medical screening, you can expect to undergo a physical exam; blood work; screening for infectious diseases and an ultrasound. Extensive laboratory tests may also be performed.
All costs associated with medical and psychological screenings – including travel costs if you have to travel for your appointments – are covered by the intended parents.
For gestational surrogacy, the embryo – made from the egg and sperm of the intended parents or egg/sperm donors– is transferred to the surrogate after in vitro fertilization. A catheter is used to transfer the embryo. It is inserted into the surrogate's uterus via the cervix. This procedure is done under anesthesia (if needed) and is pain-free. After the procedure, the surrogate will need some days off to rest.
Usually, prior to the embryo transfer, the surrogate's cycle is regulated using birth control pills and hormones like progesterone and estrogen. Doing this helps to ensure that hormone levels are at optimal levels for a successful pregnancy. Keep in mind that multiple embryo transfers may have to perform before a surrogate gets pregnant.
Confirmation of Pregnancy
A few weeks after the embryo transfer, the surrogate returns to the fertility clinic to check whether or not they embryo implantation was successful and that she is pregnant. Pregnancy is determined by measuring the HCG level of the surrogate. An HCG level of 50 or higher usually indicates that the surrogate is pregnant. For multiple pregnancies, HCG is 200 or higher. The surrogate is tested again a couple of days later to make sure that the HCG levels are rising.
Throughout your pregnancy, surrogates can expect to have the full support of the Made in the USA team. A surrogacy coordinator – assigned to you after you are accepted to our agency – will guide and support you as you navigate the demands of the process.
CONTACT US
If you have any questions, please give us a call anytime. Phone: (916) 226-4342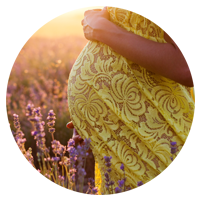 California Surrogacy