Become a Surrogate in San Francisco
Boutique Surrogacy Agency Based in Northern California
We connect surrogates with intended parents in Roseville, Sacramento, the San Francisco Bay Area, Los Angeles area and beyond
Become a Surrogate in San Francisco, California
City of San Francisco, CA
San Francisco is the commercial, cultural, and financial hub of Northern California. The sprawling city has an estimated population of around 883,305 people. Before it grew into such a huge city, however, San Francisco belonged to the Yelamu. Archaeological evidence even suggests that the area had been occupied for as long as 3,000 BC.
The Spanish arrived in 1769 and built a missionary there. It would remain in Spanish hands until Mexico broke away from Spain in 1821. The existing missionaries would be sold off or destroyed and the area would become privatized.
During the Mexican-American war, Commodore John D. Sloat took hold of San Francisco and held it for the Americans. At the end of the war, Mexico would cede the area to America officially. It would then receive its name of San Francisco.
Despite it being a pivotal naval base, the area as a whole was in-hospitable due to its geography. However, that didn't stop the prospectors from flooding the area during the Californian Gold Rush. Interestingly enough, some deckhands and sailors abandoned their posts in order to take part in the gold rush. Some of those ships were sunk in the process. Today, when new development occurs in that area, those ships are discovered.
Thanks to the Gold Rush, those looking to capitalize on the wealth that was accruing in the area also moved to San Francisco to start businesses. During the early 1900s, San Francisco was known as a flamboyant city with its myriad of different cultures and architecture throughout the area.
The city has continued to thrive even when the rest of the nation has suffered. San Francisco's banks never failed during the Great Depression. It even opened up a few public works during that period. San Francisco has also become a magnet for counter-culture.
Clearly, San Francisco has a lot to offer anyone. With its large GDP, it's also clear that those living there can make a lot of money. If you're someone who wants to earn extra income without taking on a traditional second job, then you might want to consider becoming a surrogate in San Francisco. If you are a parent who is seeking a fertility clinic in the San Francisco area, chances are you may need to find a surrogate as well. Read on to see what our surrogates are all about.
What is Surrogacy?
Surrogacy describes a third-party pregnancy. It occurs when a couple is unable to have a baby of their own. Their fertility may keep them from being able to conceive. This could be due to numerous problems like blockages in the fallopian tube or a low sperm count.
While some couples may choose to adopt, others can still potentially have a baby of their own through surrogacy in California. The process that is involved is called IVF and an embryo transfer. IVF involves the removal of a sample of egg and sperm cells from the intended parents.
Those cells are placed in a petri dish. Fertility specialists can carefully help the sperm reach the egg and allow it to become fertilized. Typically, the sperm can reach the egg on its own because the petri dish is small and there aren't any blockages.
After the embryo is fertilized, the surrogate is brought in. Through an embryo transfer, the embryo is then placed inside of her womb where it starts to grow into a healthy baby. As a surrogate, it's your job to provide a healthy pregnancy. That might mean changing your lifestyle for a time while you're pregnant. It may mean that you need to take time off from work if you choose to do so.
However, when you become a surrogate, you'll find that it's relatively easy. Since you've likely been pregnant before, you know what to expect for the most part. You understand how your body does with morning sickness and other side effects of being pregnant.
The best part about it, however, is that you can earn money while still living your life as you would normally. You can still work if you want to continue to develop your career. You can still spend lots of time with your family. Neither of these would necessarily be available for you to do if you took a second traditional job.
Compensation
When you become a surrogate, you're able to receive a generous amount of compensation. How much you earn is dependent upon the surrogate agency that you join. At our agency, Made in the USA Surrogacy, we can offer you around $50,000 per surrogate match. That amount is broken up into monthly installments of $4,250.
For a general breakdown of some of the expenses, read below:
Base compensation: $40,000
Twins/multiples: $5,000
Monthly allowance: $250
Experienced Surrogate bonus: $5,000
Maternity Clothes: $1,000
Housekeeping: $2,000
This is not an exhaustive list. You're also given money for numerous other elements. To check out the full list, be sure to check out our website.
You can also earn extra money with us. We offer $5,000 to experienced surrogates. So, if you have already been a surrogate in the past, then you can earn extra with us. For those who are just starting out, you can earn the bonus as well after you've successfully carried a surrogate baby.
Another bonus that we offer is carrying multiple children. Sometimes the intended parents might desire twins or triplets. Because this can make a healthy pregnancy sometimes more difficult, we ensure that you are given a bonus.
One last benefit that we offer is lost wages for your spouse. Our surrogate benefit package offers them up to 10 days' worth of work pay. This allows them to take a few days off to spend with you.
Surrogacy Qualifications
Before you can get started with the process of surrogacy, you have to join a surrogacy agency in California. This begins with ensuring that you meet the surrogacy qualifications that they have listed for their agency. These are designed to help ensure that you can provide a healthy pregnancy for intended parents. For your own personal safety and health, it's vital to be honest with yourself when determining whether or not you meet the following criteria:
You must be a legal resident of the United States or a legal immigrant.
You must have had a successful pregnancy and birth prior to applying.
You must be financially secure.
Prospective surrogates should be between the ages of 23 and 38. Your BMI should be between 19 and 30.
You must be a nonsmoker and are not addicted to either drugs or alcohol.
Finally, you need to complete a physical and mental evaluation.
Joining a Surrogate Agency
In order to become a surrogate with a surrogacy agency in California, you should begin by filling out our online intake form. This form helps establish whether or not you meet the qualifications of the agency. Once that is completed, you'll be able to fill out the official surrogate application form.
Unfortunately, you won't be able to join once that form is completed. You'll need to send us a few documents first. The easiest is photos of yourself and your family. You'll also need to send us a clearance letter from your OBGYN.
The most difficult set of documents to have sent to us is from your hospital. We require medical records that detail your hospital visits while you were pregnant. This is just to verify that your past pregnancy was successful. This can sometimes take hospitals up to six months to complete, so it's important to make that request as soon as possible.
You'll also need to have a PAP smear performed within a year of applying with us.
The Process of Surrogacy
Once you have joined an agency officially, you're about to become a surrogate. Our agency will tackle the hard work of matching you with intended parents. This process can sometimes take a few months. However, once we've matched you, we'll be able to help you with the next few steps.
You'll meet with the intended parents and a surrogate attorney to go over the surrogate agreement. This document basically goes over a few legal matters to protect yourself and the intended parents.
Once that document is signed, you'll be able to start the physical process. Before long, you'll be pregnant with a surrogate baby.
CONTACT US
If you have any questions, please give us a call anytime. Phone: (916) 226-4342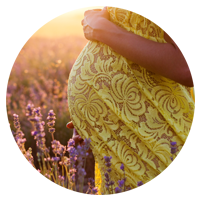 California Surrogacy