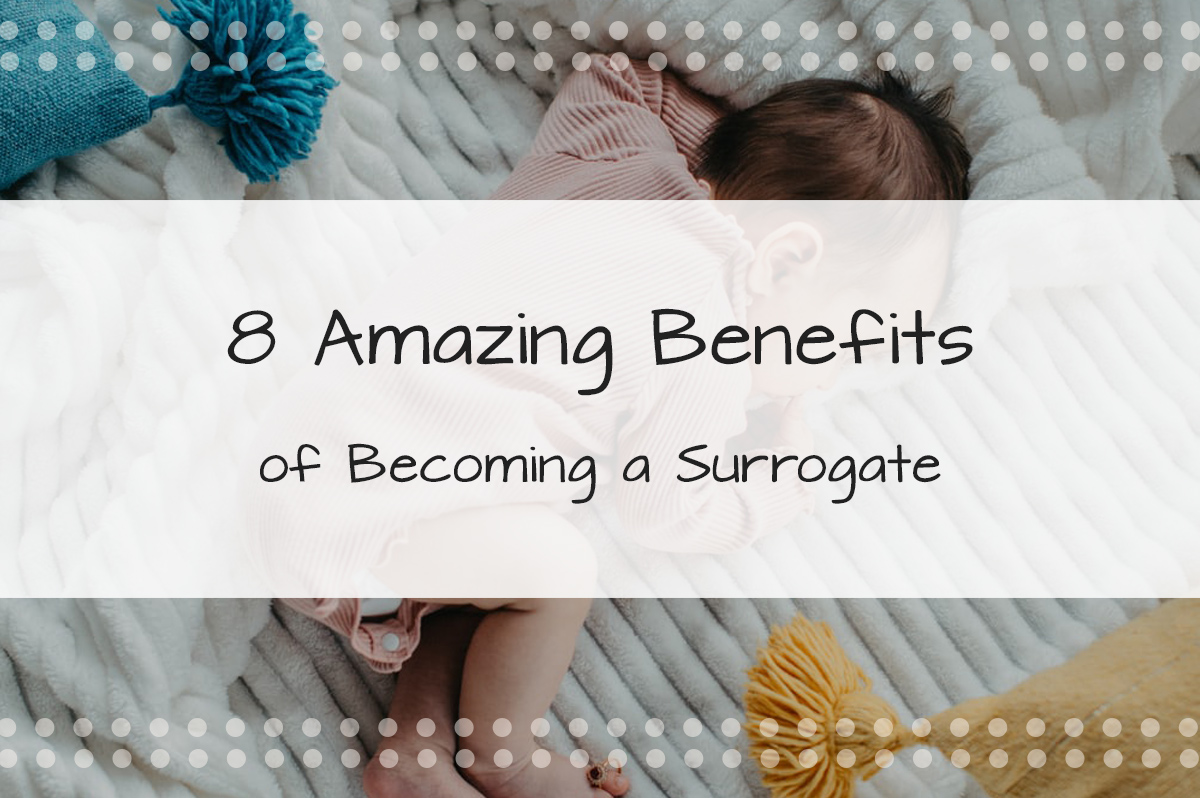 8 Amazing Benefits of Becoming a Surrogate – Made in the USA Surrogacy in Roseville, California
If becoming a surrogate is something that has always intrigued you, then there's no better time to join a surrogate agency. With surrogacy slowly becoming legalized in more and more states, more intended parents than ever are looking for women who have chosen to become a surrogate for help. Whether you're ready to join a California surrogate agency now or you're still on the fence, you may like to know some of the amazing benefits that you can receive when you become a surrogate. Here are eight of them.
#1 – Extra Income
Perhaps one of the biggest benefits that surrogates receive is an increase in their household income. Depending on what surrogate agency you join, there's a chance that you could bring home a lot of money. Our California surrogate agency, Made in the USA Surrogacy, for example, offers a staggering $40,000 base rate compensation for our surrogates. We also offer additional bonuses that can make you earn even more.
While this amount may not be enough to completely replace your full-time job, and nor should it, it can give you an incredible amount that could be used to help boost your finances. You may choose to put it aside for future home renovations or towards the college fund for your children. It can even help pay off some debt that you may have.
When you become a surrogate with a surrogacy agency such as ours located in the Sacramento area, you could potentially set yourself financially free.
#2 – Become a Mother Again
For some women, they love the process of pregnancy. A healthy pregnancy can be a lot of fun. To feel life growing inside of you is an extraordinary feeling. Not everyone is able to experience pregnancy, as is evident by the intended parents struggling with infertility that you're helping.
Perhaps the best part of becoming a surrogate is that you don't keep the baby either. You can experience all of the highs and lows of pregnancy without having to actually add another member to the family when the healthy pregnancy is done. Your attention and resources can still go toward the children that you have.
#3 – Boost Health
Another advantage of becoming a surrogate with a surrogacy agency is that you're given a lot of healthcare. Your aim is to have a healthy pregnancy. That means you need to be at your peak health. You'll receive plenty of doctor visits and treatments to ensure you're in a constant state of good health throughout the process of surrogacy.
You'll receive some of the best healthcare that the country has to offer. Because the intended parents are struggling with infertility, they're anxious that every attempt to form an embryo with their cells is going to be successful. That means that you need to be at your best health, too. You'll be given excellent doctors who will take care of you in order to achieve that state of health.
#4 – More Time with Your Family
One benefit that some surrogates don't realize is that by being part of the process of surrogacy, they're actually able to spend more time with their family. Some surrogates choose to take time off from work, so they can focus on the pregnancy. Not only does this allow them to put all their efforts towards providing a healthy and stable environment for the baby to grow in, but it also means they can spend time with their family.
The income that you make could be just enough to allow you to remain at home while you're pregnant. You can use that time to invest in your own children and help them grow at school.
#5 – Helping Another Family
Besides spending time with your own family, you're also able to help another family. Not everyone can be a surrogate. You have to pass a few surrogate qualifications before you can join our agency. That means there's a small niche of women who are able to help parents struggling with their fertility.
These parents may be losing hope that they're ever going to have a baby of their own. You can be the one that restores their hope. As a mother yourself, you understand how wonderful children are. You can perform a selfless job by helping them have their very own baby.
This is work that impacts the world. It's different from standard nine-to-five jobs. You can find emotional satisfaction in the work. You'll also be touching dozens of lives throughout the process.
#6 – Mental Health Care
Besides your physical care, you'll also have an opportunity to receive mental health support. Just like any other pregnancy, a surrogate pregnancy can be emotional and difficult. You might not know how to feel about certain things. Luckily, many surrogacy agencies including our surrogacy agency located in Roseville, CA can help you find a therapist or counselor to help you through every step of the process.
You may have already passed the surrogate qualifications for being mentally sound. That doesn't mean you don't have off-days. When you choose to become a surrogate, you're also giving yourself the chance to receive some mental health guidance and support.
#7 – New Friends
Because the process is so emotional, you're likely to make very close friends throughout the process. This might mean that you become close with your doctors and nurses. Typically, it means that you become close with the parents assigned to you. They're sitting right there with you and hoping for the best at every appointment.
They're eager to support you and help you in any way that they can, so your journey can be as easy as possible. Some of our surrogates end up becoming lifelong friends with the parents they are matched with.
Others find friends among their fellow surrogates. They can provide empathetic support that no one else can. Whether they're online or in-person, having friendships with your fellow surrogates can give you someone to speak to who understands exactly what you're going through. They can be a valuable ally that can make your experience as a surrogate even better.
#8 – Closer Relationship with Partner/Spouse
One last benefit that you might experience as a surrogate is that you become closer to your partner or spouse. Pregnancy can be difficult alone. Your relationship with your spouse or partner can be tested at times. When emotions run high, the strength of your relationship will be put into question.
However, you'll find that the experience will ultimately draw you closer. You'll learn a lot about one another. One of those lessons might be how to better support one another. Communication skills may also be honed and refined.
Because you're experiencing this together, you have each other for support and comfort.
Become a Surrogate in California Today
Besides the obvious benefits like compensation and helping people, being a surrogate can come with many other rewards. You can invest in your family and your personal relationship with your partner. You'll also make new friends that could turn into lasting family friends.
If you're ready to start your journey, then contact our California surrogate agency today. We can help you find more information as well as get you started with the process.