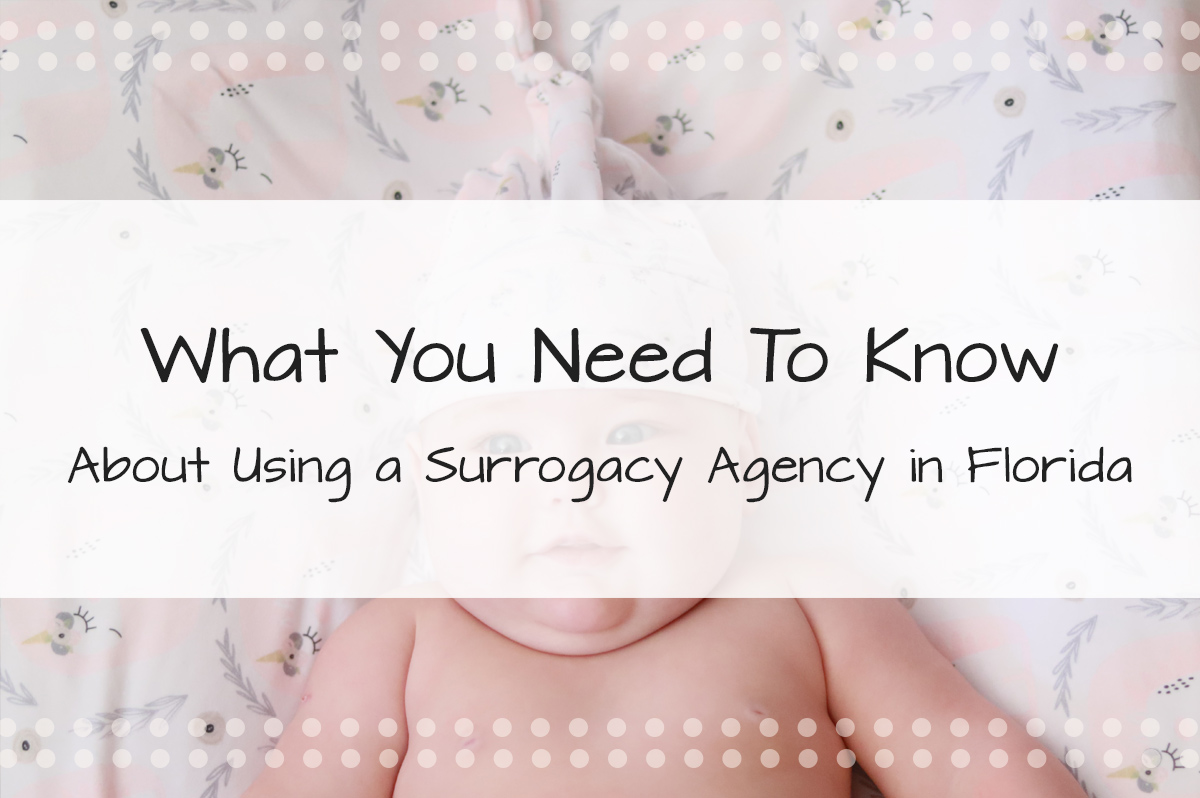 Why You Should Join Our Surrogate Agency in Florida
Couples who are struggling with infertility are faced with a decision when other fertility treatments fail. Do they join a surrogate agency in Florida? Or do they attempt to find a surrogate on their own?
At Made in the USA Surrogacy, we always suggest joining a surrogate agency. There are just too many benefits for intended parents to receive than if they attempted to find a surrogate on their own.
Here's why you should work with our surrogacy agency in Florida to find your surrogate.
You Can't Trust the Internet
Independent surrogates will usually list their services on sites that offer freelance work. They may even have their own websites. While everything may look professional, you may discover that they're actually anything but professional. Part of the advantage of using a surrogate agency is that we acquire healthy, trusted women into our agency.
Independent contractors, on the other hand, have no way of backing their claims up. They may be able to send you medical records, but can you be sure those records weren't faked? They may even decide not to send you records at all.
You should also be wary of your own judgment. It's easy to mistake a pretty face for someone who will do everything they can to ensure you're satisfied. When it comes to filtering out the good from the bad, you need experts.
Why You Should Trust a Surrogate Agency
Searching "surrogacy near me" will likely land you with a bunch of different surrogate agencies in Florida. You may even find some personal ads from independent surrogates. It may be difficult to know what agency you can trust to help you through Florida surrogacy. Part of your research into surrogacy in Florida should be looking into the agencies and what they stand for.
At Made in the USA Surrogacy, we have made a name for ourselves in providing high-quality service for our intended parents struggling with infertility and our surrogates. We've managed to find a great balance of keeping surrogate compensation affordable for intended parents while still giving our surrogates the compensation that they deserve.
We also take the matching process extremely seriously. We want our intended parents to get along well with our surrogates. Otherwise, surrogacy can be an unpleasant experience.
Part of that process is by making sure our surrogates pass the qualifications we have in place. In order to become a surrogate in Florida through our agency, surrogates have to have a clean bill of health, had to have given birth successfully before, and they must be financially secure.
There are also other qualifications that determine whether or not someone can become a surrogate in Florida. However, those few attributes are the cornerstone of acceptance into our surrogacy agency in Florida.
By screening out unhealthy women from healthy women, we can offer intended parents a list of women who are ready and willing to grow their babies. All intended parents need to do is figure out who their egg donor or sperm donor is going to be.
Part of our matching process is having our intended parents and surrogates make a list of their values and comfort levels. This ensures that we don't match anyone up with someone who disagrees on certain topics. When you're matched with a surrogate in our agency, you can be sure that they share your values, beliefs, and ideals.
Using an Agency Can Save You Money
One of the most important reasons to research "surrogacy near me" is to discover just how expensive surrogacy in Florida is. Yet you'll find that Made in the USA Surrogacy offers some of the most inexpensive compensation rates around.
If you attempt to locate a surrogate on your own, then you're likely going to find that they ask for incredible amounts of money, or the process goes awry rather quickly. It's important to understand just how much surrogacy can cost. You'll have various expenses. The first goes to the surrogate. This is a base compensation that they ask from you.
They may even charge you additional expenses throughout the process. The simple fact is that you don't control how much you end up spending. The surrogate calls the shots with no overhead. You may be able to get her to sign a contract with you, but that is never guaranteed.
Then you also have the cost of IVF. This cost likely isn't included in the amount that she charges you. Since she likely isn't on surrogate-friendly health insurance either, you may have to pay even more than you would if you used IVF through an agency. If the IVF doesn't work, then that's an amount you're going to have to pay again and again until the embryo is successfully transferred.
Yet the cost doesn't stop there. You may also find yourself having to pay bills from the hospital that aren't covered by her insurance. Before you know it, your entire budget may have disappeared.
Using our agency controls just how much you have to pay. We help surrogates and intended parents find surrogate-friendly health insurance. This can help offset some of the charges. We also always make sure that intended parents know the full price of the cost of surrogacy before they sign. The only variable will be the cost of IVF.
If you're an intended parent who doesn't have money to waste, then you need to use our agency to find a surrogate in Florida for you. It will ensure your money is protected.
To ensure you're kept safe, you need to use our surrogacy agency.
Health Risks Abound with Independent Surrogates
One final reason you should let our agency find a surrogate in Florida is that it can keep your baby safe. While you may be able to choose your own egg donor based on the donor's health, you can't always have the same candidness with independent surrogates.
They may lie about their health or offer you false records. Without an agency to keep them in check, you can only take them at their word. The next thing you know, you may have a baby, but it may be born with a defect or a disease because the surrogate wasn't as healthy as she stated.
Because our agency thoroughly screens our candidates for both physical and mental wellness, you never have to worry. Working with our agency gives your baby its best chance to grow and be born in a healthy and safe environment.
Sign Up with Our Agency Today
We understand that you may be eager to get the process of surrogacy started. To get started with finding your perfect surrogate through our agency, make sure you fill out our inquiry. We'll work hard to find you the perfect surrogate.