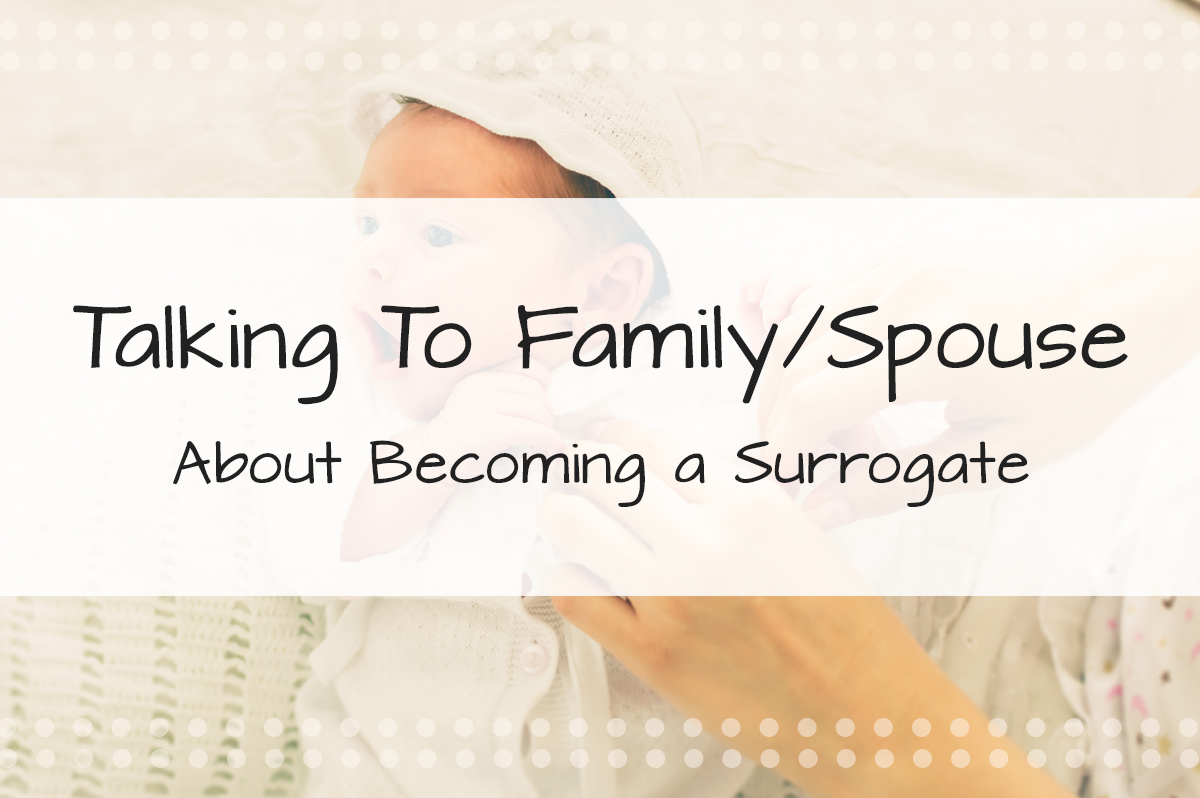 How To Talk To Your Spouse or Family About Becoming a Surrogate
If you've experienced the miracle of birth, then you understand what an incredible experience it is.
While certainly hard work, the end result was worth it. Mothers know how much children can enrich their lives. However, not all couples are lucky enough to have a healthy pregnancy and easy birth. Some couples may struggle with infertility. Their dreams of having a baby could be crushed.
However, if you're a mother who has compassion for those experiencing infertility, you can help them by becoming a surrogate. When you become a surrogate, you can carry their baby for them and give them a chance of experiencing parenthood for themselves.
For those who have made a decision to become a surrogate, you may find it difficult to speak to your spouse or family about it. To help you make that conversation go as smoothly and effectively as possible, here are a few tips to keep in mind.
Doing the Research
One of the first steps that you need to take before becoming a surrogate with a surrogate agency is to make sure that the lifestyle is right for you.
Obviously, if you want a healthy pregnancy, you have to take care of yourself. That might mean quitting some bad habits, setting aside your current activities, and ensuring that your body is as healthy as possible.
Understandably, in order to join our surrogate agency, you have to pass our surrogacy qualifications.
Some of those qualifications include being between the ages of 23 and 38 or being a nonsmoker. Many agencies also have surrogacy qualifications surrounding birth that you had. For one, you need to have at least one successful birth for many agencies to consider you as a surrogate. Secondly, the birth needed to occur without any complications.
Understanding if you fit those qualifications is a vital first step towards making the decision to being part of surrogacy. Another step is to also understand if you are prepared to give it the time that it needs.
Surrogacy in California can take anywhere from a year to two years. There are many steps in surrogacy besides just the nine-month pregnancy.
You have to know if you are capable of sticking it out through that year or two years. If you are, is your family? These are questions that you'll need to ask before you sign on with a surrogacy agency in California such as Made in the USA Surrogacy.
Take the time to do the research and understand if surrogacy is the right path for both yourself and your family.
Talking to Your Spouse
One of the first people that you need to speak about your decision about becoming a surrogate is your spouse. Their support is going to be vital. You've already had a pregnancy before, so you understand how important their support is.
Approaching your spouse about surrogacy can sometimes be intimidating. It's one thing to carry their baby. However, you're going to be carrying someone else's. This isn't something that all spouses can accept right from the start.
To help you speak with them, here are a few tips.
#1 – Ensure the Atmosphere is Calm and Relaxed
The last thing that you want to do is make mention of your decision after a family fight or during a moment of tension.
The atmosphere is already negative. Instead, you want to set the scene for a good, effective, conversation. This might mean performing a bit of extra work to put them in a good mood.
You might want to spend the day out of the house doing some of the things that they love. Or you might want to spend the time at home just nurturing your bond together. You may even simply choose a moment where your spouse seems to be having a really good day and is in a great mood.
Once the mood feels right, you can move onto the next step.
#2 – Tell Them Your Position
After you have sat them down for the conversation, you'll want to begin by expressing your viewpoint and passions.
If you're passionate about helping struggling couples, then they need to know that. You can use your own family as an example. Make your spouse aware of how happy you both are with your children.
Humans tend to be selfish creatures. It's important to make your spouse empathize with the couples who are struggling with infertility. You can give them a few scenarios to help put them in their shoes. For example, you can ask your spouse to think about how it would feel if you had both discovered that you were unable to have children.
Once your spouse is able to grasp that scenario, you can voice your desire to help those intended parents. You can remind them of how lucky you both were that you two did not need to use surrogacy in California. You can tell them that you were both given a gift and that you have the opportunity and capability of bringing that gift to other couples.
#3 – Explain How it Works
Another step is to explain the process of surrogacy to your spouse.
There's a warped understanding of becoming a surrogate that entails needing to have sex with the male partner. This isn't the case at all. The process of surrogacy is done through IVF and an embryo transfer.
The intended parents undergo IVF to form an embryo. You'll undergo an embryo transfer once the embryo has been deemed healthy enough. The experience is quite clinical. You will, however, need to have fertility treatments beforehand to help prepare your body for the embryo.
Explaining how the procedure works to your spouse can help them become more understanding of the process. As for the pregnancy, it's just like any other healthy pregnancy. You'll carry it for about nine months, and then you'll give birth when it's due.
At birth, the surrogate baby will be given to its intended parents. You have no parental rights over it. If your spouse is worried about child custody, then you can put aside those worries. You're merely involved with the pregnancy portion.
#4 – Make Them Part of the Process
One final way to help them become relaxed with the process is to include them.
You may want to put finding a surrogacy agency in California until after you have a conversation with them. That way, once they're more on board, they can help you search for "surrogacy near me" and find an agency that works best for your needs or just fill out our form here.
You can also include them in your appointments. Be it at an ultrasound or during birth, they can play an important part as your main support system through every step. By feeling needed, they'll likely be more relaxed and accepting of you as a surrogate.
Talking With Your Family
The next hurdle you'll need to jump is speaking with your family. That might include your children, your parents, and your own siblings. Having a baby is always a family affair–whether it's a surrogate baby or not.
Children, especially, are vital to speak to about becoming a surrogate. They may not fully understand that the baby you're carrying isn't going to be their brother and sister. Speaking to your children about surrogacy can be a great moment to teach them about empathy and compassion.
Here are a few tips on how to speak to your children and the rest of your family.
#1 – Educate Them About Babies
The greatest defense for any child is a rich education. That should include babies. Take the time by first explaining to them how babies are made. They may not fully understand it, but they only need to know the basics anyway.
You can then go on to explain how some couples can't have babies. Yet women like yourself can help them to have babies. If you have more than one child, you can explain it to them like what it might be like if their sibling never existed because you couldn't have another baby.
It's also important to include the science behind it.
#2 – Include Them
You should also include your children and family in the process. They can come with you to appointments, help with the healthy pregnancy, and even search for "surrogacy near me" with you to find the perfect agency.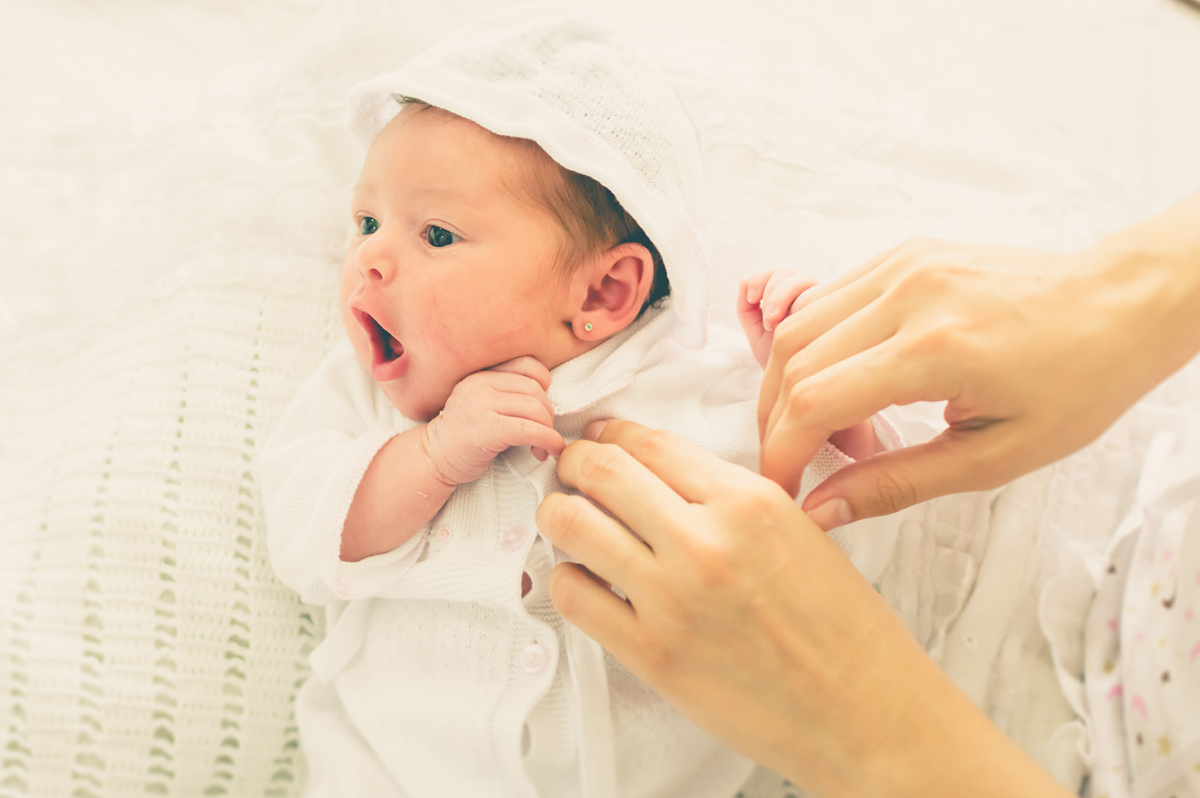 Even if you're not carrying their sibling or grandchild or nephew, including them in the process can normalize the process for them.
When searching for "surrogacy near me," consider our agency and apply today.