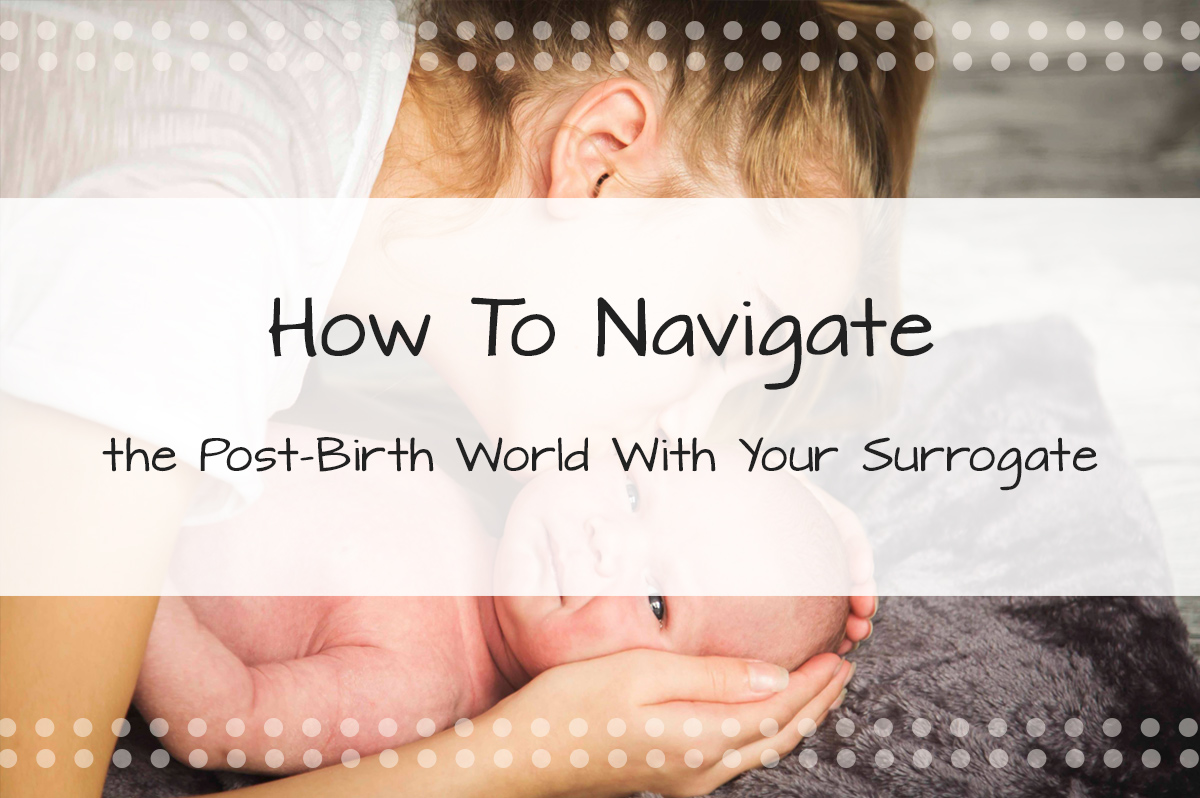 How To Navigate the Post-Birth World With Your Surrogate
The process of surrogacy is a long but rewarding one. It all starts with simply looking for a "surrogate agency near me," and joining a surrogate agency such as ours located in Roseville, CA.
Through our surrogate agency, you will find women who have chosen to become a surrogate for intended parents just like you. Hopefully, after numerous fertility treatments and nine months of pregnancy and a long road- you're finally at the birth of your child.
You were able to hold your baby in your arms for the first time. Few experiences can ever amount to that moment. However, now you are faced with the question of where you and your surrogate go from here.
Understanding where to go next can be difficult. To help you navigate the post-birth world with your surrogate, consider some of the following.
Complete Departure?
Some intended parents decide to simply never contact their surrogate again.
This is understandable and even sometimes expected for certain surrogates. After all, not all women who have chosen to become a surrogate expect to remain in contact with the parents or the baby after the birth of the child.
Yet because the process of surrogacy is such an emotional one, it's also understandable if you want to maintain that relationship.
Ultimately, it's up to both yourself and the surrogate on how you want your relationship to continue.
You may find that the surrogate simply wants to wish you well and move onto her next experience, or maybe you feel that way. Or you may find that the surrogate wants to remain in contact because you have all become such good friends through surrogacy.
Surrogates go through a lot in order to become a surrogate with a surrogacy agency in California. They have to pass certain surrogacy qualifications in order to even join. They also need to submit their medical records in order to show that they can carry a healthy baby. After the surrogacy qualifications and medical records have been submitted and met, they can finally join the surrogate agency and start helping parents.
Understanding Where You Both Stand
They've become invested in the job. Because of that, they may want to remain in contact. Or they may simply want to move on. Understanding where you both stand could be gathered simply by asking if they want to have dinner sometime.
Their answer could be indicative of how they feel about maintaining contact in the future. If they answer in the affirmative, then you can likely expect them to want to continue to be friends and nurture the bond that they have with you. If they answer in the affirmative but make no definitive plans, then they might be open to remaining casual friends but perhaps not quite as close as you were during surrogacy. If they answer in the negative, then this may be their way of stating that they wish to move on.
As your surrogate agency, we will try to match you with a surrogate that will share your want to continue contact with you or break contact if that was your wish from the beginning. However, after birth, things may have changed for you or for the surrogate- and we encourage both of you to try and navigate the relationship together.
Relationship with Child
Another aspect to consider is what the relationship of the surrogate will be with the child.
At our surrogate agency, we have our surrogates and parents sit down together with a surrogate attorney. They make the surrogate agreement which essentially legalizes the actual parentship of the baby along with a few other details. The baby belongs to the parents and not to the surrogate, and this is made abundantly clear in the surrogate agreement or "gestational surrogacy agreement" (GSA for short).
While it's understandable if the surrogate forges an emotional bond to the baby, it's ultimately up to the parents as to how that relationship is framed in the future. Some parents may want to sever any contact between the baby and the surrogate. It's within their right to do so.
Other parents may consider the surrogate like an Aunt and introduce her as such to the baby when it is older. They can become a fixture in their family.
Others may simply be a close friend that sometimes visits the baby but remains uninvolved in their life primarily. Some intended parents send videos and text pictures of the baby to keep the surrogate informed of the baby's growth and milestones.
Your comfort is what matters the moment when you determine how the relationship between the surrogate the baby is formed after the birth of the child. Women who are becoming a surrogate don't do so to add more children to their existing family. They typically do it to help parents who are struggling to have a child of their own.
A simple conversation with your surrogate–either during the meeting with the surrogate attorney or after the birth–can help reinforce how you want that relationship between them and the child to be.
It's also worthwhile to note that your surrogate who was matched through our surrogate agency, will be a gestational surrogate. Meaning she will not share any biological material with your children born through her. Most likely, she will have a different emotional connection with the surrogate child than she has with her own children- and it should bring a degree of comfort to you as parents.
Changing the Agreement
Before the pregnancy can even begin, you need to sign the surrogate agreement. However, after a healthy pregnancy, you may feel that the agreement doesn't hold true anymore.
After all, you were strangers before. Now, after at least nine months together, you're likely far closer to your surrogate. You may believe that the agreement needs to change in terms of the amount of contact you decided upon between the surrogate and the baby.
While the agreement is a form of contract, there is likely some wiggle room.
You can always change your mind about what it says if your surrogate is comfortable with the changes, too. Surrogacy is an emotional experience in which the parents and the surrogate can become quite close. The agreement can be amended through your surrogate attorney easily if you and the surrogate want it to be, and any changes will be supported or monitored also by her surrogate attorney.
Taking Time Away
One way to help you decide whether or not you want to include the surrogate into the baby's life after its birth is to take time away from the experience. Once the baby is born and can go home with you, just spend time together as a family. Keep from contacting the surrogate and everyone else for a short time and just enjoy bonding and connecting with your baby.
After a few weeks, you can reexamine everything. You may feel more secure in your relationship with your baby. This might make you more open to including the surrogate back into its life. You should likely, at the very least, let them visit the baby once if time or distance permits.
Or you may decide that it's time to part ways.
The surrogate did her job in providing a healthy pregnancy and now that job is over. By taking some time away, you can distance yourself from any pressure that you may feel or debt that you feel towards the surrogate. This will help you see clearly and make rational decisions about how to move forward.
Lasting Friends
At our surrogate agency located in the Sacramento area, Made in the USA Surrogacy, it is not uncommon for our surrogates to become lasting friends with their intended parents.
Becoming a surrogate is a great opportunity and allows them to perform an emotionally satisfying job. While they may not necessarily be looking for friends either, they may just find some with the parents they are having a pregnancy for.
Whether you're thinking of becoming a surrogate or searching for a "surrogate agency near me" to get started finding a surrogate in California, the post-birth world is something that you need to think about.
Our agency prides itself on bringing together incredible people who can do incredible things together. Ultimately, however, the decision is left to you. Contact us today!