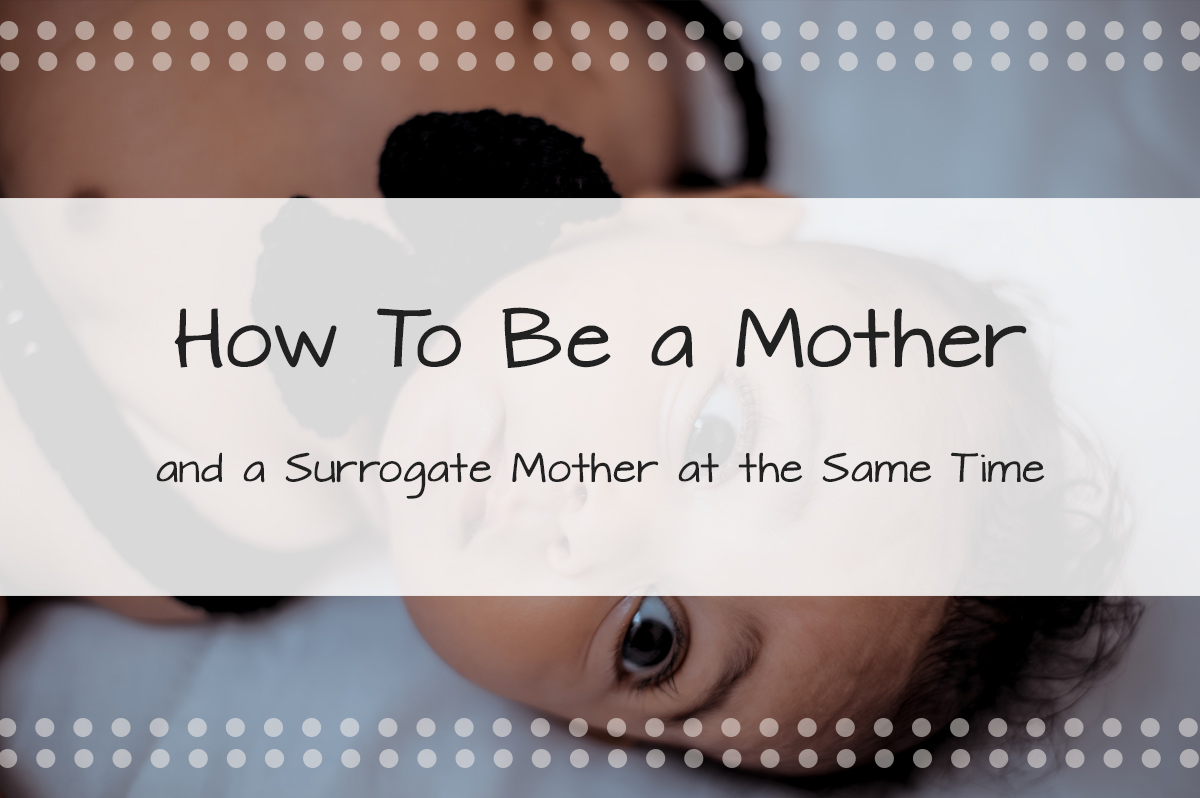 How To Be a Mother and a Surrogate Mother at the Same Time
One of the main concerns that many women have over becoming a surrogate or not is the time it might take away from their own family. They don't want their own children to feel left out because they have to focus on the surrogate baby. Luckily, surrogacy is far easier than some may realize.
To help you find a healthy balance between being a mother and a surrogate mother, here are a few tips.
#1 – Help Your Children Understand
Before you become a surrogate, you should speak with your children about your new job. They'll likely be confused that the baby you're carrying isn't their sibling. You can use the opportunity to talk to them about helping others. Pregnancy is a complex subject, but you can at least introduce general concepts to them to help them understand.
You should also take this opportunity to assure them that you're their mother first. It's easy for children to feel left out when there's a baby on the way. A lot of attention and care goes into ensuring you're having a healthy pregnancy. By telling them about how much you love them and are there for them, they can feel more confident about their roles in your life going forward.
#2 – Take Them to Appointments
While you may not be carrying their sibling, you can still include them in the process of surrogacy. By including children into important events like going to an ultrasound or check-ups, they feel important. They feel connected to you and the process.
The next time that you have an appointment include your children if it is possible at the parent's fertility clinic. Not only will they be fascinated by seeing the baby on an ultrasound, but they will also enjoy spending time with you.
#3 – Let Them Meet the Intended Parents
Part of the process of surrogacy should be having your children meet the intended parents that you're working for. By seeing the actual parents of the baby, they may be able to understand surrogacy a bit better. You can also attempt to introduce concepts like IVF and the embryo transfer that you went through in order to become pregnant.
Otherwise, they may not exactly understand how a baby from them ended up inside of you. We have had amazing success in showing our own children the importance of what "mommy" has done for another family, by allowing them to be a part of the experience in getting to know the new family that the baby has joined.
#4 – Take Them Shopping
When you inevitably need maternity clothes or other things for the baby during your pregnancy, include your children. Time out of the house with you is a great opportunity to nurture your bond. It also makes them feel included and special. You can even let them help you pick out clothes. This shows that you value their ideas and opinions.
It can also serve to make them excited about the baby. Instead of feeling left out or neglected, they can share in the excitement of the growing baby and its eventual birth.
#5 – Meet Other Surrogate Children
One of the perks of joining a surrogate agency is being able to meet with other surrogates.
After passing through all of those surrogacy qualifications and getting your medical records put into order, you were able to join a surrogate agency in the Sacramento area- Made in the USA Surrogacy. Our agency also possesses a number of other surrogates that are often in the same boat as you, and we have so many opportunities for surrogates to connect together on this journey.
One of the surrogacy qualifications for all women who want to become a surrogate is that they must have had a successful birth before. Your medical records corroborate this. As such, your fellow surrogates also likely have children of their own. They struggle with that balance between being a mother and a surrogate mother as well.
You can rely on their advice and tips for keeping that balance healthy.
For those who are a part of our surrogate agency in California, the opportunity may arise to actually meet them others in person. When that happens, you should take your children with you. They can play with the children of the other surrogates and get to know them. We have regular family get-togethers where surrogates can enjoy the company of each other's family. This can make surrogates even more normal for your children, and they can even make new friends.
#6 – No Time Sacrifices
An aspect that keeps women from becoming a surrogate is their belief that surrogacy will eat away a lot of their time. This isn't the case. Many women actually hold onto their normal jobs when they're a surrogate. While the process is a long one, you're still able to keep most of the regular time that you would otherwise for your job and for your family.
At most, you'll only need to miss work or your family for a few appointments here and there. The rest of the time you're only pregnant. While some women do choose to leave their work in order to focus on a healthy pregnancy, this isn't a requirement. Many others maintain their full-time job while also working as a surrogate.
Not only does this help keep their income flourishing, but it also means that they don't have to sacrifice their career goals.
For women who are concerned about taking time away from their family, this isn't the case either. You're not spending any more time away from your children than you would be if you were pregnant with your own child. There may be a few more appointments, but those don't detract too much time away.
If you're thinking about becoming a surrogate, fill out our inquiry form today, and let us consult with you about the details.
#7 – Let Them Visit During the Birth
After becoming a surrogate with a surrogacy agency in California, you're going to eventually reach the birth of the baby. That birth will follow a birth plan that you agreed to with the intended parents and a surrogate attorney. One of the aspects that you should consider when discussing that plan is whether or not you want your children to be able to visit you in the hospital.
The choice is a personal one, but it could be a great opportunity to help your children feel included in the process right to the very end. While they shouldn't be there during labor, they can be present before and after.
#8 – Schedule Time
If you're worried that working on top of your pregnancy may detract time away from your children, then you should schedule it. Making a schedule is a great way to stay organized. One of the first things that you should do after joining Made in the USA Surrogacy in Roseville, is to make a schedule of all your appointments and deadlines for paperwork.
Include in that schedule, time to spend with your children. By ensuring that you always have a few hours devoted solely to them, you can increase their happiness and your own. A healthy pregnancy begins with a happy surrogate mother.