Boutique Surrogacy Agency Based in Northern California
We connect surrogates with intended parents in Roseville, Sacramento, the San Francisco Bay Area, Los Angeles area and beyond
Become a Surrogate in Woodland, California
City of Woodland, CA
One of the key features of Woodland, CA, is its incredible soil. From the very start, settlers were attracted to the area due to its fertile soil. Through tough grit and a lot of persuasions, farmers and business owners slowly began to set up shop in the area that was previously known as Yolo City. Eventually, the name was changed to Woodland as more farmers settled in the area and began to work the land.
Its real saving grace came in the form of Byron Jackson who opened up a machine shop there. At the factory, they produced high-quality pumps that helped irrigation all across the state of California. Not only did Woodland benefit from irrigation, but the machine shop made Woodland the place to know for farmers.
As more people moved to the area, it developed more and more. Parks were created, libraries, schools, and many agricultural-based businesses were erected.
Woodland has an estimated population of 60,531 people according to the 2018 census. Many of those who live there continue to work as farmers or are part of the agricultural business in some form. In fact, the county that Woodland resides in, Yolo, is known as one of the largest crop producers in California.
Yet there are also big sectors in Woodland. Modular home manufacturers have made Woodland their base of operations. Because it's close to Sacramento, many businesses have found Woodland to be a prime spot to set up.
Woodland also has its share of art and culture events. The annual Yolo county fair is held in Woodland. It also runs a First Friday Art Walk which features local artists every month. They also have Chili Cook-offs and Christmas parades.
Woodland has become a great place to live for many people. It's a great area to raise children in. Yet not all parents are able to have children. Some require the services of surrogacy in California in order to achieve that dream. Yet surrogacy isn't possible without a surrogate mother.
If you live in the Woodland area, then you might be interested in learning how to become a surrogate. Not only can you receive generous monetary compensation, but you can also help those struggling parents finally have a child of their own.
To find out if you qualify to become a surrogate with a surrogacy agency in California, read on.
Surrogacy Qualifications
At our surrogate agency, Made in the USA Surrogacy, you can expect the following surrogacy qualifications that must be met in order to become a surrogate with us.
The first requirement is that you must be a legal resident of the United States. You can also be a legal immigrant.
Because we want our surrogate mothers to have a healthy pregnancy, we ask that they are between the ages of 23 and 38. That they have a BMI between 19 and 30. They must also be nonsmokers, do not contain any substance abuse addictions, and that they do not abuse alcohol.
We also require our prospective surrogate mothers to be financially secure without receiving financial aid from the government.
Prospective surrogate mothers should also have had at least one successful birth prior to joining a surrogacy agency in California.
Finally, we ask that our surrogates have a physical and mental evaluation.
Compensation in Woodland
If you're qualified to join us, then you might wonder what it's worth. At our surrogate agency, we offer our surrogates $50,000 per surrogate experience. It's also possible to make more if you are an experienced surrogate or if the intended parents wish to have twins or multiple children. Your spouse can also make money. They can earn up to 10 days of work pay if they have to miss work because of surrogacy.
This amount is typically broken down into monthly installments of around $4,250. You can also expect the funds to be placed for the following categories.
Base compensation: $40,000
Twins/multiples: $5,000
Monthly allowance: $250
Experienced Surrogate bonus: $5,000
Maternity Clothes: $1,000
Housekeeping: $2,000
Clearly, you can make a decent amount after you become a surrogate. For those who try surrogacy in California, they also often speak about the emotional rewards. Too often, people are stuck in jobs that might make a decent amount but don't offer them an emotional satisfaction aspect. Becoming a surrogate can do that.
A lot of surrogate mothers talk about the emotional reward of seeing the intended parents holding their baby for the first time after birth. They were part of a miracle in being able to give them a child that they wouldn't have been able to receive otherwise.
It's that feeling that often drives surrogates to do another job with another pair of parents over and over.
The Process of Surrogacy
Before you can be matched with intended parents, you first need to sign up with an agency. Surrogacy in California can sometimes be difficult. That's why an agency can prove the difference. Our agency wants to take the stress out of the situation. We all know that stress can have a negative impact on an otherwise healthy pregnancy.
To sign up with us, you'll need to complete the following steps.
The first is to take our online intake form. This just shows us that you meet all of the requirements that we have for our surrogates.
Once that's completed, you're able to fill out the official surrogate application form. If you need assistance during this step, we have an agency coordinator who can help you through it.
While you're waiting for that application form to be processed, you're going to need to collect some paperwork for us. The most important is your medical records and documentation surrounding your past pregnancy. We'll need documentation about your pregnancy and all of the hospital visits that you had. This just shows us that you did, indeed, have a healthy pregnancy and successful birth.
We'll also need photos of your family and your OBGYN to send us a clearance letter that essentially gives their approval for you to become a surrogate.
Finally, you need to have a PAP smear performed within a year of applying with us.
The Physical Process of Surrogacy
Once you've been accepted into our agency, the real process begins. First, we'll match you with some intended parents. They'll be quite eager to meet you and to get the physical process started. Before you can all start receiving physical treatments, however, you'll need to sit down with a surrogate attorney.
This is an attorney who has specifically studied surrogate law. It can be quite confusing as to who has what right and who is protected by what. An attorney helps everyone understand the agreement they're forging together. During this meeting, you'll also create the birth plan. This plan typically discusses who is allowed to be in the hospital room with you, whether or not you're the first one to hold the baby, and what kind of birthing technique is expected.
Once that agreement is over, we'll help you schedule a fertility appointment. You'll begin treatments to prepare for an embryo transfer. The intended parents will also be receiving treatments for IVF. During IVF, the intended parents have their egg and sperm cells taken and placed in a petri dish. Because a petri dish doesn't contain any barriers, the sperm can find the egg more easily and fertilize it.
The result is an embryo that is then placed inside of your body through a process called an embryo transfer. The fertility treatments that you've been receiving have been to help trick your body into thinking that it's pregnant. When the embryo is placed inside of the body, the body will recognize it as its own and start to help it to grow and develop.
Once that happens, you're officially pregnant. You'll have nine months to take care of the baby and nurture it. Some women choose to go back to work while others stay at home. You are free to do whatever it is that you're comfortable with.
After nine months, you'll give birth according to the birth plan, and the new baby will be delivered to its grateful intended parents. The physical part of being a surrogate is over. You're able to recover and either begin the process over again or just focus on your own family.
To get started with being a surrogate in Woodland, contact us.
CONTACT US
If you have any questions, please give us a call anytime. Phone: (916) 226-4342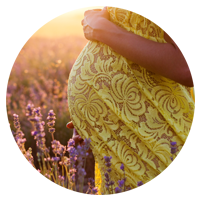 California Surrogacy