Become a Surrogate in San Clemente
Boutique Surrogacy Agency Based in Northern California
We connect surrogates with intended parents in Roseville, Sacramento, the San Francisco Bay Area, Los Angeles area and beyond
Become a Surrogate in San Clemente, California
City of San Clemente, CA
San Clemente is known for its Spanish architecture in Colonial times. It's also known for the incredible views that it has of the nearby mountains and ocean. Originally, it belonged to the Juaneño people. However, the invading Spanish eventually put them to work at the mission.
Over the years, the Spanish continued to cultivate the land and develop it. Eventually, it fell into the hands of Ole Hanson who saw great promise for the area. He began to develop it in such a way that it would make it become a place to get away from the big city.
San Clemente is known as the "Spanish Village by the Sea." This is due to the Spanish architecture that is used in the development of its buildings. President Nixon would also make San Clemente his chosen vacation home during his presidency.
This area is also known for its great surfing and beaches. Many famous surfers were born there and honed their craft.
Currently, San Clemente has an estimated population of around 64,857 people.
If you're curious about how to become a surrogate in San Clemente, then this article can get you started.
Surrogacy Benefits
There are many benefits to becoming a surrogate. Among the most prominent is your ability to earn extra income while still retaining your original job and lifestyle. Too often, when people take on a second job, they often have to cut out family time. There are just not enough hours in the day otherwise.
When you become a surrogate, you're performing the job every day for nine months without having to ever walk into an office–outside of a doctor's office, of course. You're also able to have the same kind of time with your family that you would normally. Surrogacy is a second job without actually taking on a job.
The extra income is also yours to benefit from. Many surrogates use the extra money to put towards their children's college funds or to pay off debt. Some simply use it to put a down payment on a house and make their housing dreams come true. The amount of money that you earn as a surrogate is no small change. It's substantial compensation that can give you a financial advantage.
Another benefit of surrogacy in California is that you receive great health insurance out of it. While you're a surrogate, you'll have a special kind of insurance policy that covers the surrogacy. This can help you maintain a healthy pregnancy as well as an overall improvement in your health. You'll be seeing the doctor a lot more often, which means you'll also be able to keep tabs on your own personal health.
As a mother of your own children, your health is vital to their success. You need to be healthy in order to help them grow and be there for them when they need you. With surrogate health insurance, you're able to receive incredible care and put your own health first.
Additionally, when you become a surrogate in San Clemente, you're also able to meet a bunch of new people who could become close friends of yours. Your intended parents, for example, are people that you're going to be working closely with for perhaps a year or more. You're also going to be carrying their baby. It's natural for close bonds to form.
A lot of surrogates actually end up being the best of friends with their intended parents because of the emotional journey that they all travel together. You may just find your child's next godparents!
Besides the intended parents, our surrogates are also very supportive of one another. When you join a surrogacy agency in California, you're able to reach out and ask experienced surrogates for advice and support. Surrogate mothers are extremely giving people and will help you and advise you in times when you need them the most.
One last benefit of being a surrogate is that you get to do something that few women can. You're allowing another couple to essentially borrow your womb for a few months for their child. You're helping them receive something that they never would have been able to have before. It's incredible work and emotionally satisfying.
Compensation for Surrogates in San Clemente
Receiving payment for giving someone else a miracle is just icing on the cake. Each surrogacy agency in California has its own rates and packages. At our agency, we offer to our surrogates around $50,000. We a general breakdown that you might expect is as follows:
Base compensation: $40,000
Twins/multiples: $5,000
Monthly allowance: $250
Experienced Surrogate bonus: $5,000
Maternity Clothes: $1,000
Housekeeping: $2,000
In addition to the bonuses of carrying multiple children and being an experienced surrogate, we also offer work pay for your spouse. We can give them 10 days' worth of work pay in the event that they have to miss work.
The amount that you receive is broken up into monthly installments of $4,250. That's no small amount for simply taking care of a baby growing inside of your womb.
Surrogacy Qualifications
If becoming a surrogate in San Clemente sounds like a possibility to you, then you'll need to find a surrogate agency to join. An agency can easily match you with intended parents and ensure that you're protected through every step of the journey. Before you can join a surrogate agency, however, you have to pass the qualifications that they have to help boost the chances of a healthy pregnancy.
Here are some of the surrogacy qualifications that our agency has:
To join our agency, you must be a legal resident of the United States or a legal immigrant.
You must have had a successful birth before. This shows that you can have a healthy pregnancy. If you struggled with your own pregnancy, then your body might not be up for carrying the baby of another.
In keeping with the best health possible, our surrogates must be between the ages of 23 and 38 with a BMI between 19 and 30. You must also be a non-smoker, non-alcoholic, and drug-free.
You must be able to show that you are financially secure.
We also ask that you have a physical and mental evaluation.
The Process of Surrogacy in San Clemente
Once you've been matched with intended parents, you'll be able to start the physical process. A lot of fertility treatments are going to be needed before you can receive the baby through an embryo transfer. The intended parents will be going through something similar to help their IVF be as successful as possible.
IVF involves the process of removing samples of their egg and sperm cells and placing them in a small dish. The sperm cells can move to the egg cells easily and fertilize them. When the intended parents take fertility treatments, it boosts the chances of the sperm cell fertilizing the egg cell successfully.
With the embryo formed, it's ready for embryo transfer. You'll be receiving fertility treatments to help your body believe that it's actually pregnant. When the embryo is placed inside your body, you'll be less likely to reject it.
Once the embryo is accepted, it will start to grow and divide. The baby is officially developing inside of your womb. Over the next nine months, you'll be able to return to work, spend time with your family, and look after the little one growing inside of you.
The process of surrogacy is essentially simple though it does have some waiting intervals. Overall, you can expect the process to take at least a year or two years. The two biggest periods of waiting occurs while waiting to be matched and for the fertility treatments. They're highly variable.
Sometimes, you might be able to be matched immediately with intended parents. Other times, you might have to wait a few months.
Fertility treatments are also variable. Sometimes your body will take to them quickly and accept the embryo on the first go. Other times, it may take a few months for your body's hormones to become regulated in the way that the fertility specialist needs.
Steps to Become a Surrogate in San Clemente
Surrogacy in California is a great opportunity to do meaningful work while receiving incredible pay. To become a surrogate with us, you'll need to do the following.
Fill out the online intake form.
Complete surrogate application form.
Submit medical records, photos, and clearance letter.
CONTACT US
If you have any questions, please give us a call anytime. Phone: (916) 226-4342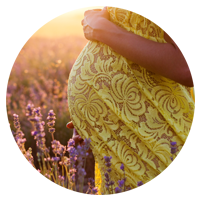 California Surrogacy