Become a Surrogate in Ridgecrest
Boutique Surrogacy Agency Based in Northern California
We connect surrogates with intended parents in Roseville, Sacramento, the San Francisco Bay Area, Los Angeles area and beyond
Become a Surrogate in Ridgecrest, California
City of Ridgecrest, CA
For those who live in Ridgecrest, you're constantly surrounded by the natural beauty of four mountain chains. The Sierra Nevada, the Cosos, the Argus Range, and the El Paso Mountains all surround the bustling city of Ridgecrest. Nestled in the valley between them, the city is home for an estimated 28,490 people in 2018. That saw an increase from the previous census.
While Ridgecrest began as a humble farming community, it would eventually expand thanks to the Naval Ordinance Test Station that was established there. This station would offer up several employment opportunities for years to come.
Since then, Ridgecrest has also expanded into the tech sector. Several high-tech industries have made their own in this location.
Likely due to its location to several mountain chains, Ridgecrest is also subject to earthquakes. For families that live in such an area, ensuring that they have enough wealth to deal with any damages that they might receive from an earthquake is vital. That's why women who have had at least one baby might want to consider surrogacy in California or becoming a surrogate.
This article will go over how to become a surrogate in Ridgecrest, California.
Becoming a Surrogate in Ridgecrest, California
Have you ever considered becoming a surrogate mother? It's a vastly rewarding experience. While it can offer you monetary rewards, you also receive emotional satisfaction. You're helping a couple who is struggling with their fertility.
Through a surrogate agency, you can help those couples finally have the baby of their dreams. All you have to do is carefully carry the baby for them. To find out more about how to become a surrogate in Ridgecrest, there are a few aspects that you need to know about surrogacy in California.
Surrogacy Qualifications
One of those aspects is qualifications. Before you can start working with intended couples, you have to join a surrogate agency first. Since you live in Ridgecrest, you'll want to join a surrogacy agency in California to make life a little easier for you.
In order to join an agency, you need to meet with the surrogacy qualifications that the agency has put into place. These can vary from agency to agency. At our agency, Made in the USA Surrogacy, we have some of the following qualifications.
You must be a legal resident of the United States. Legal immigrants are also accepted into our agency.
You must also be able to display financial security. This means that you are able to pay your bills and mortgage or rent without requiring financial assistance from the government or other income services.
We ask that our surrogate mothers are between the ages of 23 and 38 in order for a healthy pregnancy to be possible. Any older can have serious consequences both for the baby and for the surrogate. In addition to being between these ages, you must also be a nonsmoker, a non-addict, have no problems with alcohol, and have a BMI between 19 and 30.
To show that you are able to carry babies throughout a healthy pregnancy, we also ask that you have had one successful birth previously.
Finally, before you can join our ranks, you must have a physical screening performed as well as a mental evaluation.
Compensation in Ridgecrest
What's the point of joining a surrogacy agency in California? If the emotional rewards for providing a life for a couple who are unable to do it on their own isn't enough, then you can also look forward to compensation. At our agency, we offer the following compensation package:
Base compensation: $40,000
Twins/multiples: $5,000
Monthly allowance: $250
Experienced Surrogate bonus: $5,000
Maternity Clothes: $1,000
Housekeeping: $2,000
This is a mere example of some of the following expenses that the intended couple will be paying for you. In total, you should expect to make around $50,000 per surrogate birth. There are additional factors that might allow you to make even more.
For experienced surrogates, for example, you're given a bonus. As someone who has carried children before for intended couples, you're highly valued among intended couples. This is because you have actual proof that you can carry another couple's baby safely and with great care.
If an intended couple wants you to carry twins, you're also entitled to a bonus. This is simply because twins or multiple children require more care. You're doing double the work, essentially.
Finally, your spouse can also earn some money. If they have to miss work in order to take you to appointments or to go to the hospital with you for the birth, then they can earn up to 10 day's worth of their regular work pay.
Clearly, you can make a good amount of money when you become a surrogate. This amount can be used to clear up debt, to put a down payment on a house, or to even be tucked away for the future education of your own children.
Steps to Become a Surrogate
The process of surrogacy begins with joining up with our agency. Once you have passed those qualifications, you'll need to perform a few tasks before we can accept you into our fold. The first is to fill out an online intake form. This is just to establish that you meet our qualifications.
An agency coordinator will be assigned to you once the intake form has been cleared. During that time, you'll be given the official surrogacy application form to fill out. While that's being processed, you need to send us a few things.
We'll need a photo of your family for our records and references. You'll also need to have the hospital send us your medical records detailing your previous pregnancy. This can take a few months at times, so it's a good idea to have them get started on the process as soon as possible.
Within a year of applying with us, you'll need to have a PAP smear performed. This is just to make sure that you're healthy enough to carry a baby and can undergo the embryo transfer process during IVF.
Finally, your OBGYN will need to send us a clearance letter that shows their support for your decision to become a surrogate.
The Process of Surrogacy
After you have been accepted into our agency, you'll receive help with finding surrogate health insurance and a surrogate attorney. These are both important factors to have during the journey.
Health insurance, especially, can be difficult to find. Not all health insurance policies cover surrogates because they're unsure of who to hold responsible should something happen to the baby. Luckily, we have experience with health insurance carriers and can find you a policy that will work for you.
The surrogate attorney comes into play right at the beginning of the journey. Once you've been assigned to an intended couple, you'll meet with them and the attorney. Together, you'll go over the birth plan and other details about the pregnancy. This part is to essentially ensure that everyone is on the same page and understands each other's expectations.
With the birth plan figured out, you and the intended couple will begin the IVF process. While the intended couple has samples of their eggs and sperm removed, you'll be undergoing a lot of fertility treatments.
This is to help prepare your body for embryo transfer. There's a chance that your body won't accept the embryo if it isn't prepared beforehand. The body has to believe that it's pregnant. Otherwise, it might see the embryo as a foreign invader and destroy it.
Once the fertility specialists deem that you are prepared to receive the embryo, the transfer will occur. This is performed by a fertility specialist and doesn't take too long.
With the embryo put into place, a few weeks will pass to determine if the body has accepted the embryo or not. Once it starts to divide, then the body has accepted the embryo, and it will start to grow and develop into a baby.
At this point, it's up to you to have a healthy pregnancy. You're largely able to live your life as you normally do. Some surrogates return to work while others choose to remain home to focus on the baby.
After nine months, however, you'll be ready to give birth. Following the birth plan discussed before with your attorney and the intended parents, you'll follow it to the letter and give birth.
CONTACT US
If you have any questions, please give us a call anytime. Phone: (916) 226-4342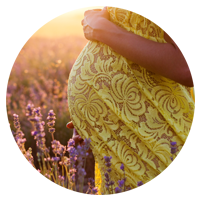 California Surrogacy