Become a Surrogate in Rancho Cordova
Boutique Surrogacy Agency Based in Northern California
We connect surrogates with intended parents in Roseville, Sacramento, the San Francisco Bay Area, Los Angeles area and beyond
Become a Surrogate in Rancho Cordova, California
City of Rancho Cordova, California
One of the biggest reasons that many people flock to Rancho Cordova, California, is because of its expanding economy. It's considered to be the area's largest employment sub-center. However, it isn't just all business in Rancho Cordova. The name, for example, was derived from the popular Cordova Vineyard.
The population of the area, according to the 2010 census, stands around 64,776. However, in 2018, the population increased to 74,585. Many people are attracted to the thriving economy that the area offers as well as the beautiful vineyards that surround the area.
On an interesting note, Rancho Cordova is also the home of NBC journalist, Lester Holt.
For those who live in the Rancho Cordova area and want a different kind of employment, you might want to consider surrogacy. California is a surrogate-friendly state. It's made it possible for couples struggling with fertility to find surrogate mothers who can carry and deliver the child for them.
Made in the USA Surrogacy is a surrogacy agency in California that helps surrogate mothers match with intended couples across the country. Whether you're in Rancho Cordova or elsewhere, it's possible for you to become a surrogate provided that you can meet with our surrogacy qualifications.
Before we get into those, however, it's important to first know if surrogacy is right for you. Here are a few things to know about the process of surrogacy.
How to Become a Surrogate in Rancho Cordova
One of the first things you need to understand about being a surrogate is that you're going to be carrying someone else's child. The process that's used to place the embryo inside of your body is called an embryo transfer. The embryo, itself, is made in a petri dish in a process called IVF. The intended parents donate their eggs and sperm to a fertility clinic. They help the egg and sperm find each other in the dish where fertilization occurs.
Once the embryo is healthy enough, it is then placed either inside of your uterus or your fallopian tube. There are a lot of misconceptions about IVF and an embryo transfer, but both processes are safe and often effective.
Before this step can be taken, however, there are several before it. If you're interested in becoming a surrogate, you first need to find a surrogacy agency in California. A surrogate agency will do a lot of the legwork for you. Not only will they help match you with intended parents, but they'll also help you make appointments to fertility clinics, find a surrogate attorney for you, and help you find surrogate health insurance.
Health insurance, in particular, is a difficult part of being a surrogate for many people. Their regular health insurance often doesn't cover surrogate costs. Fertility clinics, doctors, and other specialists will require you to have health insurance. A surrogate agency like ours can help you find health insurance that covers your surrogate needs.
Once you've joined our surrogate agency in Sacramento, you'll need to wait a few months while we match you with a couple. This can take anywhere from three to six months. It can also be prolonged if we're still waiting for medical records to arrive from you. Fertility treatments will also be given to prepare you for the embryo transfer. That can take anywhere from a month to several months.
A healthy pregnancy takes nine months of your time. Then you'll need a recovery period. In total, you should expect to devote around 12 to 24 months of your time to be a surrogate.
Rancho Cordova Surrogacy Qualifications
Before you can become a surrogate, you need to pass qualifications that California and agencies have. These are all to help ensure that a healthy pregnancy is more likely than not. Some of the surrogacy qualifications that you can expect from our agency are as follows.
We want our surrogates to be healthy. So, we ask that they are between the ages of 23 and 38. We also want their BMI to be within the range of 19 to 30. Prospective surrogate mothers should be non-smokers without any other drug usage.
To ensure that you can provide for yourself and the baby, we also want you to be financially secure. You cannot be receiving aid from the government.
A common qualification for surrogacy in California is that you have successfully given birth without any issues before. You'll need to provide us with medical documentation to prove this birth.
Finally, we require you to have a physical and mental evaluation prior to joining our agency.
Surrogate Compensation in Rancho Cordova
Clearly, there is a lot of work put into becoming a surrogate. Is the process of surrogacy worth it for a surrogate mother? Many women find the chance to give intended parents a child that they would not have been able to produce before to be satisfying. Many, in fact, consider the birth of the child to be one of the most rewarding parts of being a surrogate.
However, emotional satisfaction aside, surrogate mothers are also given financial compensation for their time and efforts. A healthy pregnancy can earn you around $50,000 per surrogate journey. That's around $4,250 a month base compensation. Some surrogates are paid extra if they're experienced. Sometimes a spouse can also be given funds if they have to miss work in order to help you get to appointments.
The compensation can be broken down in the following way.
Base compensation: $40,000
Twins/multiples: $5,000
Monthly allowance: $250
Experienced Surrogate bonus: $5,000
Maternity Clothes: $1,000
Housekeeping: $2,000
For those who live in Rancho Cordova and either want an alternative method for making an income or want some additional income on top of the employment they already have, becoming a surrogate can clearly be a rewarding experience.
Steps for Becoming a Surrogate in Rancho Cordova
If you've decided that surrogacy in California is something that interests you, then you can get started with the process immediately. Visit our agency to see all that we offer. Our steps for becoming a surrogate with us are as follows.
You'll need to complete the online intake form first. This helps us ensure that you meet the criteria that we have for our surrogate mothers. Once it has been approved, our coordinator will help you complete the official surrogate application form.
With that submitted, you'll need to start putting together various documents and paperwork for us. For example, we'll need a photo of your family for your file. You'll also need to contact your doctor for your medical records and documentation for the successful birth that you had prior to applying with us. Because hospitals can sometimes take up to six months to put those records together, you should get started on this step as soon as possible.
Once we've received all of your records, your next step to become a surrogate in Rancho Cordova is to schedule a PAP smear. This is to ensure that you are healthy to carry a baby and for the fertility treatments that you'll be receiving.
Finally, we'll need a clearance letter from your OBGYN.
The Surrogacy Journey from There
Once you've officially been added to our roster of excited surrogate mothers, we'll begin matching you with a couple who are just as excited to meet you. There are many factors that we consider before matching a surrogate and her intended parents. This process may take anywhere from a month to six months.
After a match has been made, you'll be brought together with a surrogate attorney that we can help you find. An agreement is made between the two parties detailing the birth plan and other factors that go into pregnancy. For example, what happens if a miscarriage occurs or if the embryo is rejected by the body.
With the agreement signed and legalized, everyone can get started with fertility treatments. You'll be receiving treatments to help boost your fertility and make it more susceptible to accepting the embryo that is placed within you. Once the transfer is complete and the embryo is accepted, you'll be carrying the baby for the next nine months.
This is an exciting time for any surrogate. Yet the most thrilling and rewarding part is the birth. You'll be able to watch the raw emotion as parents hold their baby for the first time.
If you're curious about how to become a surrogate in Rancho Cordova, contact us today.
CONTACT US
If you have any questions, please give us a call anytime. Phone: (916) 226-4342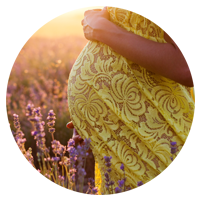 California Surrogacy