Become a Surrogate in Loomis
Boutique Surrogacy Agency Based in Northern California
We connect surrogates with intended parents in Roseville, Sacramento, the San Francisco Bay Area, Los Angeles area and beyond
Become a Surrogate in Loomis, California
City of Loomis, California
Not many people associate a small-town feel with California. However, that's exactly what the quaint city of Loomis has managed to maintain for decades. With a humble population of 6,823 people, Loomis is a quiet and pleasant city that wants to make everyone feel as though they're neighbors.
Interestingly enough, this preference for a small-town atmosphere may be due to its history. The name Loomis came from James Loomis, a man who essentially ran everything in the town. He was the saloon owner, express agent, railroad agent, and even the postmaster. Following in his tradition, the people of Loomis continue to work hard and take pride in their work effort.
Culturally, one of the biggest events in Loomis is the Eggplant Festival. This large festival features arts and crafts, food, music, activities for children, and plenty of other fun activities.
Due to its emphasis on small-town activities and atmosphere, many people have started to take an interest in Loomis. Some settle there while those who already live there also seek additional methods for employment. One method that can satisfy a desire for both income and to make an impact on the world is surrogacy.
Surrogacy in California is protected and safe thanks to California being a surrogate-friendly state. If you've never considered surrogacy before as a means for employment, then you should read on to find out what it's all about and how much you can make.
How to Become a Surrogate in Loomis, CA
Even a small area like Loomis can have a great impact on the world. For a single family, having a child can completely change it for the better. This is especially true when that couple struggles with having a child. They may feel that they'll never be able to experience parenthood over their own flesh and blood. That isn't the case when they choose to utilize the services of a surrogate.
What does it mean to be a surrogate? Essentially, you'll be carrying their baby for them. You'll also be giving birth to the baby. The details of the birth, such as whether it's going to be a C-section or natural birth, is discussed with the intended parents.
However, all you really need to do is make choices that support a healthy pregnancy. You'll have doctor's appointments as is per usual with any pregnancy, but by and large, all you need to do is carry a baby to full-term in order to get paid.
There is also the matter of surrogacy qualifications. Not just anyone can become a surrogate. At a surrogate agency like ours, Made in the USA Surrogacy, we want our surrogate mothers to be healthy. Pregnancy can be dangerous. If the surrogate mother isn't healthy, not only does she place herself at risk, but she also places the baby at risk.
To understand if you'd be a good fit for our surrogacy agency in California, here are some of the qualifications that you'll need to satisfy.
Surrogacy Qualifications
While surrogacy in California and its qualifications differs from agency to agency, many of them are the same. This is because the state has its own qualifications and requirements as well. If you're thinking about how to become a surrogate and wonder if you meet those requirements, here is the list of ours to consider.
We ask that our surrogate mothers are legal residents or legal immigrants in the United States.
We also want them to be healthy. That means you need to be within the age range of 23 and 38. This also includes having a BMI in the range of 19 and 30. Finally, we want our surrogate mothers to be nonsmokers and do not possess any drug addictions.
Prospective surrogate mothers should also be financially stable or sound. This means that they shouldn't be receiving financial aid from any government aid program.
To ensure that you can provide a healthy pregnancy for the intended couple, we also ask that our surrogate mothers have had at least one successful birth in the past. This includes possessing medical documentation proving it.
Finally, we require our surrogates to have a physical and mental evaluation performed before joining our ranks.
If you meet those requirements or can meet those requirements, then you may be an excellent candidate for our surrogacy agency in California. What are the rewards for you, however, in choosing to be as selfless as you are by becoming a surrogate?
Compensation in Loomis, CA
You can receive a generous amount of income by being a surrogate. While each surrogate agency differs with its compensation, ours is pretty standard. We also offer bonuses and benefits to surrogates who are experienced and remain with us. Overall, you can expect to earn around $50,000 per surrogate job with us. We can also add other benefits and bonuses with the more experienced that you become.
This number is broken down into monthly installments of $4,250 of base surrogate compensation. It's also further broken down into the following categories.
Base compensation: $40,000
Twins/multiples: $5,000
Monthly allowance: $250
Experienced Surrogate bonus: $5,000
Maternity Clothes: $1,000
Housekeeping: $2,000
As you can see, having a healthy pregnancy can earn you a lot of money. For women who choose to work outside of being a surrogate, you can earn even more. In addition, we also offer some compensation for spouses who have to miss work in order to take you to fertility appointments and other appointments.
Besides monetary reward, many surrogates also find that the process of surrogacy and its experience is a reward in itself. Many surrogates claim that birth is the most rewarding part of the entire process. They're able to witness the pure joy and love that the intended parents give when holding their baby for the first time. You can give them that joy and love when you become a surrogate.
The Process of Surrogacy in Loomis
There are a few steps that you need to complete before you can get started with IVF and an embryo transfer. The first is to join our agency. In order to do that, we have a few things that you need to do. The first is to complete an online intake form. This is to just to help you and us know if you meet with our qualifications.
Once you've moved past that step, you'll be contacted by an agency coordinator. They'll help you fill out the official surrogate application form. This will be reviewed. You'll need to submit a few things alongside the application. We'll need a picture of your family, your medical records, medical documentation of your successful birth, and a clearance letter from your OBGYN.
In addition, you'll also need to have a PAP smear performed within the year of submitting the application.
Once that is completed, we'll review everything and let you know if you're officially a surrogate with us or not. If you are, then you'll be matched with an intended couple and the real fun will begin.
The first thing you'll do with your intended couple is layout a birth plan. This is done with a surrogate attorney present. We can help provide you with an attorney. The agreement that you make with the intended couple is just to ensure that everyone is protected.
After that is completed, you'll begin fertility treatments for the embryo transfer. The intended couple will be receiving treatments for IVF. Once the embryo has been made, it will be placed within your body. Should the embryo be accepted, it will start to implant and grow into a baby. If not, you may need additional treatments, or the intended couple will need to try again.
After the embryo starts to grow, you're essentially just waiting until the birth. You can continue to work, be a mother to your own children, and just go about daily life as you were before. If anything, you'll just have a few more appointments than you might have had with your own pregnancy. Understandably, the intended couple might also want to spend some time with you, so they can be part of the developmental process.
Join Our Agency
Being a surrogate in Loomis, CA, can be easy. All you need is the right surrogate agency at your back. If you're wondering about how to become a surrogate in Loomis, then reach out to us. We'll help you find out everything you need.
CONTACT US
If you have any questions, please give us a call anytime. Phone: (916) 226-4342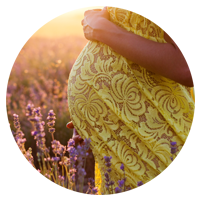 California Surrogacy