Become a Surrogate in Long Beach
Boutique Surrogacy Agency Based in Northern California
We connect surrogates with intended parents in Roseville, Sacramento, the San Francisco Bay Area, Los Angeles area and beyond
Become a Surrogate in Long Beach, California
City of Long Beach, CA
Long Beach is known for being the second busiest container port in the United States. Because of its popularity, it's also one of the world's largest shipping ports. Long Beach, which rests just 22 miles south of Los Angeles, is a populous city that has a little a bit of everything.
For tourists and locals, the waterfront of Long Beach is one of its major attractions. It has the RMS Queen Mary docked there permanently. It also has the Aquarium of the Pacific which sees thousands of visitors a year.
The Grand Prix of Long Beach is also held here. Indycar isn't the most popular style of racing in the United States, but Long Beach is one of the few places that offers a challenging course for Indycar drivers.
Finally, California State University, Long Beach, is the largest university in California based on enrollment alone.
With many manufacturing companies also taking up residence in Long Beach, the estimated population of 467,257 people has numerous ways to find employment.
Yet some people may wish to find a way to supplement their income. The best way to do so for women who don't want to spend more hours away from home is through surrogacy. If you're curious about surrogacy in California, then read on to find out how can you become a surrogate in Long Beach, California.
What is Surrogacy?
There are many misconceptions about surrogacy in California. If you want to become a surrogate, then it's important to understand what's involved. One of the first aspects to understand is the timeframe. When you become a surrogate, you're not just signing up for nine months of pregnancy. There are a lot of steps beforehand that need to be completed before you reach that stage.
Surrogates can expect to spend anywhere from a year to two years on a single surrogate match. Because it's a good idea to join a surrogacy agency in California, there are a few steps and surrogacy qualifications that you need to meet and finish before you can join. Once you're part of that agency, they'll start to match you with intended parents. That process can take several months depending on the demand for surrogates.
For a healthy pregnancy, you'll also need to undergo a month or a few months of fertility treatments. This is when the embryo transfer and IVF process are involved. After that, you finally have the nine months of pregnancy to sit through. You may take a few additional months after the baby's birth to recover and rest.
Clearly, you can expect to have to commit some time to the process of surrogacy. However, you will be compensated generously for your efforts.
Compensation in Long Beach, CA
How much can you expect to make when you become a surrogate? After joining a surrogate agency, you'll be able to receive the compensation package and benefits that they offer. Each one offers different things and their rates may change over time. At our surrogacy agency in California, we offer a base rate of $40,000. However, it's common for our surrogates to make around $50,000 thanks to the additional benefits and bonuses that we offer.
A general overlook over some of the compensation information is as follows:
Base compensation: $40,000
Twins/multiples: $5,000
Monthly allowance: $250
Experienced Surrogate bonus: $5,000
Maternity Clothes: $1,000
Housekeeping: $2,000
Once you give birth as a surrogate mother, you can become what is known as an experienced surrogate. This gives you an additional $5,000 bonus on all future surrogate jobs that you take. Many intended parents like using experienced surrogates because it shows that they've been through the process of surrogacy successfully, though using experienced surrogates are not always necessary since all surrogate mothers have experience in child-bearing. Since the intended parents might be new to the journey, it can be comforting to know that their surrogate has been through it all before already.
In addition, we also offer compensation for your spouse. We can offer up to 10 days' worth of work pay in the event that they have to miss work.
For a full list of our compensation, you can visit our website.
Surrogacy Qualifications
In order to join our surrogate agency, you must pass a few standard qualifications. Some of these may differ a little from other agencies, but many require the same aspects in their prospective surrogates. To become a surrogate with us you must:
Live in the United States as a legal resident, citizen, or as a legal immigrant.
We also ask that you are between the ages of 23 and 38 with a BMI between 19 and 30.
In the interest of a healthy pregnancy, our surrogates must be non-smokers and do not abuse alcohol. In addition, we do not accept surrogates with drug problems.
You must have had at least one successful birth prior.
You must be financially secure without receiving financial assistance from the government or other organizations.
Finally, you must complete a physical and mental evaluation.
Steps to Become a Surrogate
If you pass the qualifications listed above, then you are ready to start the process of joining our agency. First, you need to complete a general online intake form. When that has been approved, you'll be given the official surrogate application interview over the phone. Along with this application, you'll want to start getting your medical records ready.
These records should indicate the healthy pregnancy and successful birth that you had prior. We'll also need photos of you and your family.
A PAP smear is also required within a year of applying with us. When visiting your OBGYN, you'll need them to prepare a clearance letter for you.
With these steps completed, you'll be welcomed as an official surrogate with us. Our team will start the process of finding your intended parents to begin the rest of the surrogate journey.
Surrogate Agreement
Two of the best benefits that working through a surrogate agency can provide is their ability to find you a surrogate attorney and surrogate health insurance. In regards to an attorney, they'll be working with you and your intended parents to form a surrogate agreement.
This is basically an agreement between all members of the process that ensures everyone understands who the legal parents of the baby are, what the birth plan is going to be, how the compensation and bills are going to work, and what happens in the event of an emergency.
Too often, surrogates or intended parents try to find a surrogate attorney on their own. The reason intended parents may hire a surrogate attorney is to find a surrogate on their own, thinking this may be the more economical choice to do in the process of them needing a surrogate. This isn't usually the case. Surrogate law is still relatively new and being changed constantly as new cases emerge. Our surrogate attorneys that work with us are specifically versed in surrogacy.
To protect yourself, you should rely on the our surrogacy agency located in the Sacramento area to recommend you a professional and knowledgeable surrogate attorney.
The second benefit, surrogate health insurance, is also vital. Most, if not all, agencies require that you have surrogate health insurance. This is typically different from the health insurance that you already have. Most surrogates believe that their current health insurance covers surrogate expenses.
It usually doesn't. This is because standard health policies haven't quite figured out the legalities of surrogates yet. To ensure that you are protected in the event of an emergency, you should rely on the agency to find you a surrogate health insurance policy that works best for your needs.
Physical Process
After you have been assigned to your intended parents and signed the surrogate agreement, you're able to begin the physical part of the process. While the parents will be prepped for IVF, you'll be preparing for embryo transfer. This is a process in which the fertilized embryo that was made through IVF is inserted into your body.
The fertility treatments that you've been going through will help your body accept the embryo as its own. Since you're not actually pregnant, the body will typically attack the embryo as a foreign invader when it isn't given fertility treatments. To trick the body into believing that it's pregnant, the treatments affect your hormones.
After the embryo has been inserted, it will start to develop and grow. You're officially pregnant. You'll have the next nine months to carefully nurture and care for the growing baby. This is an exciting time for any surrogate. They're able to return to work, take care of their family, and otherwise live as they normally would.
CONTACT US
If you have any questions, please give us a call anytime. Phone: (916) 226-4342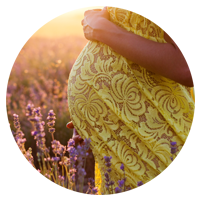 California Surrogacy