Become a Surrogate in Lodi
Boutique Surrogacy Agency Based in Northern California
We connect surrogates with intended parents in Roseville, Sacramento, the San Francisco Bay Area, Los Angeles area and beyond
Become a Surrogate in Lodi, California
City of Lodi, CA
Those who know Lodi likely know it for its wine culture. The area is home to a thriving winery and beautiful vineyards. It has an electric variety of wines that often competes with the very best names in wine. Winemakers also set themselves apart from their competitors by practicing sustainable processes that benefit their customers and their vineyard.
Lodi first began when a group of local farmers was looking for a site in which to place a school. At the time, a group of railroad investors was also looking for a place to build their railroad next. As fate would have it, the area they chose would become known as Lodi. Though the origins of the name are still widely debated, many believe that it came from Lodi, Illinois, where most of the migrants were from.
In 2018, the estimated population was around 66,995 people.
Although it's a city that offers its share of local and chain businesses, it can claim one famous franchise as its own. The popular A&W Root Beer and its A&W Restaurants began in Lodi.
There are also numerous events that are held throughout the city. Due to its wine culture, many of those events surround wine and food. Yet there are others that are devoted to the arts and to local farmers.
If you live in Lodi and are looking for a way to invest in your future, then you might want to consider surrogacy in California. Joining a surrogate agency has a lot of benefits. Read on to find out how you can become a surrogate at our agency, Made in the USA Surrogacy.
Benefits of Joining a Surrogacy Agency in California
Beginner surrogates or those who are thinking about how to become a surrogate for the first time might first decide that they want to simply to try it out on their own first. This is a mistake. Freelance surrogates are often unprotected. Surrogacy in California is legal, and while California is a surrogate-friendly state, that doesn't mean it's easy or safe to go about surrogacy on your own.
A surrogate agency provides you with a large selection of intended parents. They have to go through a few screening options before they're accepted into our database. In this way, we can provide surrogates with a pair of intended parents who want to make sure they're safe, too.
Our surrogacy agency in California also helps you locate a surrogate attorney. It may be easy to believe that you won't need a surrogate attorney, but that isn't always the case. If you're an intended parent or haven't been through the surrogacy process in California, you may go for the standard attorney. They're not well-versed in the law regarding surrogates. A surrogate attorney is someone who has entrenched themselves in the literature concerning surrogacy. Our agency will provide you with that attorney. They also play an important step in the process of surrogacy that we promote with our service.
We also offer the ability to help you find surrogate health insurance. It's common for prospective surrogates to believe that their current health insurance policy will cover them when they become a surrogate. After all, it's just being pregnant. That isn't the case. Traditional insurance policies haven't yet figured out how to cover or bill those who are involved in third-party pregnancy. Even if you have a healthy pregnancy, you're still going to be seeing the doctor a lot. You also have fertility treatments that you're going to need to have performed. All of that can add up. You shouldn't have to pay for it. Our agency can help you find a surrogate health insurance policy that works for you.
One last benefit that we offer, among many others, is our connection to other surrogate mothers and counseling. The process of surrogacy can become intense for some surrogate mothers, especially after they give birth and hand the baby over to its parents. Surrogate mothers are there to help support you and offer advice on how to get through it. No one quite understands what you're going through save for those who have also lived it.
Our counselors are also on-hand to help you through the process. If there's ever a moment where you feel off, then you can reach out to them for support or advice. A case manager is also assigned to you. They help you navigate every part of the journey.
All of this support is yours when you join us. It's a far safer and more lucrative option than attempting to become a surrogate on your own.
Surrogacy Qualifications
Before you can become a surrogate with us, however, we have a few surrogacy qualifications that you need to satisfy in order to join us. To help determine whether or not you're likely to have a healthy pregnancy, we ask that our prospective surrogate mothers are among the following.
They must be between the ages of 23 and 38 with a BMI between 19 and 30. We also want to promote a healthy environment for the development of the baby. Because of this, surrogates must be non-smokers and without any addictions to drugs or alcohol.
You must also be a legal resident in the United States or a legal immigrant.
You must have had at least one successful birth prior to applying with us. A successful birth entails having a healthy pregnancy without any complications at birth.
Prospective surrogate mothers should be financially secure without receiving aid from the government.
Finally, we ask that you have a physical and mental evaluation.
Compensation in Lodi
All of this may seem like a lot of work, but the compensation is worth it. When you join our agency, you can expect to make around $50,000. This is typically broken down into monthly installments of $4,250. Yet it is possible to make even more. Below is a general list of our compensation and some of the expenses that the money can be used for.
Base compensation: $40,000
Twins/multiples: $5,000
Monthly allowance: $250
Experienced Surrogate bonus: $5,000
Maternity Clothes: $1,000
Housekeeping: $2,000
Clearly, you can make additional money with us if you are an experienced surrogate. It's also possible to earn extra if the family wants you to carry a set of twins or multiple children. For a full list of the expenses that this money is typically used towards–though not necessarily restricted to–you can check out our website.
After Joining
Once you've been accepted into the agency after following the application's steps, you'll be matched with a pair of intended parents. After this is when you'll meet with the surrogate attorney. A surrogate agreement is required before the process can truly begin. This agreement basically details what is and isn't acceptable during pregnancy. It also comes up with a birth plan. The birth plan discusses what hospital you'll be brought to, who is allowed in the room when you're giving birth, and what kind of birthing technique is going to be used.
Once that agreement is signed, you'll be able to start fertility treatments. The intended parents will be receiving treatments as well. While you'll be getting treatments for embryo transfer, they'll be getting them for IVF. During IVF, they'll have their eggs and sperm cells taken and placed in a petri dish. In a contained area, the cells can fertilize one another easily. The resulting embryo is what's going to be placed inside of your uterus through an embryo transfer.
It's a relatively quick and easy procedure. The biggest part of the process at this point is to wait and see if the embryo is going to be accepted by your body. If it is, then you're pregnant, and the baby will start to grow inside of you. If not, then you may need to go through a few more sessions of fertility treatment to better provide a sustainable environment for the embryo.
When you become a surrogate in Lodi, you're giving a miracle to a pair of intended parents. They wouldn't be able to have a child without you. If you want to be part of this incredible experience, then give our agency a call today to begin.
CONTACT US
If you have any questions, please give us a call anytime. Phone: (916) 226-4342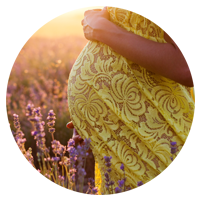 California Surrogacy