Become a Surrogate in La Habra
Boutique Surrogacy Agency Based in Northern California
We connect surrogates with intended parents in Roseville, Sacramento, the San Francisco Bay Area, Los Angeles area and beyond
Become a Surrogate in La Habra, California
City of La Habra, CA
La Habra means 'pass through the hills' and is accurately named since the city is nestled between a few hills. Before it became populated, there used to be herds of horses and cattle that grazed and roamed across the sloping hills. Once the Spanish settlers discovered the pass, however, they realized what a convenient area it was and began to build ranches there.
Once the city passed into American hands, the area became known for its avocados. In fact, in 1928, the area was South California's largest avocado center. In addition, La Habra also has a thoroughbred race track nestled close by.
It's estimated population rests at 62,183 people as of 2018.
For those who reside in La Habra, one incredible way to earn extra income is to become a surrogate. Surrogacy in California is a wonderful opportunity in which healthy young women can carry the children of couples struggling to conceive on their own. If you're interested in making extra income in a way that can change someone's world and doesn't require you to change much about your life, then you might want to consider surrogacy.
Overall Process of Surrogacy in La Habra, CA
A general preview of the process of surrogacy begins with your decision to become a surrogate. It may mean that you need to eat healthier, but otherwise, your life won't change overmuch. Because many surrogate agencies require their surrogates to have given birth before, you've already been through pregnancy.
You know mostly what's going to happen when you become pregnant again. The only difference is that you're going to visit the intended parents, have more doctor visits, and then give the baby over to its parents at the end of the journey.
The finer details of surrogacy will be discussed here. After you have decided to become a surrogate, you'll need to look for a surrogate agency. Agencies are going to be your best friend during the process.
Our surrogacy agency in California, Made in the USA Surrogacy, takes great pride in looking after our surrogates and intended parents. We want the process to be as simple and stress-free as possible. That's why we do a lot of the heavy lifting for you.
A surrogate agency can provide you with two additional benefits as well. The first is that they can introduce you to a surrogate attorney. Because surrogate law is still fairly new, it can be difficult to know how you can be protected and when it is necessary to use those laws.
A surrogate agent is up to date on all of the regulations surrounding being a surrogate and its process. Should a problem arise, they'll be able to inform you of your rights. At our agency, we also require our surrogates and the intended parents to meet with the attorney and sign a surrogate agreement.
This agreement covers the process and discusses the plan of action as well as compensation should any emergencies occur. It also defines who the parents of the surrogate baby are and what rights the surrogate has following the healthy pregnancy.
The other benefit that the agency can provide you with is surrogate-friendly health insurance. Many women come into an agency thinking that their normal health insurance will cover their expenses. That isn't the case. Even in a surrogate-friendly state like California, surrogate health insurance can be difficult to find and apply for.
We'll do all of the gross paperwork for you. Instead, you can just focus on providing a healthy pregnancy for the intended parents.
After joining an agency, you'll be matched with intended parents. This is something that our agency does as well. We take the time to through our database to ensure that you're matched with intended parents who will get on the best with you. Because we want to make sure that the match is as good as can be, the process can take some time.
After you've been matched, you'll be preparing for your fertility treatments. The intended parents will be doing the same thing. This marks the start of the physical part of being a surrogate. The intended parents will be receiving fertility treatments for IVF or in-vitro fertilization. IVF is the most effective method for using surrogacy in California.
You'll be receiving fertility treatments for the embryo transfer. This part of the process occurs after the egg and sperm cells have been collected from the intended parents and are fertilized to form an embryo. Embryo transfer is an easy process and doesn't take long to perform.
With the embryo put into place, you're officially pregnant. You'll have nine months to carry the baby as safely as possible. That being said, your time is your own. You'll want to visit the intended parents and attend your doctor appointments, but otherwise, you're able to return to work and your life.
Compensation
Perhaps one of the coolest aspects of being a surrogate is that you're paid to change someone's life. Our agency offers around $50,000 per surrogate job that you take. That's essentially passive money that you're earning while simply maintaining a healthy pregnancy. We offer money that can be broken down into some of the following categories:
Base compensation: $40,000
Twins/multiples: $5,000
Monthly allowance: $250
Experienced Surrogate bonus: $5,000
Maternity Clothes: $1,000
Housekeeping: $2,000
Essentially, you can expect to make around $4,250 a month. For experienced surrogates, you can earn even more. For those who are asked to carry multiple children, you can also have a bonus. Finally, we even give spouses extra income. We can give them up to 10 days' worth of work pay for missed days.
Surrogacy Qualifications
Before you can get started with a surrogacy agency in California such as Made in the USA Surrogacy, you first need to pass surrogacy qualifications that are specific to the agency that you're joining. For our surrogacy agency, you'll need to meet the following qualifications.
To become a surrogate with us, you must live in the United States legally. That means you must either be a legal resident or a legal immigrant.
You must also show that you are financially stable without assistance from the government.
Our surrogates must be between the ages of 23 and 38 with a BMI between 19 and 30. You must also be drug-free and not addicted to alcohol. We also do not accept smokers.
It's imperative that you have successfully given birth before. This means that your child didn't have any problems during pregnancy or at birth.
Finally, you must pass a physical and mental evaluation.
Steps to Join Our Surrogacy Agency In La Habra, CA
If you're in La Habra and wish to become a surrogate with our agency, then the first step you need to take is to fill out the online intake form. Once that has been cleared, you'll be able to fill out the official surrogate application form.
You'll then be able to send us photos of yourself and your family.
To prove that you had a successful birth before, you'll also need to put together your medical records. This can take some time for the hospital to put together and send to us. As such, you'll want to make that call as soon as possible. It isn't rare for our surrogates to have to wait up to six months to receive their medical files.
Your OBGYN must also give us a clearance letter.
Finally, you should have a PAP smear taken within a year of applying with us.
Benefits of Being a Surrogate in La Habra
For many women in La Habra, one of the best aspects of being a surrogate is the easy pay. While it does require a lot of time and effort, it isn't as daunting or exhausting as taking on a second job. You're able to spend close to the same amount of time with your family as you would otherwise.
You just also happen to be carrying someone else's job. Which leads to the second incredible benefit. You're doing meaningful work. Most people hate the job they currently have because they don't feel that they're making an impact on the world. As a surrogate, you're literally changing someone's world.
Intended parents would not have been able to have a baby of their own without you. You're giving them a miracle.
You're also able to enter a close-knit group of fellow surrogates who are eager to welcome you into the fold. It's not uncommon for our surrogates to become friends.
CONTACT US
If you have any questions, please give us a call anytime. Phone: (916) 226-4342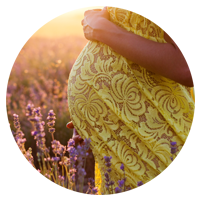 California Surrogacy