Become a Surrogate in Beverly Hills
Boutique Surrogacy Agency Based in Northern California
We connect surrogates with intended parents in Roseville, Sacramento, the San Francisco Bay Area, Los Angeles area and beyond
Become a Surrogate in Beverly Hills, California
City of Beverly Hills, CA
Few haven't heard of the star-studded city known as Beverly Hills, California. Before celebrities started to call it home, however, it was actually owned by the Spanish. The area was used to grow lima beans.
More settlers came to the area looking for oil. When oil wasn't discovered in the region, they found water instead and decided to make it a town. Amalgamated Oil Company was the one to give the region its name, Beverly Hills. It was named for Beverly Farms which was located in Beverly, Massachusetts. The rest of the name was due to the hills that dotted the area.
The first house that was built there was in 1907. At that time, sales were poor. However, Burton Green would eventually open up the Beverly Hills Hotel in 1911. Visitors to the area enjoyed the area and decided to buy homes and slots of land for themselves.
In 1919, Douglas Fairbanks and Mary Pickford chose to settle in the area. They built a mansion there and other celebrities quickly began to follow suit. Over the years, other big names would call the area their home. Names like Elvis Presley, Frank Sinatra, Ray Charles, Jennifer Aniston, and many others would either build their own mansion in the area or buy a pre-existing one.
As of 2018, there is an estimated population of around 34,183 people.
For those who live in Beverly Hills and can't claim the pocketbook of a celebrity, you may find that you need to add a bit more income to your family. However, you may struggle with finding the time to include that job. In addition, you might struggle with the idea of getting another job in general. Employment isn't always satisfying. However, you can find fulfillment and an easy second income by choosing to become a surrogate in Beverly Hills.
If you are a parent looking for a surrogate in Beverly Hills, we are the right surrogate agency for you as well. We are well connected to fertility clinics in Beverly Hills, and will provide a suitable surrogate near you.
Surrogacy in Beverly Hills, CA
California is one of the few states that is surrogate-friendly. They allow agencies to exist and help women who want to become a surrogate for intended parents who are struggling to have a baby of their own. Beverly Hills is no exception. Even those who are in the movie industry can still have problems with their fertility.
When you join a surrogate agency, you might even be matched with intended parents outside of Beverly Hills. They may even reside outside of California. Yet they're all in need of desperate help for someone like you.
The process of surrogacy begins with a conversation that you have with yourself. Are you sure you're prepared for the time commitments and energy demands that being a surrogate requires?
The process can take anywhere from a year to two years. There may be a few delays that you experience. Those delays could take place during the matching. It may take a few months before you're matched with intended parents. The delay could occur during fertility treatments when you and the intended parents are receiving treatments for embryo transfer and IVF, respectively. It could even occur during the paperwork processing portion of joining an agency.
Any of these delays that are then tacked onto a nine-month-long pregnancy is going to make the process of surrogacy long. If you're not prepared to give it that amount of time, then surrogacy might not be for you.
There's also an energy demand that you must be ready for. You've had a pregnancy already, so you understand the number of doctor visits ahead of you. As a surrogate, you may need to attend a few more appointments just to ensure the health of the baby is doing well. You may also have to visit the intended parents or let them visit you, so they can be part of the healthy pregnancy.
After you've had that conversation with yourself, you can then make the commitment to become a surrogate for someone who is in dire need. The rewards you'll receive in return are ones you cannot get anywhere else.
Compensation for Surrogates in Beverly Hills, California
Living in Beverly Hills is expensive. Luckily, at our surrogate agency, we offer a competitive rate for our surrogates. You can make around $50,000 for a single surrogate job. This can be earned alongside your regular job since we don't require you to leave your job in order to become a surrogate. That means that you can earn an extra $50,000 on top of what you make already.
A general breakdown of how you can earn money is given below:
Base compensation: $40,000
Twins/multiples: $5,000
Monthly allowance: $250
Experienced Surrogate bonus: $5,000
Maternity Clothes: $1,000
Housekeeping: $2,000
That amount breaks down into monthly installments of $4,250. We also offer to pay your spouse for missed work. We can pay them up to 10 days' worth of work pay for any missed days that they acquire when taking care of you.
We also reward surrogates who remain with our surrogacy agency in California. Experienced surrogates can receive $5,000 extra for each job going forward.
Surrogacy Qualifications
To see if you can become a surrogate with our surrogate agency, you have to pass our surrogacy qualifications. Passing these helps ensure that you can provide a healthy pregnancy for the intended parents.
The first qualification is that you must be a legal resident of the United States. We also accept legal immigrants as surrogates.
Second, you must have had a prior pregnancy that was successful. This means you didn't have any complications during your pregnancy or birth.
Third, you must be financially stable. This means that you do not receive financial assistance from the government.
Fourth, you must be between the ages of 23 and 38 with a BMI between 19 and 30.
Fifth, you must be a non-smoker. We also ask that our surrogates don't drink excessively and are drug-free. When they're pregnant, they are not allowed to drink at all.
Sixth, you must pass a physical and mental evaluation.
Joining a Surrogacy Agency in California
If you wish to join our agency, then we have an easy process in which to do so. The first step is to fill out the online intake form. This shows us that you pass the qualifications that we have for our prospective surrogates.
The next task is to complete the official surrogate application form.
Your next step onto surrogacy is to send us documents. We'll need photos of yourself and your family. We also need medical records of your prior pregnancy that was successful. You'll also have to speak to your OBGYN to give us a clearance letter that shows their support.
One last step is to have a PAP smear performed within a year of applying with us.
Surrogacy in Beverly Hills, California
Before you have a healthy pregnancy with a surrogate baby, you first need to be matched with intended parents. Many intended parents choose a fertility clinic in Beverly Hills, since this area is known for having some of the best fertility care in the entire country, and even world! If you are a surrogate in Beverly Hills, chances are, the family you are matched with could be very close to you in your area.
The surrogate agency will work through all of the profiles that they have to ensure you're matched with the best parents possible for you. You'll also be given a surrogate attorney and surrogate health insurance.
Both are crucial for the rest of the process. Once you're matched with intended parents, you'll sit down with the attorney to make up and sign the surrogacy agreement. This is a legal document that goes over who has the rightful parentage of the baby as well as details the birth plan and surrogate compensation.
With the legal paperwork finished, you and the intended parents can begin your fertility treatments. IVF will be the process in which the intended parents conceive the baby. They'll receive treatments to help boost their fertility, so IVF is successful.
You'll be receiving fertility treatments for the embryo transfer. Your treatments will help regulate your hormones, so it believes that it's pregnant. When the specialist believes you're ready, you'll undergo embryo transfer and have the newly made embryo placed inside of you.
A few days will have to pass before the specialists can confirm whether or not the embryo has been accepted by your body. If it has, then it will start to grow and develop. You'll have to carry the baby for the next nine months.
Luckily, you're able to live your life normally during that period. You can enjoy the delights of Beverly Hills without having to spend time away from your family or your job.
When it comes to the birth, you'll follow the birth plan to the letter.
CONTACT US
If you have any questions, please give us a call anytime. Phone: (916) 226-4342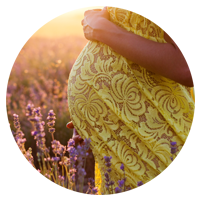 California Surrogacy