Becoming a Surrogate: Questions to ask before starting the process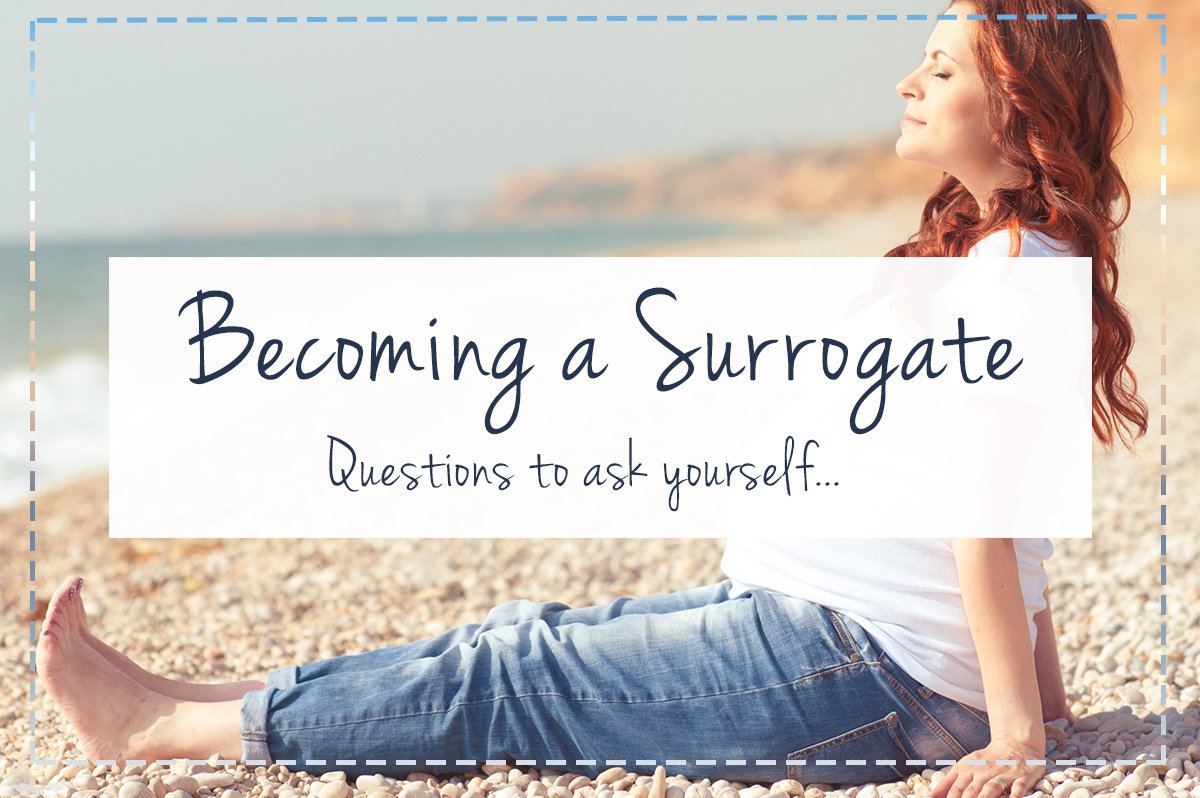 Hello! Today we are discussing questions to ask about becoming a surrogate before the process is started
If you've found this blog post, there's a reason why. You are researching becoming a surrogate mother, and you want to know all about it! Perhaps you are skeptical about becoming a surrogate, or maybe you don't know a lot about the process. For more information on the process of becoming a surrogate, please visit our website for a breakdown of the steps.
You probably have come to the idea of becoming a surrogate through a friend you know who has done it, or maybe you have always thought what an amazing thing it would be to give back to the world in a unique and wonderful way. That's what surrogacy is all about. You are a giving, generous, loving parent yourself, and you have convictions that may have led you to think that others who have not felt this wonderful joy of being a parent should be helped! Some people give blood, others give money to charity, but this is your chance to physically give life to a child who otherwise would never have had the chance to enjoy life!
So what questions should you ask before becoming a surrogate? Where do you start? How long is the process and do you need to understand anything about the process of becoming a surrogate that you otherwise would not already know? At Made in the USA Surrogacy, we want to help you and make you comfortable with the choice to become a surrogate, so let's go through some questions to help clarify any concerns you may have.
SURROGATE QUESTIONS TO ASK:
#1 – Am I ready to be a surrogate?
The answer to this question is both personal but also physical. We have requirements for our surrogates that you should read over before applying, these qualifications to become a surrogate are largely physical requirements. You must be healthy, non-smoker, not be on federal assistance of any kind, and have a healthy pregnancy history. But these qualifications don't mean that you are emotionally ready for this process. For that, you have to ask if you are ready in many different ways:
#2 – Are you done having children of your own? If not, are you done for the next year and a half to two years?
Having a child through the process of surrogacy can be a long-term commitment, so you need to be OK with the time that it may take to finish the race. Our owner Samantha had her first child, then her surrogate baby, then now is 34 weeks pregnant with her 2nd child! It is possible to have children of your own after having a surrogate baby, but as a possible surrogate candidate, you need to be OK with the fact that the surrogate process could take up to two years; between finding a family to be matched with, starting medications, being pregnant, birthing the child and aftercare.
#3 – Is my personal family ready for me to be a surrogate?
Your family will be with you through the whole process and likely be very involved in the surrogate matching process as well. You have to know whether they understand their role in this process of becoming a surrogate and whether they will support you.
#4 – Am I ready to become a surrogate mentally?
Is your home situation stressful? Is your work situation stressful? Are you getting enough sleep as it is? Becoming a surrogate involves many appointments, a lot of communication and the hard work of carrying a baby through to term (if you are considering becoming a surrogate then you are most likely already a mother and you know this). We want you to make sure your work and family life is not going to be affected by the stress of these many appointments and extra workload!
#5 – Do I have a support system in place?
One of the biggest challenges to being a parent is having a support network. At Made in the USA Surrogacy, we want to make sure that our surrogate mothers are equipped with the ability to make it to their appointments without having to worry about who is watching their current children. We want to know that their home life is not in shambles, so they are emotionally healthy to handle this pregnancy to full term!
#6 – What kind of intended parents do you want to be matched with?
The process of becoming a surrogate involves a lot of questions to answer, and one of these is what kind of surrogate parents you want to work with. Do you mind if your parents are international? Do you mind if your parents are same-sex? Do you mind if your parents have a different religion than you? Are you a faith-based person and do you have certain belief systems that are important to you? All of our surrogate mothers are asked questions that will further hone in on what is important to them during this process and it is used to make sure that values align with the parents that we match with!
#7 – Am I ready for the time commitment?
Becoming a surrogate is no small task. It requires a lot of initial communication with our agency (Made in the USA Surrogacy) to get started. We will ask you to fill out an application that will take us an hour to go through. We will ask for medical records, background check forms, doctors clearance notes, current PAP smears etc. While being a surrogate mother is quite possibly the best second job for a mother on planet earth, it will require you to communicate with us on a semi-regular basis for updates, get to medical appointments, and be ready when we are ready to match you with a family- because there's no going back once that baby is on the way!
Have you completely read over the initial requirements to become a surrogate?
Please read these over comprehensively. If you know that you are leading an unhealthy lifestyle, have had a bad pregnancy history, or any of those qualifications- work on them solidly and contact us when you are ready!
Becoming a surrogate is no small task. It requires above all, a lot of communication and dedication. Rest assured, however, if you meet the qualifications, you are a committed person, your family life is peaceful with a good support system, and you are ready for an adventure to help someone else enjoy the fruits of being a parent- then fill out this form today or give us a call!
916-226-4342