5 Questions about Surrogate Compensation: An Overview for Surrogate Mothers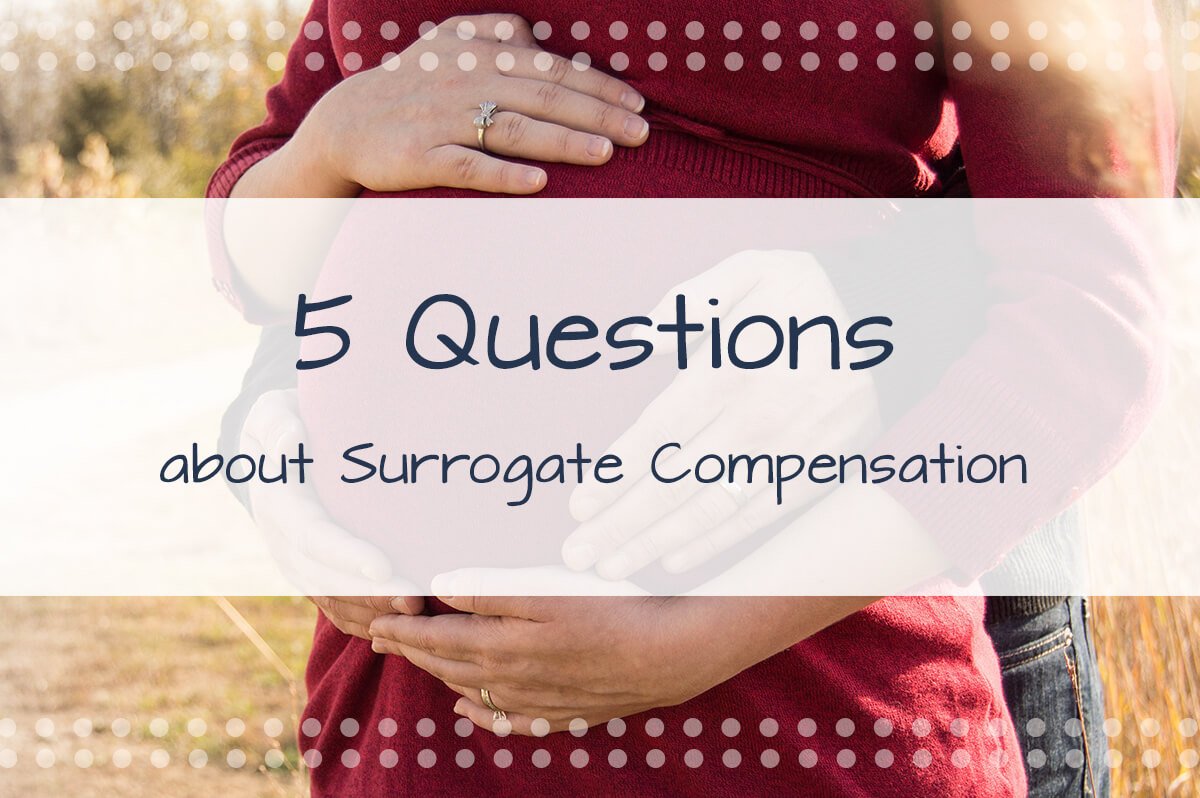 Hello hopeful surrogates, today we are going to take an in-depth look into surrogate mother compensation.
Being a surrogate agency in Northern California, we receive many inquiries from surrogate candidates with a lot of questions about the surrogacy process. We answer some of these questions about the surrogacy process in this blog, but we want to look further in depth about the surrogate compensation package.
Whether you're a mom looking for a second job, a part-time job, or a mom looking for a job to do from home- we recommend surrogacy as an excellent way to provide for your family, but also to provide for a family in need. It's truly the best second job on the planet for moms – and one of the best ways you can give back in this world we live in.
Probably one of the most asked questions we receive from surrogate mother prospects is about compensation, for example:
How much will you get paid as a surrogate? When will you get paid as a surrogate? How does compensation work? Will I get taxed on my compensation as a surrogate? How do my medical bills get paid? All of this information will be answered in this blog post.
If you have any more questions about your surrogate compensation with Made in the USA Surrogacy, or you would like to add to these questions you have please fill out our inquiry form or give us a call 916-226-4342.
We know how much of a concern that your surrogate pay can be, and we aim as a premier surrogate agency in California to make sure your surrogacy journey is smooth.
Here are some of the most asked questions about surrogate compensation:
#1 – How much will I get paid as a surrogate mother?
This compensation will range based on many factors, such as what surrogate agency in California you will be a part of, and what state you are from. Many surrogate agencies in California pay a different rate to surrogate prospects in different states because the parents will have to pay higher costs for a surrogate birth in California.
Surrogate compensation will range with different surrogate agencies from $25K-$60K.
Don't believe the compensation figures you see advertised for $80-100K from other surrogate agencies. Because your compensation is paid by the "intended parents" or parents who have created embryos to start a family by way of surrogacy – they are well aware of the average surrogate compensation paid by most surrogate agencies.
Also, they are already paying anywhere from $25,000-$60,000 or more on embryo creation and IVF cycles already. You can feel free to search other companies that will pay higher amounts- but keep in mind that money is not endless and intended parents do not pay exorbitant compensation figures no matter what is advertised.
We offer competitive surrogate compensation that is reasonable for most parents to pay- which means you can potentially get matched with a family quicker.
For this reason, Made in the USA Surrogacy has started base compensation at $40,000.
Because this is "base" compensation, there will be many other add-ons that parents will pay that bring your total compensation to about the $50,000 figure.
It's important to note, this figure of compensation does not include the amount parents pay for your medical policy – whether they use your insurance policy or not.
Other agencies may add in the number that parents pay for medical insurance, but that is not compensation actually paid directly to you. At $40,000 base compensation, it's just about as much as you would receive at a hard-working job working 40 hours per week.
We believe that compensation is one of many factors that should be impacting your decision to become a surrogate. Therefore, we put the compensation figures based on what parents are willing to pay, and what is fair to you for your journey.
For more information on your actual surrogate compensation figures, please visit this page of our website.
#2 – When will I get paid for being a surrogate?
Surrogate mother prospects must undergo an intense screening process to become a surrogate. How fast a surrogate will get paid will depend on how fast and how motivated they are in completing this surrogate screening process. Once you send us your medical records, we will be able to fast-track your progress.
You will not officially receive payment from the surrogacy agreement until you are matched with a parent who needs a surrogate. There are lots of steps in-between this, but for the most part, after your surrogate screening is finished and you are accepted to become a surrogate with our agency, you will be ready to meet an intended parent family.
After you meet this family, you may have a few more surrogate screening requirements such as a psych evaluation as well as a medical evaluation. After this step is complete and you are matched with your family, you will go to the steps of signing a contract between you and your parents. It's when these steps start happening that we also start preparing your body for pregnancy that you will start seeing compensation in bits and pieces (such as for your embryo transfer, or the start of medication).
When pregnancy is achieved, and a fetal heartbeat is confirmed, your compensation will begin at the beginning of the following month according to the amounts specified in your surrogacy contract.
#3 – How will my medical bills get paid or will I have to be reimbursed?
Different surrogacy agencies in California process payments and expenses of a surrogate in various ways. What we try to do at Made in the USA Surrogacy is make sure that every surrogate related expense that is paid from your contract is not first paid by you and then reimbursed. We have surrogate mothers send us all of their medical bills and they are paid directly from escrow. We will not require you to pay bills that are sent to you in any way shape or form- we hope all of our surrogates have a painless process when it comes to how their bills are paid.
#4 – How does compensation work/how am I paid?
Compensation as a surrogate mother is paid in monthly installments. Our process at Made in the USA Surrogacy is to have surrogate mothers see all of their compensation paid in 10 equal installments of $4,000 (plus any other compensation that is determined in your contract) that will commence after we confirm a fetal heartbeat. These payments may come by check or by direct deposit to your bank depending on the abilities of the escrow company the parents choose.
#5 – How is my surrogate compensation taxed?
We receive this question a lot from our surrogate inquiries as well as our surrogates currently who are pregnant. Made in the USA Surrogacy is not a CPA, nor a tax professional. We do not provide tax advice for any compensation or reimbursements received from your surrogate contract in California. We also do not employ our surrogates as employees of any kind- W2 or contract. We encourage each surrogate mother to contact their tax professional about how to handle the compensation received, all the while understanding payments follow the schedule and rules set in their surrogate contact with their intended parents.
If you are thinking about becoming a surrogate – we would love to hear from you: please fill in this form to get started!